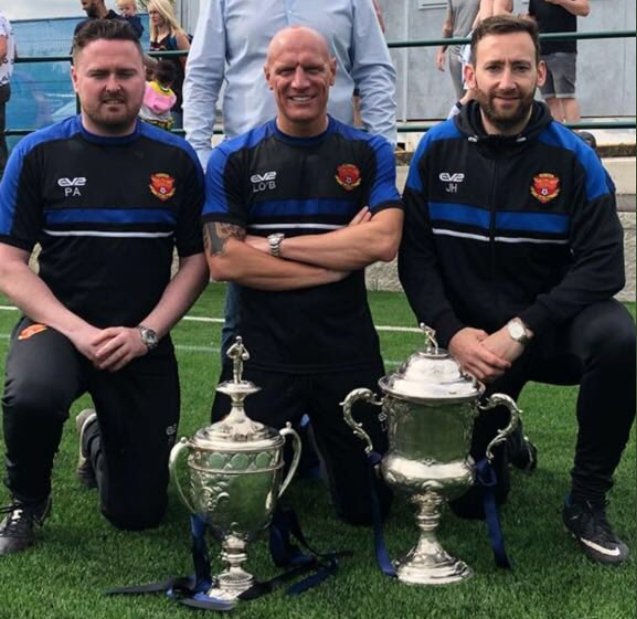 Avro's management team are preparing for their biggest challenge to date as they are set to tackle the Manchester Marathon in just over five weeks' time.
Joint-managers James Hampson and Lee O'Brien, alongside coach Paul Armstrong, will take on the 26.2 mile course on Sunday, April 5 for Macmillan Cancer Support.
The trio have played a massive role in Avro's success in recent years, which has seen the club claim back-to-back victories and rise from the Manchester Football League to the North West Counties Premier Division, whilst also lifting the Manchester Challenge Trophy.
Avro have outlined their ambitions to climb the ladder further and cement their place as a step eight side in the not too distant future, although the chances of achieving that this season are pretty much over.
However, the Vestcare Stadium outfit are destined for a top ten finish and will be relishing the chance to rebuild over summer and give it a good go next season.
For the time being, the management team will be focusing on the final nine games and their upcoming personal battle with the Manchester Marathon. Speaking to Reporter Sport about the challenge, Armstrong said: "Obviously cancer affects a lot of people and we know Macmillan work tirelessly to look after those people including some of our loved ones over the years, so it was a great chance for us to raise money and give back in a way.
"Training is going quite well although we have picked up a few niggles along the way.
"James seems to be the one out in front as he's got a training partner in former non-league player Danny Warrender. Lee picked up a knock playing for his Saturday morning team, and I'm up to 14.5 miles in training so a long way to go. This is the first one for us all."
Despite regular training and a strict regime, Paul is under no illusion of the challenge that awaits and believes the marathon will throw up new challenges both physically and mentally. "I'm not sure it will be as hard as the boxing event myself and James took on for Cancer Research many years ago, but the marathon is a massive achievement if completed" he said.
"I have a few friends who have done them and they say it takes you into places the brain won't have gone before. To be honest I agreed to do it quite late on. I went out and got some new running trainers and got my head around it first. I'm enjoying the training to be honest and hopefully I'll continue to run after the marathon."
The Manchester Marathon will include a three mile section passing a number of the city's most recognisable landmarks, including Manchester United's Old Trafford Stadium, the Science and Industry Museum, and the Manchester Opera House.
You can donate to Paul, James and Lee's cause via the following link: https://www.justgiving.com/team/marathonparcels?utm_source=Twitter&utm_medium=team&utm_content=marathonparcels&utm_campaign=pfp-tweet&utm_term=d91ae0df3beb4d2db1fb6f6053fdd657