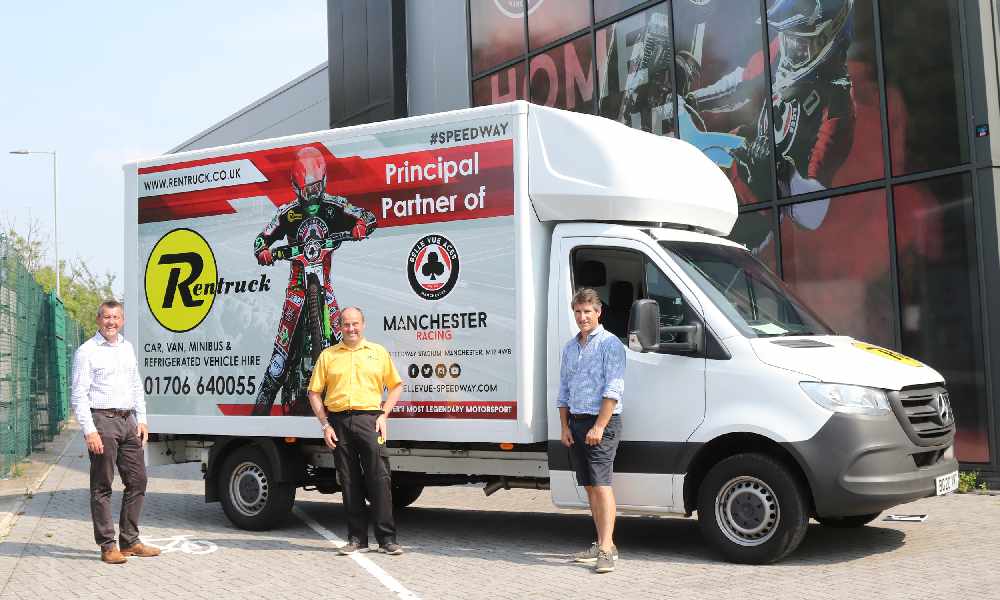 Belle Vue Speedway is thrilled to confirm that another of its principal partners Rentruck Rochdale will continue their backing of the club into the 2021 season. 
The car and van rental company, with a 300-vehicle strong fleet, have provided unwavering support since they first came on board 8 years ago.
And, more recently, they have cemented their commitment to Belle Vue by commissioning unique Speedway liveries on four of their Mercedes Benz Sprinter Luton van fleet.
Belle Vue CEO Adrian Smith added: "We are very lucky to have the backing of such a loyal sponsor and we are extremely grateful to Richard Cotton for all of the support he has, and continues, to give us.
"It should also be recognised that Rentruck provide valuable support to the wider Speedway family.
"They are the key provider of vans to the vast majority of the British league riders during the season, and in addition support youth development and the GB Speedway Team.
"Like the rest of our partners and sponsors, we are dedicated to ensuring the Rentruck brand is showcased both in and around the National Speedway Stadium.
"Rentruck are so enthusiastic about their Speedway. Ours is a very important relationship and we hope to continue to collaborate for many more seasons."
With hopes raised for the return of league racing this season, Rentruck MD Richard Cotton has stated there was "no question" about the company's continued involvement with the club.
He said: "We have a very strong relationship with Belle Vue that has been almost a decade in the making and we are proud to continue that relationship into 2021.
"We are very passionate about our sport at Rentruck, but Speedway is of particular significance and we're very excited to be back on board with the Aces.
"It is always a pleasure to deal with the management team at Belle Vue. Last year was unconventional for all involved but things are looking very positive for the return of league racing this season."
Two more riders from Belle Vue's Class of 2021 will be announced live on the club's official Facebook page on the evening of Tuesday, February 23.
Words and Image: Hayley Bromley