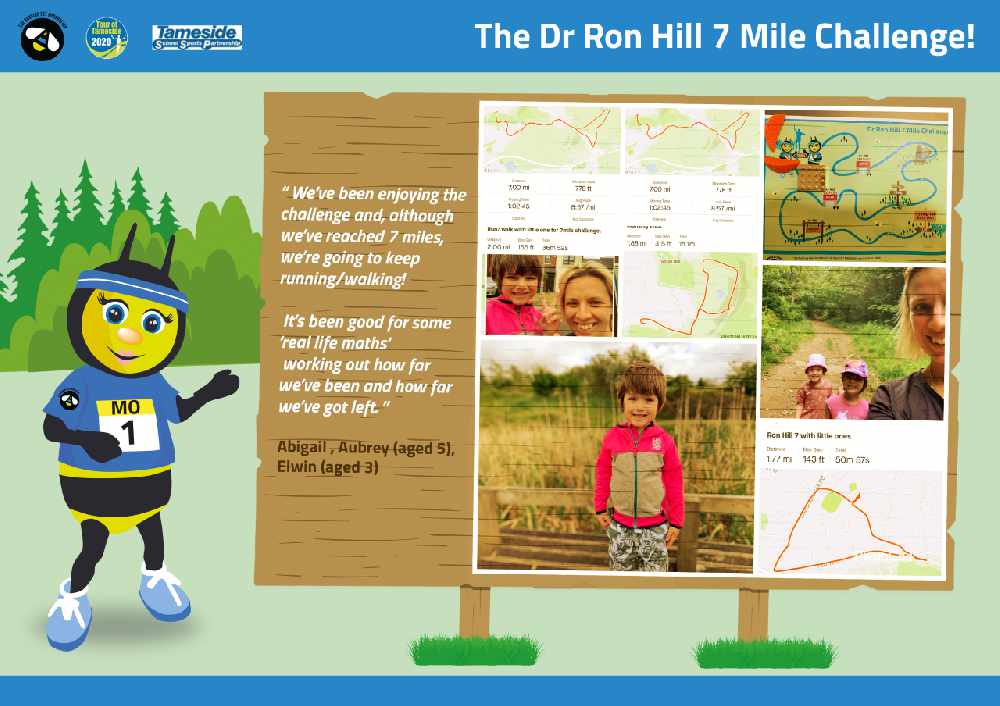 As schools closed due to Covid-19, the pupils from various primary schools across the borough pledged to run, walk or jog 7 miles each and more in their local areas.
The Running Bee Foundation created a downloadable themed map of the legendary Tour of Tameside that children could complete in their own time. The map included a cut out of the foundation's very own mascot, Mo the Bee that they had to guide around the map after every mile. Everyone who took part received a certificate on their success!

Emma Toone, Partnership Development Manager for Tameside School Sports said, "We have launched this Tour of Tameside challenge together with the Running Bee Foundation, after last years success and in particular, to ensure that we are still challenging Tameside pupils with physical activity during these unprecedented times. Now more than ever, we are going outside to exercise and walking or jogging around our local area with family. By completing the Dr Ron Hill 7 mile challenge, we not only see the amazing scenery but have something to aim towards. A certificate can be downloaded once the 7 miles (or further) have been completed.''
Kevin Harmer, Event Logistics & Sponsor Activation Manager at The Running Bee said, "We here at The Running Bee Foundation are always delighted when we can inspire the younger generation to be aware of the need to be fit and healthy. With the continued support form Emma Toone and her team within Tameside, for the second year running we have activated a fantastic number of youngsters and their families".
The Dr Ron Hill 7 Mile Challenge is linked to the annual Tour of Tameside event, which has now been rescheduled for 10th – 13th June 2021. Entries can be purchased here https://www.runningbeefoundation.co.uk/events-calendar/