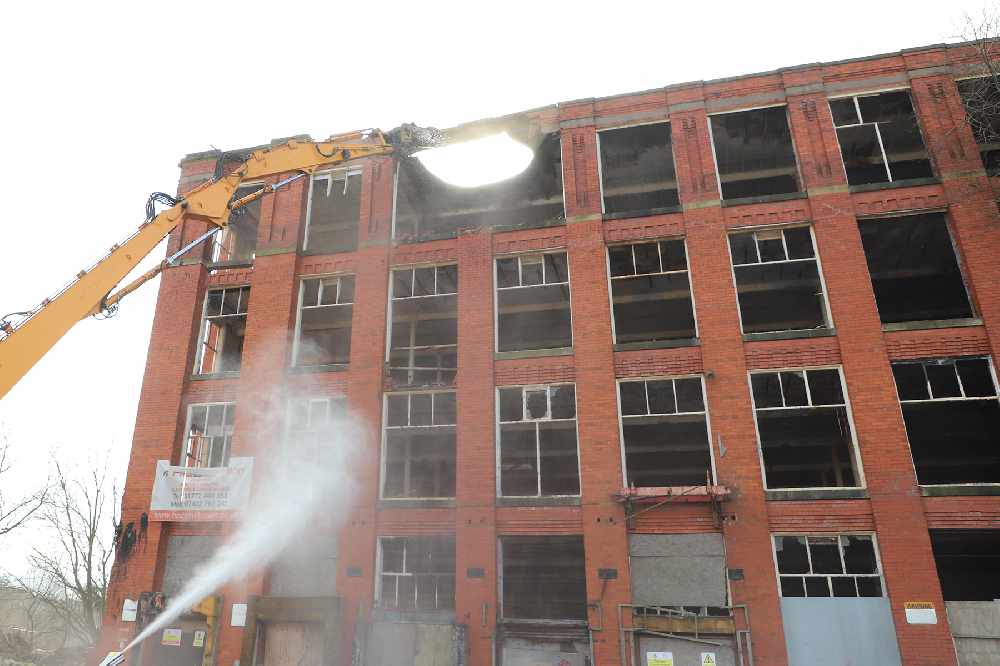 Hartford Mill in the Freehold area of Oldham being demolished in February 2020. Image: Nigel Wood.
Plans to convert run-down textile mills in Oldham could serve as the 'blueprint' for bringing historic buildings across Greater Manchester back into use and reducing green belt development, a council leader has said.
Oldham Council and Historic England are drawing up a strategy for securing the sustainable future of more than 60 mills across the borough.
Buildings without listed status could receive greater protection, while others could be transformed into housing or commercial developments.
The strategy also sets out potential funding opportunities to help with the 'prohibitive' costs and viability of bringing heritage buildings back into use.
Councillors in Oldham were told last year that some responses to the public consultation on the abandoned Greater Manchester Spatial Framework (GMSF) suggested that derelict mills should be built on before green belt land.
While a final draft of the mill strategy has yet to be released, its ideas have struck a chord with the Greater Manchester Combined Authority and those working on Places for Everyone, the housing and jobs masterplan aiming to succeed the failed GMSF.
The document, which has also not been published, will set out how urban, brownfield and some green belt land could be freed up for 165,000 new homes and hundreds of acres of industrial and employment developments.
But there are hopes that by redeveloping more of Greater Manchester's mills and historic buildings, pressures to build on the green belt could be absorbed.
Paul Dennett, Salford city mayor and the region's lead for housing, said: "I think Oldham's mill strategy will provide a blueprint for historic buildings in terms of how we can work with bodies like Historic England to bring forward or fundraise schemes.
"One of the things we all realise is how much people love these buildings that hark back to our industrial past.
"Architecturally they're absolutely fantastic assets and we should be utilising them, so there is an opportunity to learn from the work in Oldham and accelerate it across the city-region."
Greater Manchester mayor Andy Burnham said the protections placed on buildings by heritage bodies had caused difficulties with prospective developers.
But he suggested that talks between local authorities and Historic England were ongoing and that there was 'real progress'.
Read more from the Oldham Reporter