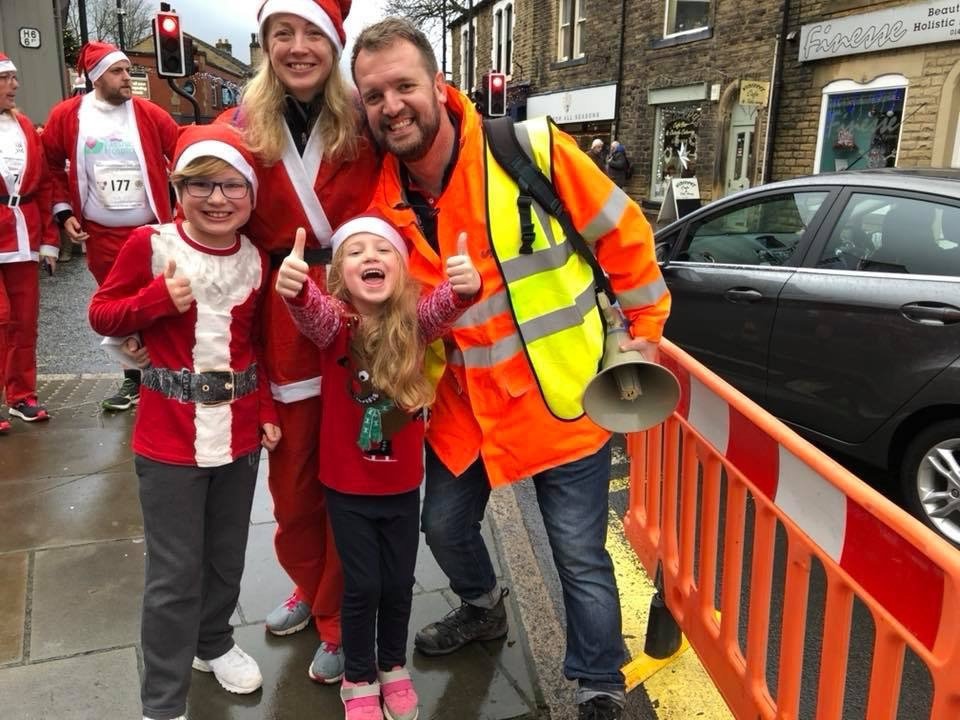 Around 1,750 fun-loving Santas are expected to add a spectacular splash of festive colour to a Saddleworth village this Christmas. 
That's because they will be entering the legendary Santa Dash, organised by community fundraising champions Saddleworth Round Table.
It's being staged at Uppermill Park on Saturday, December 7.
And this year's event, the fifth year it's being held, promises exciting changes to run alongside its popular Winter Wonderland spectacular.
Andrew Rothwell, Round Table's chair, said: "This year, we are expecting an incredible 1,750 Santas to enjoy the event, which has rapidly become a highlight of the Saddleworth calendar because of its family friendly nature, fun and lively seasonal atmosphere.
"Our organising committee are even more thrilled to announce some tweaks to the event, with the first Saddleworth Christmas Markets, and a move to the Santa Dash's new permanent home in Uppermill Park.
"The new home will give revellers the chance to enjoy our musical acts and entertainment in the bustling heart of the village, in a family-friendly traffic-free environment.
"And, in addition to browsing the home-made crafts and gifts available on stalls from our Christmas Market, visitors can take a sip of a heart-warming mulled wine.
"Food will be supplied by Albion Farms pulled pork sandwiches, as well as a wood fired Pizza van/container."
The actual Santa Dash begins at 2.30pm, with the warm-up from Anna's Dance at 2pm.
Entrants have the choice two routes: a gentle 2km suitable for push chair running, or the more adventurous 5km route into Greenfield returning to Uppermill Park.
Mr Rothwell added: "Both routes leave from the same place at the same time heading down Uppermill High street giving a real spectacle to proceedings before the routes split and the Santa's spread out.
"The Xmas markets will also be selling Xmas hampers and host a hog roast for post-run cravings.
"The stalls will include the Girl Guilds, Dr Kershaw's hospice, sweet stalls and many more.
"The whole afternoon is co-ordinated by the fantastic Revolution breakfast show host Elliot, who will link the various parts of the day together including some special surprise guests."
The Winter Wonderland parade and Christmas lights switch-on, complete with Santa and his Morris men reindeer helpers and carol singing, begins at 4pm.
Saddleworth Round Table is a volunteer-run organisation for men, aged between 18 and 45, and raises funds which are passed on to local groups.
Last year, the Round Table donated an incredible £25,000 to local worthy causes.
Tickets for this year's Santa Dash cost £15 for adults and £5 for children. A ticket will get you a full Santa Suit (hat only for children), running number and a unique finishers medal, specially designed for this year.
Tickets can be purchased through the Saddleworth Round Table Facebook page (@facebook/saddleworthRT) and follow the links to Eventbrite.
Entry to the Winter Wonderland and Christmas Markets are free, however, donations to programmes are always appreciated.