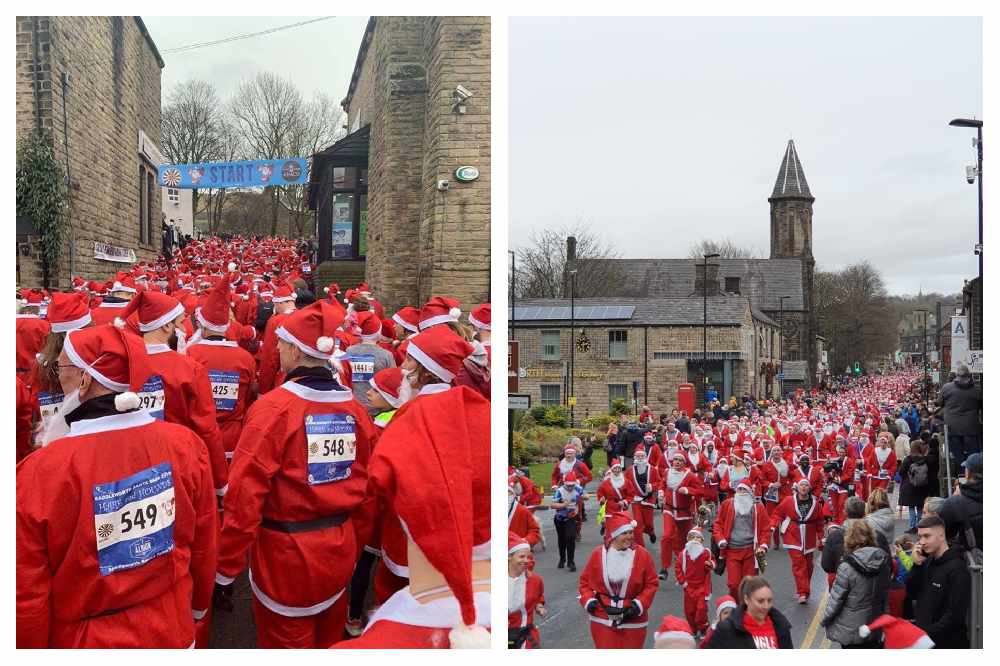 The legendary Saddleworth Round Table Santa Dash WILL take place this year - virtually.
Despite stringent Covid-19 restrictions, the community bravehearts say entrants can still capture the Christmas spirit, bring some festive family fun to the streets of Saddleworth, and help to generate crucial funds for the team at Oldham Foodbank.
Ed Burbidge, Santa Dash Lead, said: "Following the cancellation of all the events that make Saddleworth so special, we just couldn't bring ourselves to cancel the event that many consider to be the start of Christmas. It'd be like cancelling the John Lewis or Coca-Cola ads.
"We have thought long and hard to make Santa Dash Covid secure, while maintaining the fun, community spirit that makes our Dash so special. We hope the people of Saddleworth want to dress-up, take part and support our chosen charity this year."
This year, runners will be encouraged to run their own 5km route - uploading pictures, videos and Strava routes to Saddleworth Round Table's dedicated Facebook and Instagram pages.
John Arthurs, Saddleworth Round Table chairman, said: "We are delighted we will be able to both mark the event, and make money for such a worthy cause.
"The current events have put huge pressure on Oldham Foodbank, but by dedicating all contributions directly to them, we hope people who can afford it will dig even deeper and give generously to this very worthy cause.
"Remember a small contribution can make a massive difference to children's Christmas all over Oldham."
This year, ticket prices have been lowered to £3, including a hat for children, and £5 including a suit for adults. Both will include a limited edition, 2020 medal.
Participants will be asked to dress up, run a 5k, and donate as much as they can afford via the Saddleworth Santa Dash JustGiving page.
Saddleworth Round Table veteran Emery Birdcage added: "With nine weeks to go until the run, there really is no excuse for not participating, so let's dust off those running shoes, shift some of the lockdown lard, and help make Christmas a little easier for those desperately in need this year."
For more information on how to get tickets, visit https://www.facebook.com/SaddleworthRT. Tickets are initially limited to 500, so book now to avoid disappointment.
Main image:
People taking part in last year's Santa Dash.