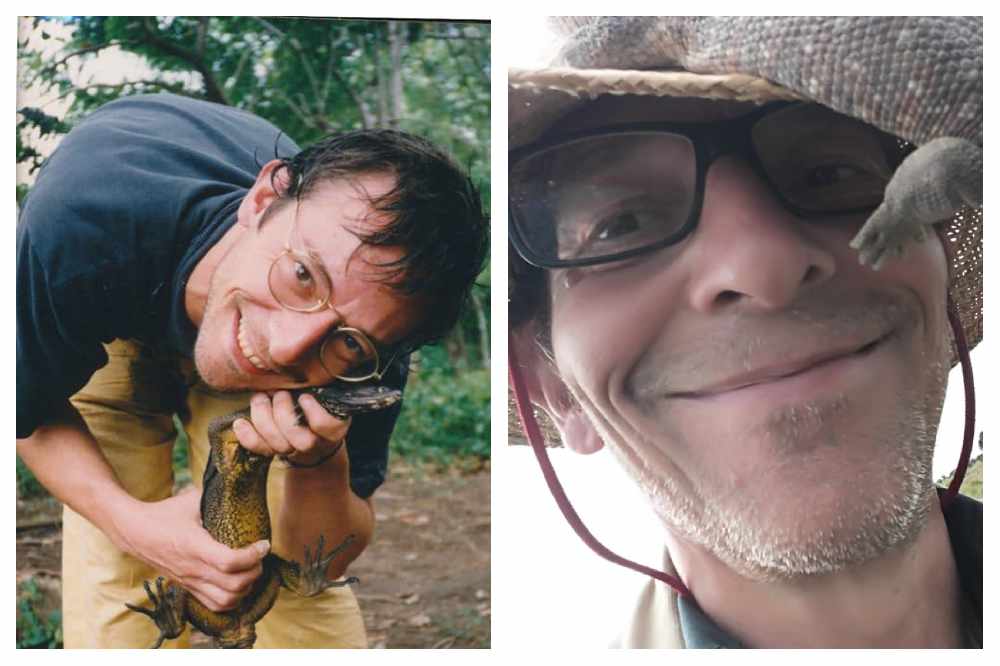 Tributes have come in from around the world following the death of a Glossop man, who was one of Europe's leading wildlife conservation biologists.
Dr Daniel Bennett, 53, (pictured) who died in hospital on Tuesday last week, played a major part globally in protecting and conserving monitor lizards. While in Glossop, he showed the same passion and concern over bats.
A pupil of Duke of Norfolk School, his love for lizards started with an iguana he 'co-owned' with his friend Nigel Fielding in Old Glossop. His enthusiasm also led to him hopping on a train to London and spending hours at the British Library and marvelling at the artefacts in the Natural History Museum.
Daniel's journeys led to far-flung places, such as exploring the Great Victoria Desert in Western Australia and learning what he could in Moscow and Turkmenistan in 1990.
It could be chasing down lizards in Asia or West Africa, meeting the likes of Dr Walter Auffenberg, one of the world's experts on Komodo monitors and jokingly telling David Attenborough, "Oh, it's you again," while accepting another BP Conservation Award in London, a distinction repeatedly bestowed upon him and his team in the '90s.
By his mid-20s Daniel had become an expert in monitor lizards, while also pursuing higher education at Aberdeen University.
He spent over a decade studying frugivorous monitor lizards in the Philippines, nurturing budding scientists of the next generation and strengthening what he could of the conservation efforts there.
Studying bats initially started out as a necessary step in receiving funds to go around the world to find his beloved monitor lizards.
He and his wife started the Glossop Bat Group in 2012 in an effort to keep records and contribute to maintaining the local wildlife of the town.
He also arranged events such as the Jimmie Rodgers Memorial Concert to end female genital mutilation at the Globe in 2013, where a representative from Amnesty International received £100 from Daniel's efforts at fund-raising.
In the last few years of his life, Daniel devoted his time to his family and he loved being a grandfather, but also functioned as the scientific coordinator of the IUCN Species Survival Commission Monitor Lizard Specialist Group, once in a while nipping over to Ghana for fieldwork.
Fellow experts say the legacy he leaves behind is as impactful as he was humble.
The scientific world will now remember Daniel because of a monitor lizard that will bear his name.
In between his journeys around the world, Daniel founded and edited the Glossop Gazette.
He was also a keen supporter of local shops such as Bradleys and Parkers.
Daniel took up bellringing, sometimes ringing at Glossop Parish Church, and was a member of Partington Theatre.
A celebration of his life will be held at the Glossop Cricket Club on North Road on March 22 at 1pm.
We will have more on Daniel, plus a tribute from Partington Theatre, next week.