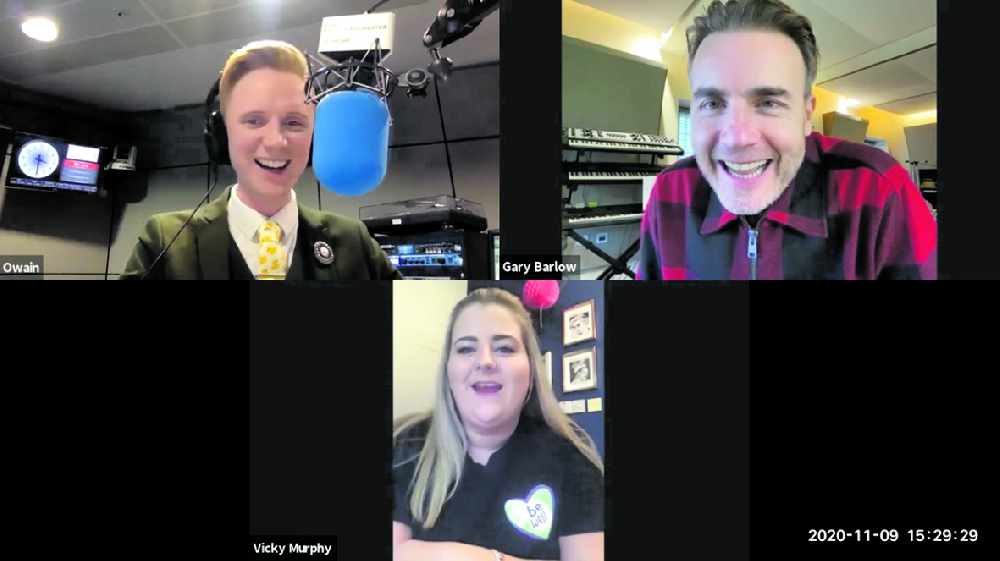 Lockdown hero Vicky Murphy from Glossop has received a special message from music legend Gary Barlow.
The meeting will form part of a special week of programmes on BBC radio this Christmas.
The series will focus on local lockdown heroes from across the country who will get to meet Dolly Parton, Sir Cliff Richard, Kylie Minogue, Robbie Williams and Gary Barlow for the local BBC radio Christmas series - Vicky was chosen because of the caring work she does in her local community.
In the feel-good series, the BBC's 'drumming weatherman' Owain Wyn Evans, introduces the stars to some of England's Make a Difference heroes of lockdown 2020. Each episode will go out daily at 9am and 6pm from Monday, December 28 to Friday, January 1 on local radio.
In March, all 39 local BBC stations across England launched Make a Difference – a virtual notice board for those offering help and those needing support. Some of the heroes offering help include people making meals for the vulnerable, sharing provisions and generally keeping each other going. Now some of these heroes have got to meet their own heroes.
Take That fan Vicky set up a scheme for nursery children to write letters for elderly people in social isolation.
Talking about getting to meet Gary over video call for the special show, Vicky said: "This is a bit of a dream come true!"
She was chosen to be a Local BBC Radio Make A Difference Hero for her incredible work around Glossop.
In the show she tells Gary and presenter Owain Wyn Evans about what she's been doing.
She explained: "My job is working with older people and keeping them out of social isolation, which, during lockdown, was obviously really difficult. I take nurseries into old people's homes and do joint activities.
"So during lockdown, instead of actually being together I organised a project where they could write to each other. Everyone gets a writing pack and I partnered up the children with older people so they can write letters back and forth.
"The response has been fantastic. About 50 people are taking part at the moment, we are hoping to get every nursing home and nursery to take part in Glossop."
Gary said: "Vicky, I have to say when you came on I just knew that bubbly personality was going to lead to something that was useful to other people. It's a great time for us to all see our worth.
"The great thing about this time is that people are clever and people will get us out of this. What a brilliant idea you've had there. It always amazes me. When you came on, I thought this personality I'm hearing is going to lead to something great. Well done you and what a brilliant idea."
Vicky's work will continue in the run-up to Christmas as she is determined to make sure every older person in the scheme receives a Christmas card.
They finished their chat with Vicky asking Gary what his favourite song to perform with Take That is.
He said: "The thing I love in a concert, I love the opening song, it means the night is starting. The song I hate is the last one because it means the night is finished. A song we often start our shows with is Greatest Day and that feeling when we are allowed on the stage and the audience see us is just it's so incredible."