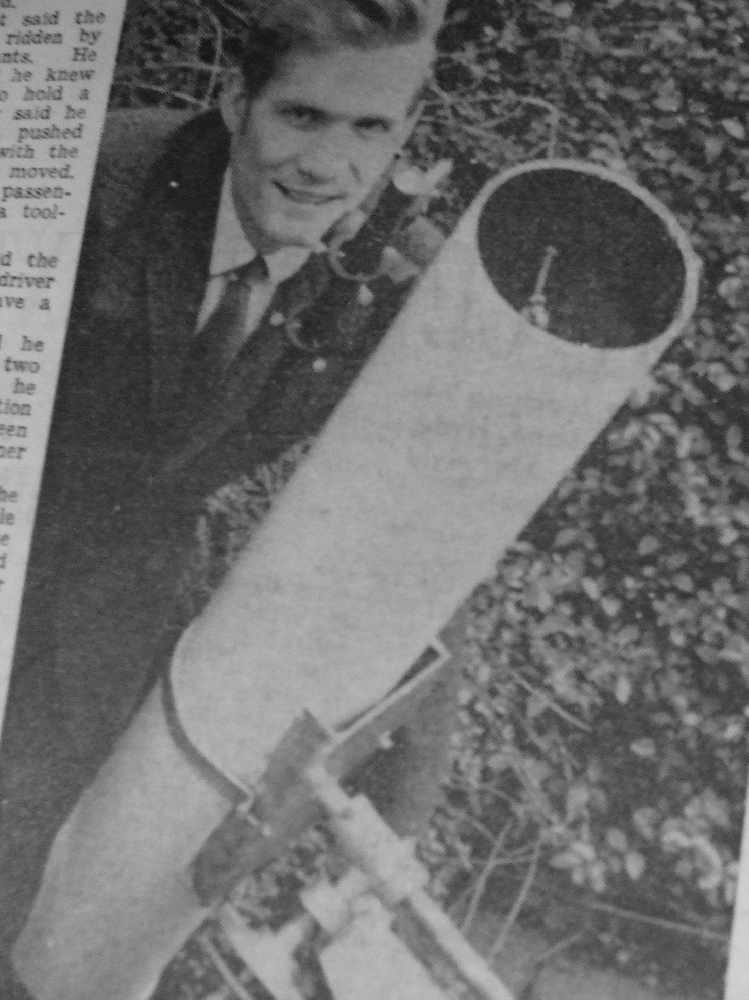 Star-gazing Peter Tarbatt wasn't satisfied with the store-bought telescope he used to scour the skies.
So the sheet metal worker from Glossop's Hall Meadow Road decided to build his own.
It took Peter all of 18 months...and involved installing an oil drum in his bedroom!
It was autumn, 1969, and all over the country telescopes were peeping of attic windows and garden sheds.
Libraries were running out of books to borrow on astronomy as space fever fuelled by rockets and satellites continued to grow.
Peter, in his 20s, had been interested in astronomy for years, but one starry night he realised his telescope was nowhere near powerful enough for what he wanted.
So he set to building his own, spending £30 on buying the parts.
The biggest job was grinding the all-essential lens.
Said Peter, with the hint of a smile: "I did it on an oil drum in the bedroom, much to the displeasure of my wife."
Slowly and painstakingly, he rubbed and polished the glass until he had produced a lens ground to 23 millionths of an inch.
He made the body of the telescope from plastic tubing, picking up a mirror to delicately balance on three screws at the bottom.
Eighteen months on, it was finished.
The six-inch diameter lens Newtonian type telescope type reflector was ready.
Peter stored it in his garden shed, but when the weather was right he carried it to his front garden, settled down on a stool focused it on lands hundreds of thousands of miles away.
Suddenly the Rings of Saturn and Jupiter's Moons seemed close enough to touch.