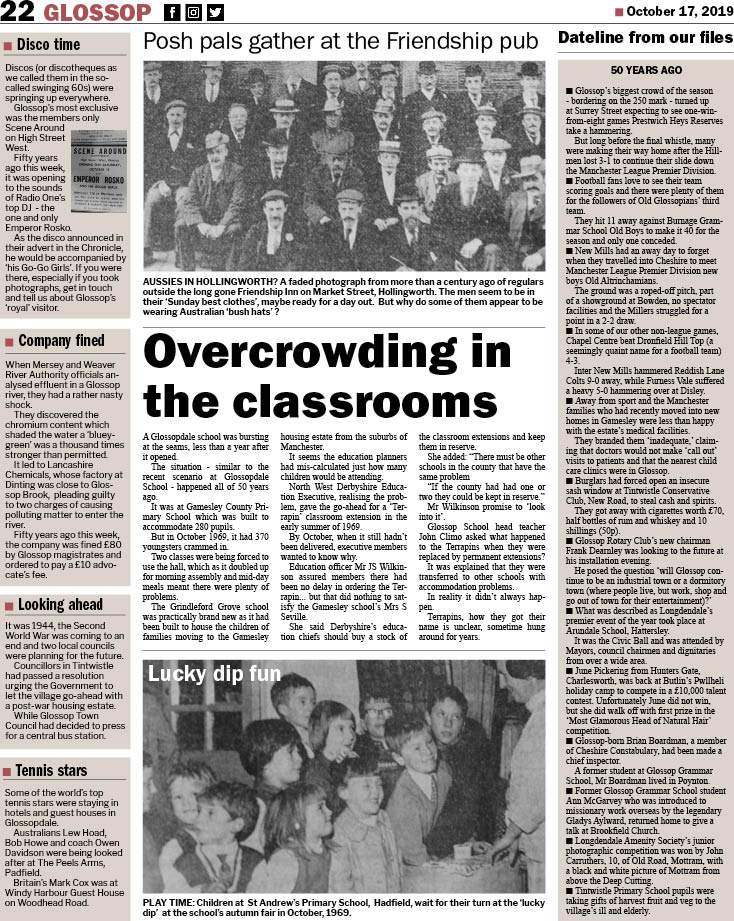 A Glossopdale school was bursting at the seams, less than a year after it opened.
The situation - similar to the recent scenario at Glossopdale School - happened all of 50 years ago.
It was at Gamesley County Primary School which was built to accommodate 280 pupils. But in October 1969, it had 370 youngsters crammed in.
Two classes were being forced to use the hall, which as it doubled up for morning assembly and mid-day meals meant there were plenty of problems.
The Grindleford Grove school was practically brand new as it had been built to house the children of families moving to the Gamesley housing estate from the suburbs of Manchester.
It seems the education planners had mis-calculated just how many children would be attending.
North West Derbyshire Education Executive, realising the problem, gave the go-ahead for a 'Terrapin' classroom extension in the early summer of 1969. By October, when it still hadn't been delivered, executive members wanted to know why.
Education officer Mr JS Wilkinson assured members there had been no delay in ordering the Terrapin... but that did nothing to satisfy the Gamesley school's Mrs S Seville.
She said Derbyshire's education chiefs should buy a stock of the classroom extensions and keep them in reserve.
She added: "There must be other schools in the county that have the same problem. If the county had had one or two they could be kept in reserve."
Mr Wilkinson promise to 'look into it'.
Glossop School head teacher John Climo asked what happened to the Terrapins when they were replaced by permanent extensions?
It was explained that they were transferred to other schools with accommodation problems. In reality it didn't always happen.
Terrapins, how they got their name is unclear, sometime hung around for years.
DATEFILE FROM OUR FILES - 50 YEARS AGO:
Glossop's biggest crowd of the season - bordering on the 250 mark - turned up at Surrey Street expecting to see one-win-from-eight games Prestwich Heys Reserves take a hammering. But long before the final whistle, many were making their way home after the Hillmen lost 3-1 to continue their slide down the Manchester League Premier Division.
Football fans love to see their team scoring goals and there were plenty of them for the followers of Old Glossopians' third team. They hit 11 away against Burnage Grammar School Old Boys to make it 40 for the season and only one conceded.
New Mills had an away day to forget when they travelled into Cheshire to meet Manchester League Premier Division new boys Old Altrinchamians. The ground was a roped-off pitch, part of a showground at Bowden, no spectator facilities and the Millers struggled for a point in a 2-2 draw.
In some of our other non-league games, Chapel Centre beat Dronfield Hill Top (a seemingly quaint name for a football team) 4-3. Inter New Mills hammered Reddish Lane Colts 9-0 away, while Furness Vale suffered a heavy 5-0 hammering over at Disley.
Away from sport and the Manchester families who had recently moved into new homes in Gamesley were less than happy with the estate's medical facilities. They branded them 'inadequate,' claiming that doctors would not make 'call out' visits to patients and that the nearest child care clinics were in Glossop.
Burglars had forced open an insecure sash window at Tintwistle Conservative Club, New Road, to steal cash and spirits. They got away with cigarettes worth £70, half bottles of rum and whiskey and 10 shillings (50p).
Glossop Rotary Club's new chairman Frank Dearnley was looking to the future at his installation evening. He posed the question 'will Glossop continue to be an industrial town or a dormitory town (where people live, but work, shop and go out of town for their entertainment)?'
What was described as Longdendale's premier event of the year took place at Arundale School, Hattersley. It was the Civic Ball and was attended by Mayors, council chairmen and dignitaries from over a wide area.
June Pickering from Hunters Gate, Charlesworth, was back at Butlin's Pwllheli holiday camp to compete in a £10,000 talent contest. Unfortunately June did not win, but she did walk off with first prize in the 'Most Glamorous Head of Natural Hair' competition.
Glossop-born Brian Boardman, a member of Cheshire Constabulary, had been made a chief inspector. A former student at Glossop Grammar School, Mr Boardman lived in Poynton. Former Glossop Grammar School student Ann McGarvey who was introduced to missionary work overseas by the legendary Gladys Aylward, returned home to give a talk at Brookfield Church.
Longdendale Amenity Society's junior photographic competition was won by John Carruthers, 10, of Old Road, Mottram, with a black and white picture of Mottram from above the Deep Cutting.
Tintwistle Primary School pupils were taking gifts of harvest fruit and veg to the village's ill and elderly.