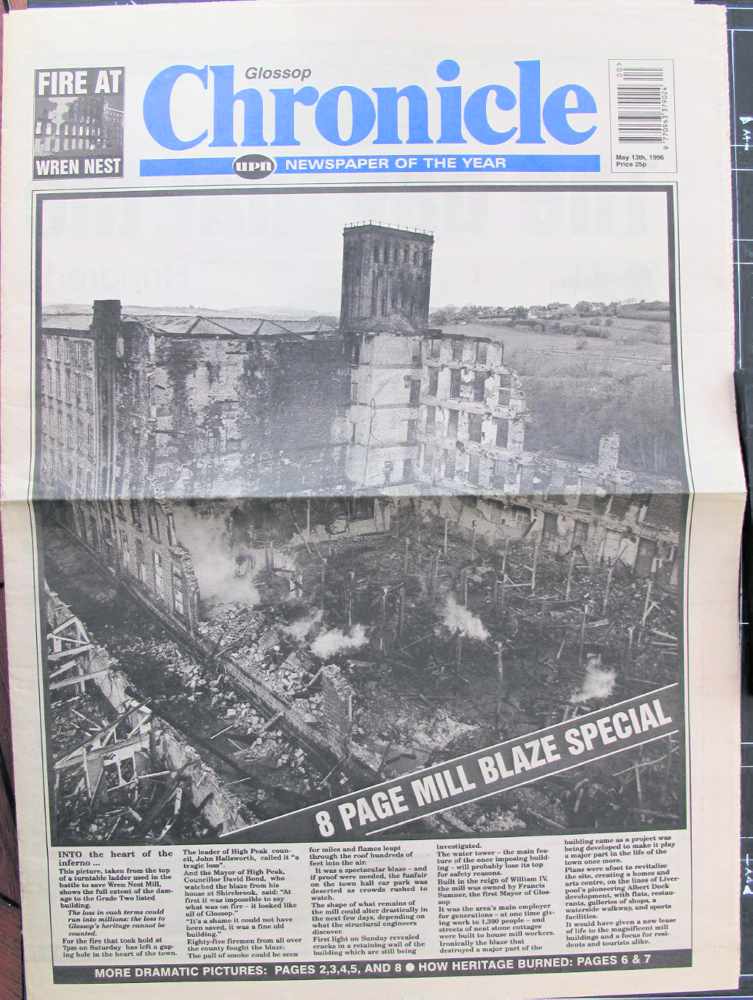 Front page during the blaze.
One of Glossop's oldest mills was partially destroyed by a fire that even 25 years ago caused damage estimated at around £1m.
It was mid-afternoon on Saturday, May 8, 1996, when a pall of black smoke was seen rising from Wren Nest Mill.
I was covering a cricket match at nearby North Road and as the acrid cloud got bigger, it soon became obvious there was a serous fire and I headed for the smoke.
I was there in minutes and even in such a short time the smoke cloud was beginning to envelope part of the town centre and flames were coming from the former cotton mill.
The tell-tale sound of sirens was coming from all directions as crews from Glossop, the rest of High Peak and stations in Greater Manchester moved in.
Police sealed off High Street West from Shrewsbury Street to Primrose Lane as 85 firefighters began to tackle the rapidly spreading blaze to all six storeys of the empty mill. High-rise turntable ladders were brought in to tackle the blaze from the air, while fire crews also fought it from the ground.
Some residents were asked to move from their homes facing the mill and the heat was so intense that house windows cracked and wooden window frames perished.
As the smoke and flames could be seen from miles around, people watched the fire fighting operation from high ground vantage points, with the playground of Philip Howard School a popular spot.
Fire crews working well into night, managed to save most of the mill, which later became Wren Nest Retail Park, the rest of the 19th century building turned into apartments and retail units.
The cause of the blaze, which turned around a third of Francis Sumner's old factory into a heap of rubble, was never really discovered, although there were rumours that children had been seen playing close to where it broke out, just minutes earlier.
Glossop had seen several of its old mills hit by fire around that time, Turn Lee Mill has been destroyed just a few years earlier and there were major fires at the Waterside Mill complex in Hadfield, the former Dinting Vale Printworks site and the one-time John Waltons factory in Hollingworth.
In Easter 2007 there was another fire at Wren Nest Mill - more about that next week.
Read more from the Glossop Chronicle
Click here for more of the latest news
Click here to read the latest edition of the paper online
Click here to find out where you can pick up a copy of the paper