Neighbours, who are supporting a mum whose rented home was badly damaged by a freak fire, are urgently appealing for donations.
Rosie and Marc Davies were first on the scene when a blaze started in the kitchen of Lauren Kallides' house on Hawthorn Drive in Glossop.
But although they were able to rescue the 36-year-old student's two dogs and two cats, they could do nothing to save her possessions.
They are now appealing for money to help her replace what was lost.
The fire destroyed much of what was in the kitchen with thick black smoke damaging every room.
Furniture was ruined, as well as food parcels carer Lauren had been preparing in the kitchen; while flames, smoke and water from the fire-fighting had an affect on the entire house.
Lauren - who was still suffering from shock days after the blaze, which broke out on Sunday, January 17 - does not have house insurance.
Speaking as Marc (pictured) and other big-hearted neighbours painted and cleaned her home, she said: "I can't thank them enough for what they are doing.
"The housing association say I have to pay for the repairs myself which will be between £3,000 and £3,500 which I don't have. The smoke also ruined all our clothes.
"The rent is £113, the housing association has offered me another house (while her's is being repaired) but I would have to pay rent on that as well."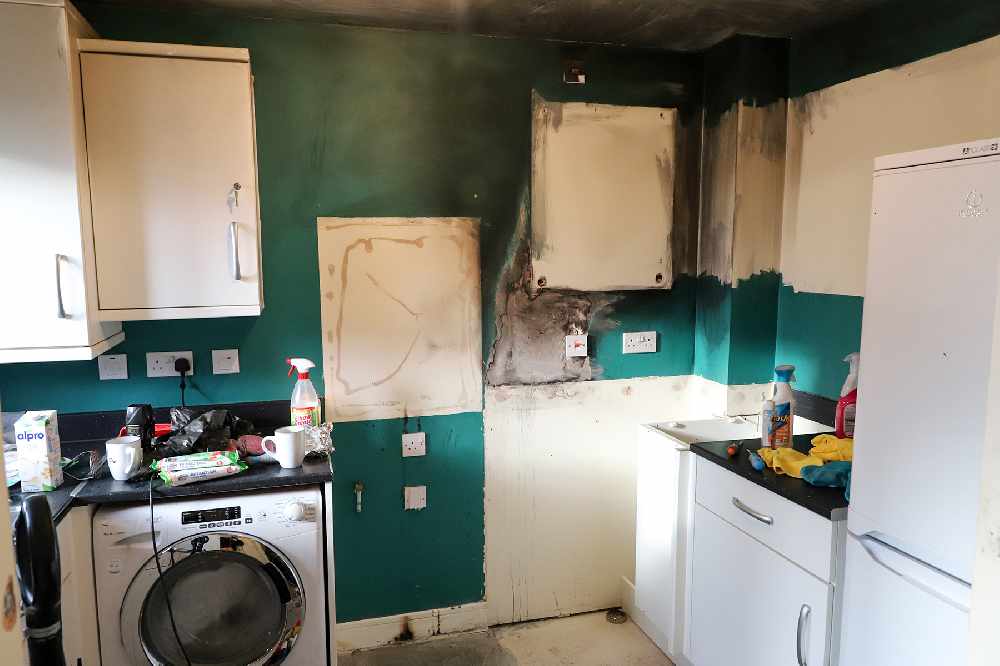 The damage to Lauren's kitchen. Image credit: Nigel Wood.
Lauren says she has now received a bill from the housing association that comes to £3,382, which includes £700 for cleaning.
High Peak Borough Council has offered temporary accommodation, but it is in Buxton, which Lauren says is too far to travel to every day.
So she is staying put while the work goes on around her, while her eight-year-old son has moved in with her mother.
Next door neighbours Rosie and Marc reckon the cost of repairs and replacing lost items could come to around £5,000
Marc, who has a property maintenance business, is aiming to reduce the repair bill by doing jobs around the house free of charge.
Rosie, who is playing her part by organising a Just Giving page, said: "We have a target of £2,000 and we are asking people to give what they can, everything helps."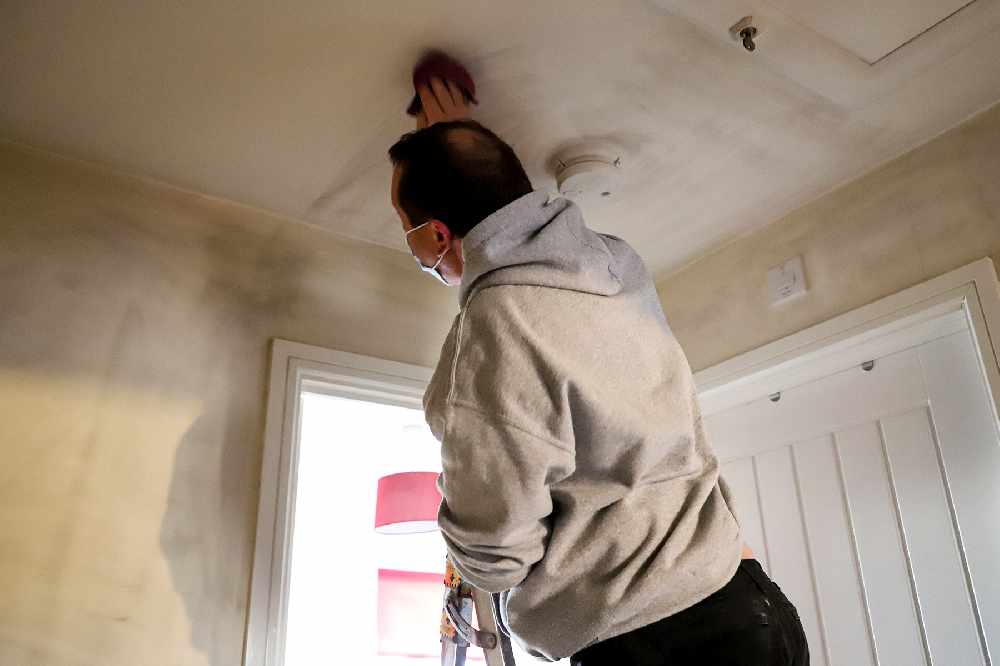 Kind-hearted neighbours helping Lauren with the clean-up operation. Photo credit: Nigel Wood.
Bad though the fire was, it could have been worse but for the rapid reactions of Marc.
Rosie said: "We arrived back home to hear the alarm going off next door. Marc looked trough the window and could see the kitchen was bursting with flames and I noticed smoke coming from the bedroom windows."
Lauren was out shopping and with the dogs and cats trapped inside Marc realised that the only option was to break in.
He said: "I managed to smash a back window to get in, I could hardly see through the thick black smoke which was choking, but I managed to get the dogs out and put out the fire.
"I could see the three rings on the cooker which were glowing bright red. It seems one of the dogs had jumped over a baby gate in the kitchen and somehow caught the (cooker) controls."
Marc, who needed hospital treatment for carbon monoxide inhalation, managed to put the fire out before the fire brigade arrived.
Landlord Peaks and Plains Housing Trust told the Chronicle that they were working closely with the tenant and were doing all they could to support her. They were also pleased that no one had been injured as a result of the fire.
The trust said that an amount of work had been commissioned to carry out repairs and install new fittings.
They said that tenants were encouraged to take out house insurance. If they don't the tenant has to bear the cost at a rate that is affordable.
To help Lauren's cause, you can donate at https://www.justgiving.com/crowdfunding/helpmyneighbourafterfire
You can also watch our report in the video at the top of the page. Video by Nigel Wood.
Read more from the Glossop Chronicle
Click here for more of the latest news
Click here to read the latest edition of the paper online
Click here to find out where you can pick up a copy of the paper