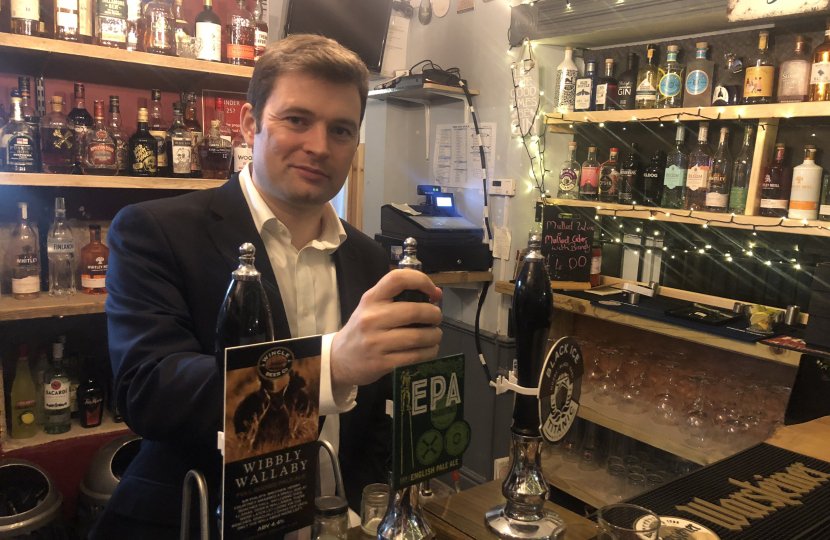 In his latest column, High Peak MP Robert Largan discusses how the hospitality industry in particular has been badly affected by the coronavirus pandemic and the support available to businesses impacted by forced closure.
Everyone has made huge sacrifices over these past months in the national effort against Covid. As tough as it is for so many to go back into lockdown, it is a necessary measure to protect the NHS from being overwhelmed.
We are at a critical point where the rollout of the vaccine has begun but cases have continued to rise dramatically.
There is no doubt that this pandemic has been incredibly disruptive and had a huge impact on people's lives. The hospitality industry has been particularly badly affected.
Our local pubs, restaurants, cafes, hotels and other hospitality businesses have missed out on months of trading, including the crucial busy Christmas period. All of this disruption has had a knock-on effect on all the small businesses in the supply chain as well.
The cost of forced closures and the difficulty in planning ahead in such uncertain times has made it even harder for small businesses. Let's not forget just how important these businesses are.
Before this crisis, hospitality was the country's fourth-largest employer, directly supporting 3.2 million jobs and generating £73 billion for the economy.
But hospitality's importance shouldn't just be measured in economic terms. These businesses are vital to the social fabric of our communities. Our local pubs, bars and restaurants provide a place for friends and family to gather and celebrate their lives together.
So many of these businesses do such fantastic community work as well. High Peak undoubtedly has the best pubs in the world. We are incredibly lucky to have them.
There has been significant and sustained support from the Government for our hospitality businesses throughout the crisis. The Chancellor made the right decision to announce an additional £4.6 billion of business support, following the announcement of another lockdown, including grants up to £9,000.
I am also glad that monthly payments worth up to £3,000 continue to be provided to closed businesses for every month they are closed. And the furlough scheme has been extended to the end of April, and grants have been increased for the self-employed. But it is vital that High Peak Borough Council gets this support paid out to businesses as fast as possible.
We are so close to beating this virus, now that vaccines are being rolled out across the country. Ahead of the Budget in March, I will be pushing the Government to set out a comprehensive package of support, helping hospitality businesses to weather the storm and drive forward our recovery from Covid.
Main image:
High Peak MP Robert Largan at the Old Cell Ale Bar in Chapel-en-le-Frith, taken before the start of the coronavirus pandemic.