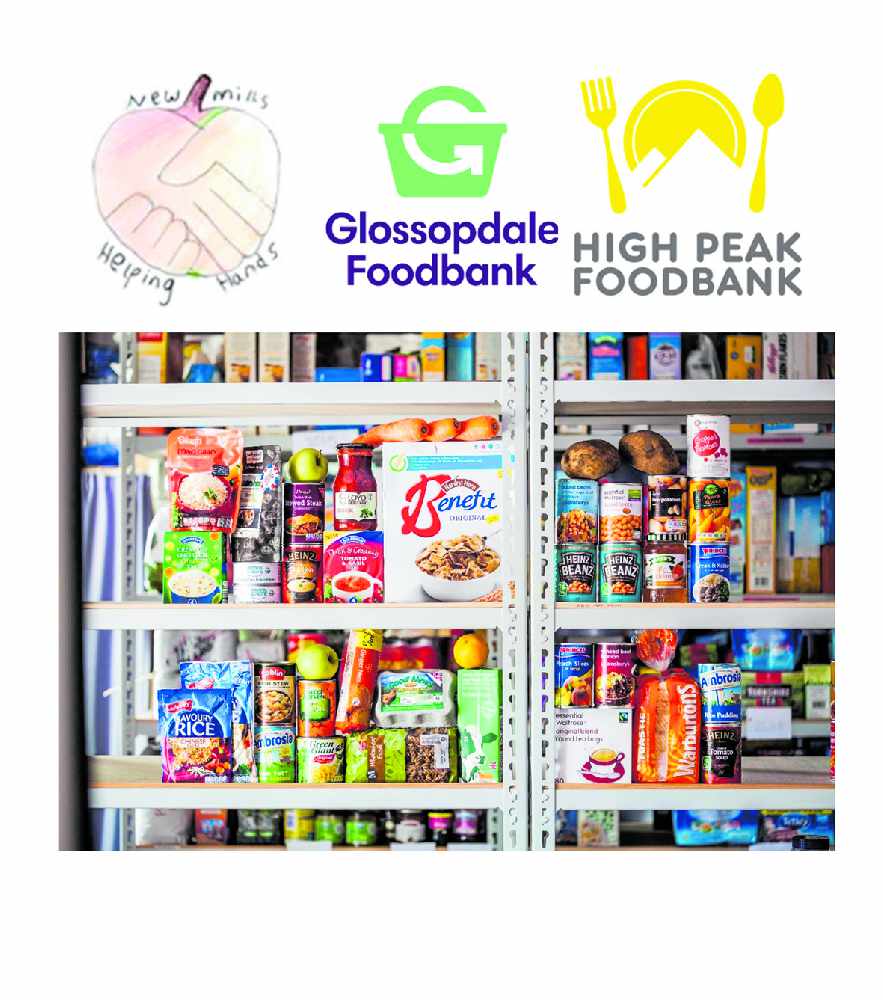 High Peak's three foodbanks are now working together and planning to support people even when the lockdown is over.
While demand for food parcels has increased during the Covid-19 crisis, Glossopdale, High Peak and Helping Hands foodbanks have been in regular contact.
As well as supplying food they are combining to help their clients and others with advice and employment services.
Paul Bohan from High Peak Foodbank @Zink said: "It's been amazing how people have come together to donate money and food to make sure that families in our communities don't go hungry.
"The foodbanks are now encouraging and offering support to these families to help resolve the issues that caused foodbank need."
He added: "It's important that we do this so that people do not become dependent and so the issues themselves do not snowball and get harder to sort out."
All three say they have adapted services to meet changing community need during the pandemic.
Numbers using the foodbanks are said to have 'increased hugely' and that presenting reasons have changed.
People waiting for furlough payments from struggling employers, self-employed people and families waiting for school meal vouchers are among those now needing emergency food aid.
The foodbanks are now gearing up to cope with more demand as people start to lose jobs when the furlough scheme is withdrawn.
They say generosity across High Peak from individuals, businesses and organisations donating food and money has kept the foodbanks open and able to support those in need.
Volunteers from other organisations like Buxton Street by Street and Chapel-en-le-Frith Covid-19 Mutual Aid have been helping to distribute much- needed food parcels.
To use a foodbank in the High Peak, people generally need a referral which is available from any kind of support, health or social worker, or Citizens Advice etc. One self-referral is allowed, but after that recipients of food parcels usually must be working with a service that will help resolve the underlying cause of emergency food need.
The foodbanks cover the following areas:
High Peak @Zink: (Buxton, Chapel, Hope Valley, Hartington, Bakewell)
Helping Hands: (New Mills, Whaley Bridge, Furness Vale, Hayfield, Chinley and Buxworth)
Glossopdale: (Glossop, Hadfield, Gamesley and Tintwistle).
As things get back to normal, they are ready to offer support to people so they no longer need emergency food.
Services are available to anyone who needs the help they offer, not just foodbank users:
Advice @Zink will help people sort out problems related to benefits, housing, finance, furloughing etc. Contact julie@zink.org.uk.
Employability @Zink can help people get work, training, education or go self-employed. Contact jane@zink.org.uk.
Glossopdale Foodbank's Citizen's Advice worker is on hand to help with issues related to benefits, finance, housing etc. Contact ghazala.darr@ddcab.org.uk.