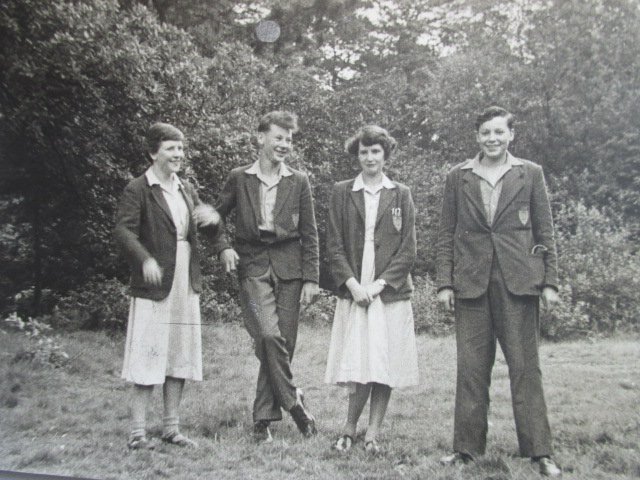 A former Glossop resident who now lives in Norfolk is reaching out in a bid to trace her long-lost friends, and make contact with anyone who may remember her and her family.
Pamela Baldwin was known as Pamela Rankilor when she returned to England from India at the age of four, after her father Brian who was a Colonel was serving in Burma at the time she was born.
The family moved into Ryecroft on Manor Park Road in September 1948.
Pam went to Mrs Thomas's Private School on Ellison Street for a few years before joining her siblings Pat, Peter and Philip at Kingsmoor Private School.
She left the school at the age of 14 and moved to new premises called Kingsmoor in Romiley, where she stayed until July 1960 when she was 16 years old.
Pam went to work at Ritz manufacturing company in Glossop as an accounts clerk until 2 January 1962, when she left Glossop to go into the Women's Royal Air Force (WRAF) as an Air Traffic Controller.
She served for six years - mainly being stationed at Shawbury in Shropshire and in Gibraltar. Pam was demobbed in 1967 and, during that time, visited Glossop on two occasions.
As soon as she had left home, her parents Brian and Ivy moved to Guernsey so she had no home to go to.
During this time, Pam was in touch with a small number of people - including Vivien Wright, who is now sadly no longer with us, and her brother Roger who lived on Manor Park Road.
During the 13 years she lived in Glossop, Pam had made several good friends who she would now dearly love to get back in touch with after all these years.
Pam, who is still in touch with her siblings, said: "The names I can remember were: Ingrid Derbyshire, Pat Buckley, John Gregory (he also went to Kingsmoor), and Ann and Enid Dobson who all lived in Glossop.
"I have also been trying to contact Glenda and Anne Woolley (who also went to Kingsmoor) who lived in Marple Bridge. Their father worked at Volcrepe in Glossop."
Pam, who is now 75 years old, has been married to husband John for nearly 40 years and they now live in Reedham in Norfolk.
The friends she is trying to trace are a similar age - give or take a year or so.
Anyone who recognises Pam can get in touch with her on Facebook by sending a private message to https://www.facebook.com/PJMBaldwin or call 01493 700709.
Here are some images of Pam's friends and family to help people recognise them: