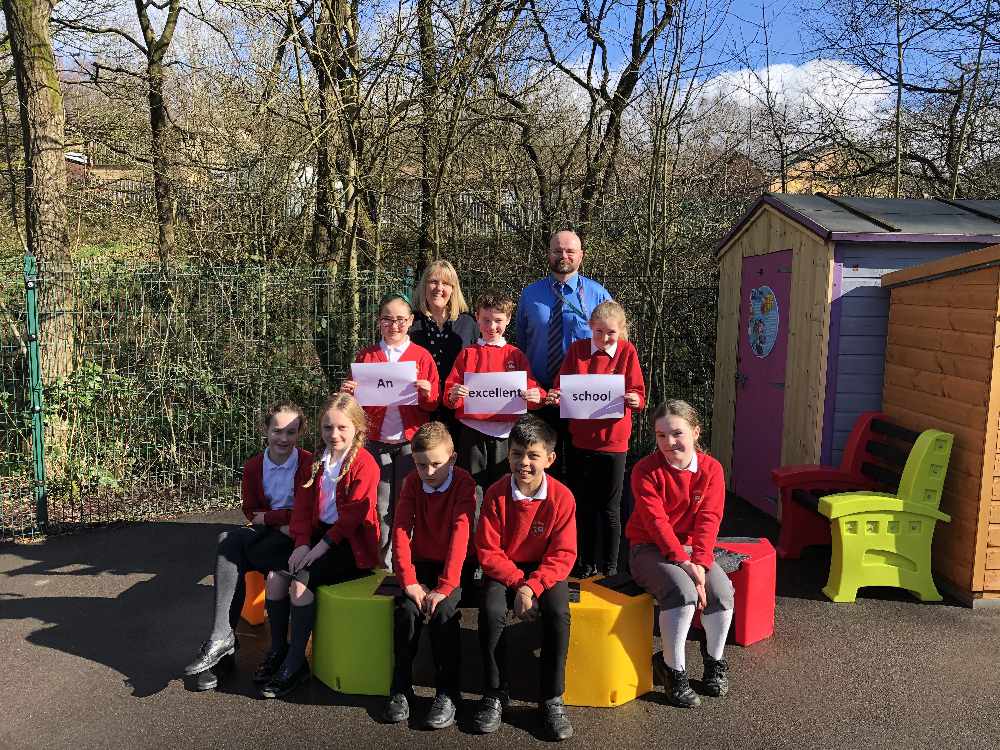 Everyone connected with Dinting Church of England Primary School is celebrating after receiving the highest grade possible following a recent church inspection.
The Dinting Vale school was visited back in January by an inspector from The Church of England Education Office.
As is required by law, the body inspect all 4,700 Church of England schools in England.
The 140-pupil school was judged on how effective the school's "distinctive Christian vision, established and promoted by leadership at all levels, in enabling pupils and adults to flourish" - on which it was rated Excellent.
It was also given an Excellent grading on the impact of Collective Worship and the effectiveness of Religious Education (RE).
Head teacher Lynn Elliott explained: "Because of our grading last time, we get inspected once every five years because we're a 'Good' or better school. The inspectors came along in January and we retained our status from last time.
"Since then, they have changed the labels - it was called 'Outstanding' but it's now called 'Excellent'. It's the highest grade we can get and we got it across all areas.
"Because we're a Church Aided school, they inspect our RE teaching whereas Ofsted don't do that. They do in other schools of course but they're not allowed to do it in Church Aided schools. It's the job of the diocese."
She added: "We are all absolutely delighted with the outcome. It very much reflects all of the hard work of the staff and also the governors, who played a big part in it as well.
"Mr Wilson leads our Collective Worship and RE across school so he was also a significant part in getting this fantastic grading. We have specific RE lessons and an act of Collective Worship every day. When the inspector was in, we were doing a whole school community communion service led by Rev Gurney which parents were invited to and shared the service. The inspector was just wowed that the children could sit and be engaged for that amount of time.
"We now have our own vicar at Holy Trinity Dinting, Reverend Nick Gurney, who has also been very supportive of the whole process."
The inspector's report said Dinting is a "highly inclusive, compassionate and caring community where every child is valued and nurtured as the person God created them to be".
It added that pupils, parents and staff are "treated with dignity and respect and are enabled to flourish through a culture of care, encouragement and hope".
Mrs Elliott was pleased that the report also acknowledged that, on the day of the January 21 visit, a child explained to the inspector that 'our school vision is love your neighbour and this means that we help and care for others, even if we fall out with them'.
The head teacher said: "Our school vision is to love your neighbour as yourself. The whole focus of the inspection is to see how your school vision actually plays out in the daily life of school. It's continual throughout the report.
"It was great to see in it that one child at playtime explained the school vision to the inspector. The bottom line is you should treat others as you want to be treated yourself and that runs throughout everything that we do in school."
Main image:
Pupils with head teacher Lynn Elliott and Year 6 teacher Michael Wilson.