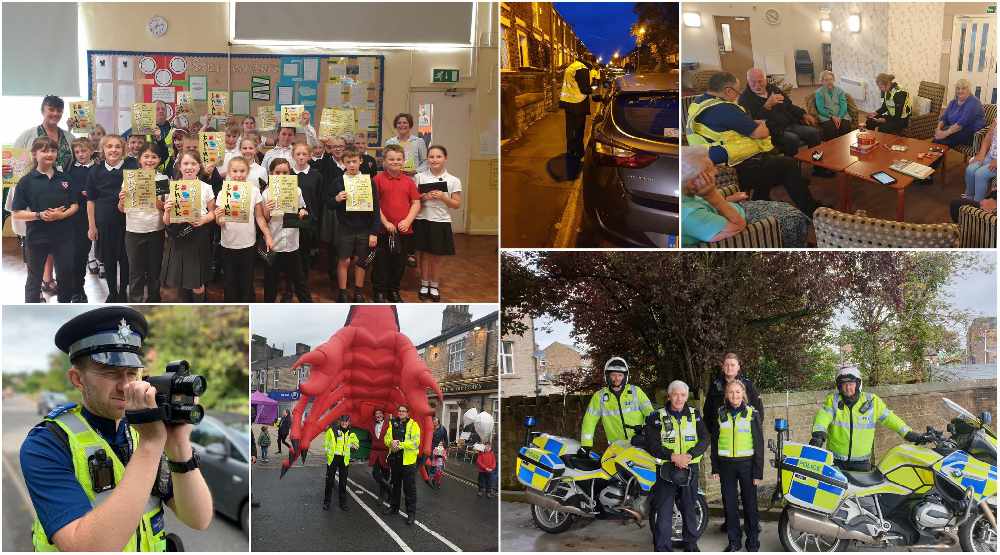 Police in New Mills and Hayfield took part in a week-long beat sweep to target anti-social behaviour, road safety, crime and reach out to members of the community.
Police officers, PCSOs, Special Constables, Police Cadets and partnership agencies joined forces to target issues which were highlighted as local concerns during the operation last week.
During the week, officers targeted speeding on local roads, including Hayfield Road, where speed checks were carried out and advice or penalty notices given to drivers as appropriate.
Roads policing officers also spent time ensuring vehicles were safe, legal and roadworthy. They gave advice to motorists, as well as warnings or prohibition notices.
The Driver Vehicle Licensing Authority (DVLA) seized four cars and a van which were found to be on the roads without tax, and three further vehicles were fined.
Together with officers from Derbyshire Fire and Rescue Service, police visited roads where residents had said they were concerned about parking issues, and the ability of emergency vehicles being able to get through if they were needed.
Although many of the streets were clear, there was one road where a fire engine would have been obstructed, so advice to motorists was given to raise awareness of the potential problem.
The licensing team teamed up with the fire service and Derbyshire Trading Standards to visit six local stores, to check they are meeting their responsibilities around safe, legal and responsible alcohol sales.
Patrols were carried out by the local Safer Neighbourhood policing team and volunteer Police Cadets in New Mills and Hayfield. They were on the lookout for vehicles which were left insecure, or with valuables on display and contacted the owners to make sure they were aware.
They also delivered leaflets on home security during the darker evenings and encouraged residents to sign up to Derbyshire Alert, and keep up to date with messages about local crime, safety and security.
Residents at Ventura Court, in New Mills, had a visit from the policing team and fire officers to speak to them about personal safety, and there was an opportunity for cyclists to have their bicycles security marked during a crime prevention event at the Sett Valley Café in Birch Vale - a location picked due to the number of people who use the Sett Valley Trail for riding their bikes.
Online safety sessions were held at seven different primary schools in the area, with youngsters offered information and advice about how to stay safe on the internet, social media and while gaming.
They also visited railway stations during the week and worked with British Transport Police and Northern Rail to offer reassurance to passengers, target travelling criminality and fare evasion.
Inspector Justin Brown, of the High Peak Local Policing Unit, said: "Our officers have worked hard with partnership agencies to target issues that matter to our communities at a local level, provide advice on safety and security to local residents.
"The initiative was led by PCSO Supervisor Lee Baker, and our officers have put in more than a hundred hours of foot patrol during the week, which included the busy lantern parade at New Mills."
Insp. Brown added: "It has been a successful week which has offered a fantastic opportunity for us to showcase and strengthen our partnerships with the agencies and organisations we work with to make Derbyshire safer together, while taking time to reassure and engage with the communities of New Mills, Hayfield and Birch Vale."
To contact your local Safer Neighbourhood policing team, use one of the following options:
• Facebook – send us a private message to this page
• Twitter – direct message our contact centre on @DerPolContact
• Website – complete the online contact form www.derbyshire.police.uk/Contact-Us.
• Phone – call us on 101.
Residents can also sign up to Derbyshire Alert to receive free community safety alerts, crime information and messages from your local Safer Neighbourhood policing teams. Visit www.derbyshirealert.co.uk.
Image: Derbyshire Constabulary