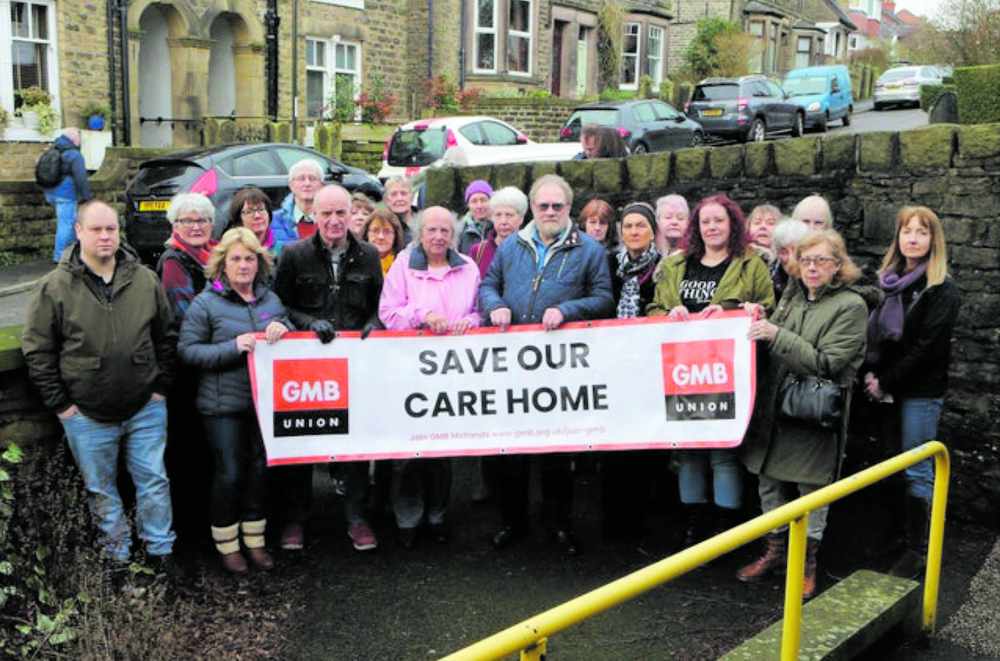 Worried families of residents at Goyt House Care Home in New Mills are planning to protest the planned closure, saying it could have 'devastating' results.
The 'Save Goyt Valley Home' campaign team is arranging a protest and march this Saturday, meeting at 11am just outside the house on Jubilee Street, New Mills.
A procession complete with banners and even a local brass band will then march to New Mills Town Hall.
Derbyshire County Council issued a letter informing those of the closure, citing that the home needs significant work doing to it - including comprehensive re-wiring - leaving families to wonder whether their loved ones will have to be uprooted in the process.
"None of us had any idea this was under consideration, and none of us are willing to accept the reasons put forward," said a spokesperson, whose mother is one of a few centenarians cared for at Goyt House.
"Our loved ones are cared for superbly well by the wonderful staff at Goyt Valley. There is a mix of frail, mentally alert residents who are no longer able to be looked after safely in their own homes, and dementia sufferers who also need round-the-clock care.
"To suddenly learn that these vulnerable people could be uprooted from what they now consider their home and be re-located who knows where, is devastating to all of the relatives.
"My own 103-year-old mother would not survive a move, having lived in New Mills all her life."
The council say a lack of ensuite facilities at Goyt Valley poses a problem, but campaigners say they aren't essential and expressed their concerns over the distance of the move.
"If residents are moved out of New Mills, elderly spouses, partners, and relatives who don't drive would find visiting much more difficult, if not impossible. As it is, a town bus stops right outside Goyt Valley, allowing easy access."
The group, which is now supported by GMB in their fight for Goyt House, was passionately backed by former High Peak MP and current Whaley Bridge councillor Ruth George.
She said: "The 30 beds at Goyt Valley House form a key part of the care provision across High Peak. I'm very concerned that Derbyshire County Council is proposing to close the home without providing any additional places.
"Residents and their families are very happy with their care from the excellent staff team, and there's a considerable waiting list for places.
"I find it disgraceful that people who need a place are now being denied use of the seven vacant beds, and that even short term stays for respite and rehabilitation after a hospital stay are being denied."
Save Goyt Valley Home say: "We are not just fighting this closure for the sake of current residents, but also for anyone else in the town who may require these services in the future. This is a vital asset in our community and we feel very strongly that the people of this area deserve to keep it open."
A petition set up by the families has reached over 1,000 signatures, which is addressed to MP Robert Largan, Derbyshire County Leader Barry Lewis and Cllr Jean Wharmby, can be found at https://www.change.org/p/robert-largan-mp-stop-derbyshire-county-council-closing-goyt-valley-house-residential-adult-care-home.
Mr Largan visited Goyt Valley House on Friday, meeting with staff, relatives and residents and says he saw at first hand the refurbishment needed.
He said: "The staff do a fantastic job, they work incredibly hard and the strong relationship they have with residents is a testament to that.
"The most memorable part of my visit was meeting a relative of a resident who told me just how much the home means to his family and the difference it has made to their lives.
"I desperately want Goyt Valley House to stay open. I am continuing to work hard by lobbying the council and pushing them for more answers."
The MP has urged everyone concerned to take part in the consultation, so that the strength of local feeling is made clear.
A spokesperson for Derbyshire County Council said: "We launched a consultation into proposals to close seven of our care homes and refurbish three after an independent survey found the homes needed significant work, including rewiring, to maintain the safety of residents.
"We carried out immediate work to ensure residents' safety was maintained while still providing good quality care, but these are only temporary measures and even if repairs were carried out, the homes proposed for closure wouldn't, in our view, be suitable for the longer term as they are not able to meet modern care standards. Rooms are too small for essential equipment and residents have to share bathrooms. We also have to consider if carrying out the work is a good use of public money given predictions that there will be less demand for traditional residential care in the future.
"We'd like to emphasise that no decisions have been made yet and we'd urge everyone to take part in the consultation.
"To ensure everyone is able to have their say we've held two meetings at Goyt Valley House with residents, their families and carers, to explain the background to the proposals and to encourage them to take part in the consultation. We've also talked with staff and the unions. We held a drop-in session at New Mills library and we've shown the local MP and a councillor around.
"We know that the care received by residents at Goyt Valley House is good quality and that it's very much appreciated by residents and their families and we'd like to encourage them to take part in our online consultation at www.derbyshire.gov.uk/care-home-review
"For a paper copy call 01629 531307 or email tell.adultcare@derbyshire.gov.uk The consultation closes on April 24.
"We'd like to stress that this is a proposal and all the views given during the consultation will be taken into consideration before making a decision."