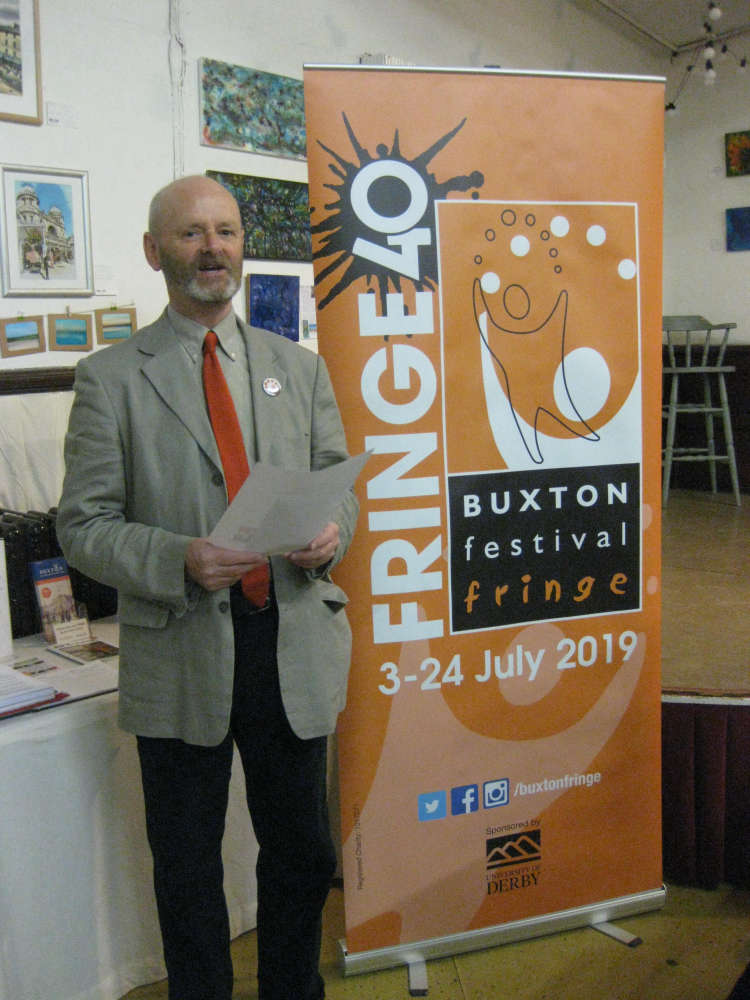 Keith Savage.
Tributes have been paid to High Peak borough councillor Keith Savage, who has died after a short illness. 
High Peak Labour group in a statement said: "Keith Savage's untimely and unexpected death has come as a great shock to all who knew and loved him.
"Our thoughts go out to Helen, Jess and Toby at this saddest of times. Keith was kind, passionate and caring. His loss will leave a large gap on Buxton's cultural and political life.
"A Londoner and an avid Arsenal fan at heart - Keith found his permanent home in Buxton.
"Keith loved the town and in turn he was loved, and will be missed, by many people and communities around the town."
'Rest easy comrade'
Described as quiet and thoughtful, and someone who knew his own mind, his Labour colleagues said he was never afraid to give his opinion and would argue his corner vigorously.
The Labour councillor for the Cote Heath ward in Buxton, Keith was first elected to High Peak Borough Council in 1995 and went on to be elected as a councillor again in 2011 and 2019.
In his current term on HPBC, he was appointed as the Council's Arts Champion - a role he took on with relish. The new High Peak wide Arts Forum is his latest legacy to the borough and town which he made his home.
Tintwistle borough councillor Rob Baker met Keith when they were both elected on the council in 2019 and worked with him during the early stages of setting up the High Peak Arts Forum.
He said: "I quickly realised he was not only a very smart man but also utterly dedicated to championing the arts here in High Peak.
"A great many clubs and societies in Buxton and beyond have benefited from his skills and enthusiasm. His passing has completely knocked me for six. He was my friend; a stalwart colleague and I will miss him. Rest easy comrade."
Keith was also the council's representative on the Board of High Peak Theatre Trust, which runs Buxton Opera House, and Connex Community Support.
He was an active member – and founder - of many groups including The Broadway Piano, Buxton Film Society and Buxton Festival Fringe, which saw him serve six years as Chair.
'He was a kind and thoughtful man'
Current chair of the Fringe Stephen Walker said: "We are deeply saddened by the sudden loss of our former Chair, Keith Savage.
"Keith was Chair of Buxton Fringe for six years culminating in the wonderful success of our Fringe40 celebrations in 2019.
"He was a kind and thoughtful man who gave so much to the Fringe over many years, being generous with both his time and energy.
"Given his involvement in Buxton Film, Buxton Broadwood recitals, as a High Peak Borough Councillor, and in many other ways, Keith was central to the life of Buxton and will be missed enormously.
"Our thoughts are with Helen and all of Keith's family."
Ian Park Heath, paying tribute on Twitter, said Keith was a staunch supporter of probably every cultural event or project in Buxton.
"He leaves a huge hole in all our lives. He will be missed by us all."
'A lovely, gentle and generous man'
Padfield borough councillor and High Peak deputy mayor Ollie Cross said he was "deeply saddened" to learn of Keith's passing, describing him as "kind, considerate and a thoroughly decent man".
He added: "He was also fiercely intelligent, sharp and had a brilliant sense of humour.
"Keith was deeply involved in community life down in Buxton and was utterly dedicated to championing the arts in the High Peak. He'll be sorely missed by many. My thoughts and prayers are with Keith's family and friends at this moment in time."
High Peak MP Robert Largan said: "It's very sad news that Keith Savage has died.
"We were on different sides of the political debate but I always got in well with Keith. He was throughly decent and dedicated public servant who did a huge amount for the town, particularly in his role as Chair of Buxton Fringe.
"I enjoyed chatting to him about shows we had both seen at Buxton International Festival and he had a very dry sense of humour. He will be missed."
Glossopdale councillor and deputy leader of High Peak Borough Council, Damien Greenhalgh, commented: "Keith was such a lovely, gentle and generous man. The speed of his illness and death has taken all of his friends, family and colleagues by shock.
"I am enormously pleased that I have had the pleasure of working closely with him over the past two years on all things arts and culture in High Peak as the Council appointed him our Member Champion for the Arts to assist with my portfolio responsibilities given his passion, skills and experience which has added so much to the cultural life of Buxton and the High Peak."
Whaley Bridge county councillor Ruth George said: "Keith's sudden and untimely death is a tragedy and my heart goes out to his family and loved ones.
"Keith was quiet, gentle, sensible but passionate about supporting the arts and theatre in Buxton, helping his constituents and making High Peak a better place for us all.
"I - and so many others - will miss him greatly. R.I.P. Keith Savage."
Read more from the Glossop Chronicle
Click here for more of the latest news
Click here to read the latest edition of the paper online
Click here to find out where you can pick up a copy of the paper