Tameside Toy Appeal 2022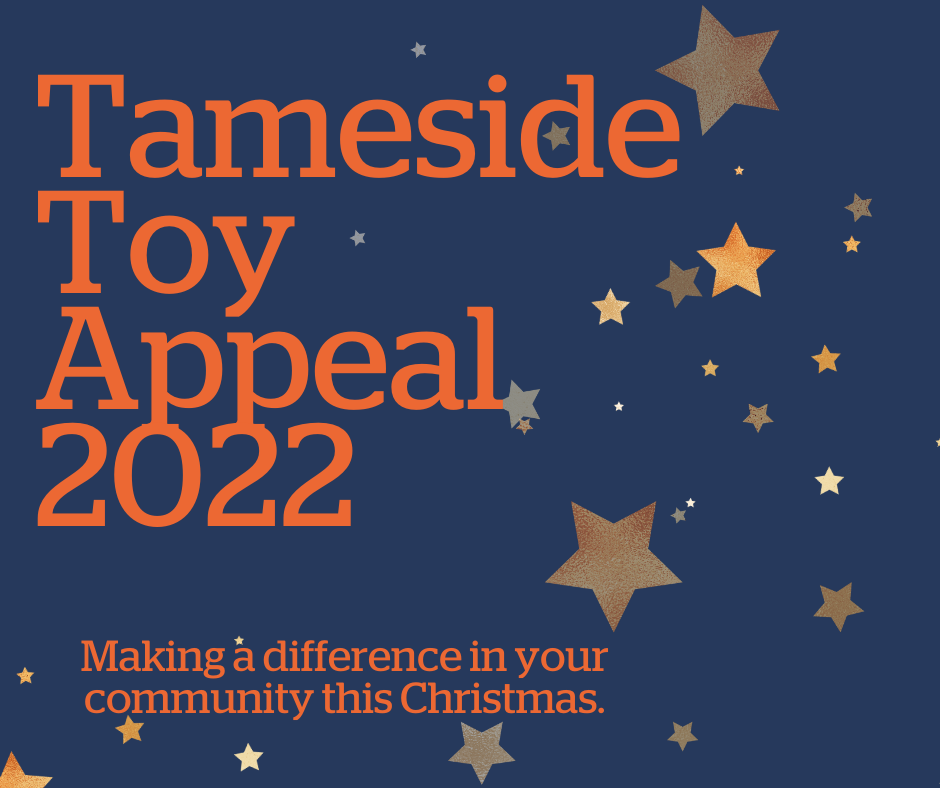 Tameside Radio and the Tameside Reporter are once again proud to support this year's Tameside Toy Appeal.
Each year, local charity Action Together runs the appeal. Last year, over 7,000 toys and gifts were donated to Tameside children most in need.
Christmas will be a very difficult time this year for many families in Tameside, particularly those living in poverty. One in four Tameside children live in poverty.
In response to these unprecedented times, the Tameside Toy Appeal 2022 is needed now more than ever to help give them a gift this Christmas.
You can safely donate toys at one of the local drop-off points across Tameside (see a full list below) or give online via the JustGiving page.
Donations of new and unwrapped gifts for babies to 18 year olds are needed. Second hand or soft toys cannot be accepted.
Donations must be received by Friday 9 December.
All new donated toys collected go to local children's centres before being delivered (by Santa) in time for Christmas.
To find out how your school, business or community group can support the Tameside Toy Appeal, email info@actiontogether.org.uk or call 0161 339 2345.
If you would like to host a private Tameside Toy Appeal 2022 collection for your staff, volunteers, students, service users etc, email Lisa Hannibal at lisa.hannibal@actiontogether.org.uk
Thank you for your help and generosity.
Gift ideas
Children aged 0-3 years old - Bath toys, building blocks, playmats, teethers
Children aged 4-12 years old - Activity toys, board games, dressing up outfits, puzzles
Teenagers - Art supplies, card games, gift vouchers, sports equipment
All-ages - books, gloves, hats, scarves, slippers, socks
Toys can be donated at the following official drop-off points:
ASHTON
Asda Ashton, Cavendish Street, Ashton-under-Lyne OL6 7PF
Wendy and Mandy's Café, Ashton-under-Lyne, Indoor Market
Active Ashton, Water Street, Ashton-under-Lyne, OL6 7AN
St Peter's Children Centre, 2, Trafalgar Square, Ashton-Under-Lyne, OL7 0LL
Parochial C.E Primary, 74 Keppel Street, Ashton-under-Lyne, OL6 6NR
Waterloo Primary School Primary School, Worthington Street, Ashton-under-Lyne OL7 9PT
Age UK Tameside, 131 Katherine Street, Ashton-under-Lyne.OL76AW
The LEAP Children and Family Centre. Clyde St, Ashton-under-Lyne OL7 0NQ
Charles Day Nursery. 101 Turner Lane, Ashton-Under-Lyne OL6 8LW
AUDENSHAW
Mi Amour by Sarah Connor, 168 Audenshaw Road, Audenshaw, M34 5WN
DENTON
Denton West End Community Library Windsor Road, Denton, M34 2HB
Denton Library, Town Hall, Market Street, Denton, M34 2AP
Haughton Green Centre, Tatton Road, Haughton Green, Denton, M34 7PH
Oasis Centre, 2 Tatton Road, Haughton Green, Denton, M34 7PL
Victoria Park Community Centre Acre Street, Denton, Manchester M34 2AL
Tameside Wellness Centre - Lance Corporal Andrew Breeze Way, Denton, Manchester M34 3RD
My Property Club, 66 Hyde Road, Denton, Manchester M34 3AG
Denton Community College, 80-90 Taylor Lane, Denton, Manchester M34 3NG
Howard's Neighbourhood Bar in Denton. 49 Manchester Road, Denton, Manchester M34 2AF
DROYLSDEN
Community Cutz, 2 Chapel Road, Droylsden, M43 7NA
St Martin's Church, Greenside Lane, Droylsden, M43 7QS
Active Medlock, Gardenfold Way, Droylsden, M43 7XU
Greenside Children's Centre, 224 Greenside Lane, Droylsden, M43 7RA
DUKINFIELD
The Together Centre, Loxley House, Birch Lane, Dukinfield, SK16 5AU
Dukinfield Library, Concord Way, Dukinfield, SK16 4DB
HYDE
ABC Nursery, Onwards Street, Hyde, SK14 1HW - Monday to Friday - 7am to 6pm
Active Hyde, Walker Lane, Hyde, SK14 5PL
Hyde Children's Centre, Hyde Flowery Centre, Hyde, SK14 4SQ
POP Café, Post Office House, 11 Corporation Street, Hyde, SK14 1AB - Monday to Saturday - 10am to 3pm
Hattersley Hub, Stockport Road, Hattersley, SK14 6NT - Monday to Friday 10am to 2pm
The Grafton Centre, Grafton Street, Hyde SK14 2AX
Lymefield Outdoors Learning Centre, Broadbottom, SK14 6AG
LONGDENDALE
Hattersley Library, The Hub, Stockport Road, Mottram, SK14 6NT
Hope Community Church, Hope Christian Centre, Stalybridge Road, Mottram, SK14 6NF - ONLY Mondays 9.30am to 4pm
Mottram Parish Church, War Hill, Mottram, SK14 6JL
MOSSLEY
Mossley Childrens Centre, The Rowans, Mossley, OL5 9DR
STALYBRIDGE
St Paul's Stalybridge, St Paul's Vicarage, Huddersfield Road, SK15 2PT
Active Copley, Huddersfield Road, Stalybridge, SK15 3ET
Stalybridge Library, Trinity Street, Stalybridge, SK15 2BN
Reach Church Kelvin Works, Huddersfield Road, Stalybridge, SK15 3HE
Big Local, 4 Ambleside, Stalybridge SK15 1EB
Academy HQ