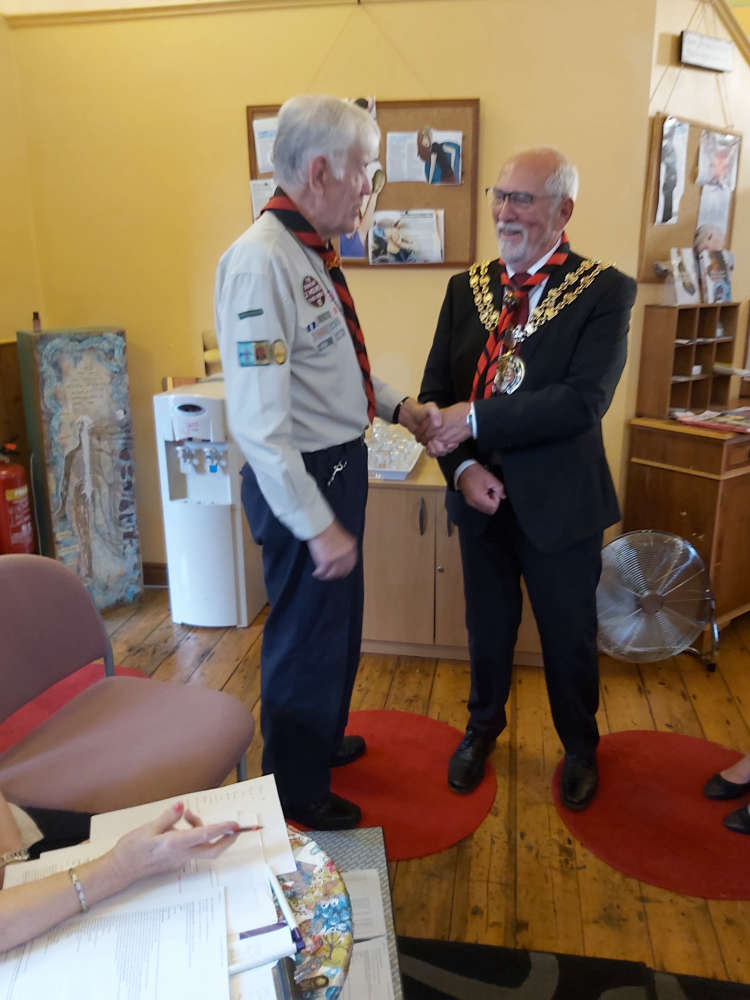 HONOUR: Alan Fish, Chairman of NT Scouts, welcomes Civic Mayor of Tameside Cllr Mike Glover.
The Civic Mayor of Tameside, Councillor Mike Glover, has taken on a new role to support Tameside's scouting movement.
At the North Tameside Scouts Annual Meeting, he agreed to become the District's President during his term of office with the help of Mayoress Anne Gordon.
Alan Fish, Chairman of NT Scouts, welcomed them both to the recent meeting along with scout leaders and guests.
Alan invested The Mayor with the NT District's red and black neckerchief and welcomed him into scouting.
If you spot the wrong handshake in the picture, it's because in scouting all scouts shake with their left hand.
Lord Baden Powell discovered that the tribal Ashanti Chief's in West Africa shook with their left hands because it meant they would have to put their shields down but still have their machete in their right hand, which meant that they trusted and respected each other.
The Mayor said it was a tremendous honour to be invited to be President of NT Scouts that has done such a great job for young people in Tameside.
"I am also impressed that so many of you are prepared to volunteer," he added.
At the NT meeting, the new District members were voted in and the accounts accepted as a true account of funds.
Alan reported that scouting has started to pick up again after Covid and District Commissioner Andy Morton added that numbers are rising in all sections.
Finally, the eight scout groups gave their reports to the annual meeting.
Alan thanked everyone for attending and invited the Mayor and leaders to a meal at the Purple Olive restaurant to chat and to get to know each other and find out more about Scouting.
If you would like to help Scouting, contact alan.fish@ntscouts.org.uk by calling 07931 765 120 or visit www.ntscouts.org.uk for all the information.
Read more from the Tameside Reporter
Click here for more of the latest news
Click here to read the latest edition of the paper online
Click here to find out where you can pick up a copy of the paper