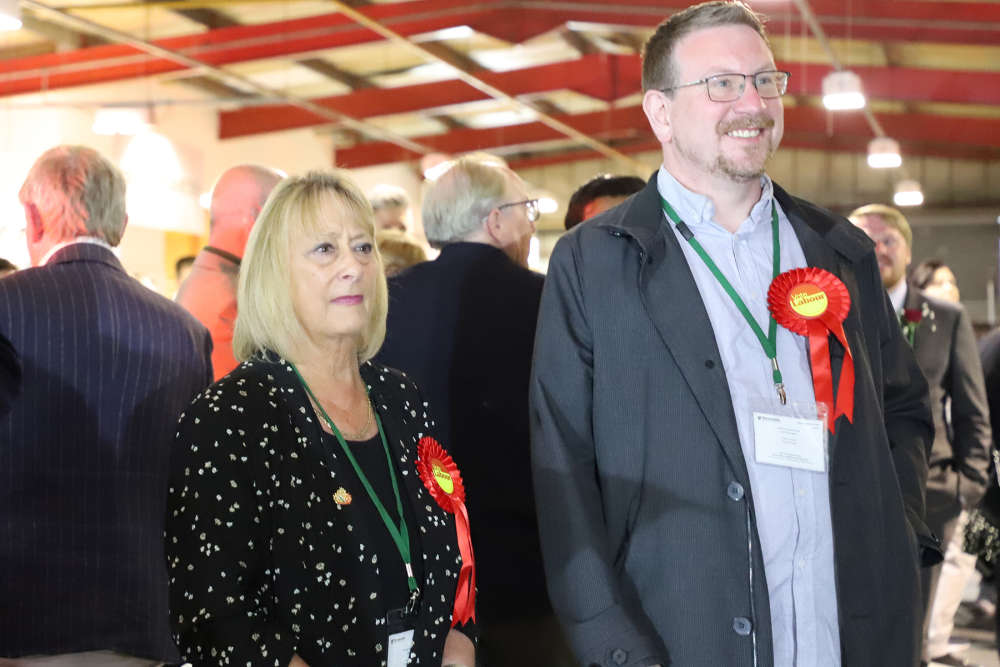 Councillor Brenda Warrington pictured with Denton MP Andrew Gwynne at the election count in Ashton. Image: Nigel Wood.
As Thursday's election dust settled, Tameside Council Leader Cllr Brenda Warrington came out fighting, faced with an election battle of her own.
Long-serving Labour councillor Ged Cooney had laid down the challenge just weeks before the election, stating the council needed to change.
It followed claims about long-term disquiet about how the Labour-run council was being led and how in touch it was with local matters.
It also followed Cllr Warrington's controversial full council 'bulldozer' comment in relation to the Godley Green development directed at the Conservative opposition - when she stated she would be the first on the bulldozer to start digging to build the new homes - and would 'drive it down their throats'.
Having remained quiet in the run-up to the election, Cllr Warrington responded on Monday that she would be fighting the leadership challenge, no doubt buoyed by the Labour Party's local election successes.
She pulled no punches, however, as she made a number of astonishing and personal claims.
My statement on the Labour leadership contest in Tameside: pic.twitter.com/9j23AowQrG

— Cllr Brenda Warrington (@tmbc_leader) May 9, 2022
She states: "I am at a loss to understand why Cllr Cooney did not, at any stage, privately communicate his ambition to take over responsibility as Leader of Tameside MBC. Since he has chosen to conduct his challenge very publicly through the media, I have no option but to do likewise, but I would have preferred to conduct the business of the Tameside Labour Party in a more private environment.
"Ged Cooney has been my right hand ever since he persuaded me to stand as Leader, four and a half years ago following the sad death of Cllr Kieran Quinn, I had always thought we could trust each other...
"Whilst I accept the right of any elected Labour councillor to mount a leadership challenge, I did not expect the degree of pressure exerted by several people, to try to force me to withdraw; it has been a very unpleasant experience.
"Having said that, I would have preferred the pressure to have been confined to me and I am sad to know that others have also been subjected to intense pressure to secure support for Cllr Cooney.
"A very public example of this, referred to by Cllr Cooney in his comments to the media, is (Audenshaw councillor) Oliver Ryan, who, following a phone call from a senior prominent Labour Party MP in Tameside, was forced to switch support away from me for fear of his future political ambition being destroyed if he refused. This led to a letter from Oliver written to Cllr Cooney being widely circulated and publicised during the critical pre-election period. I won't deny that this hurt and upset me, and probably damaged the party too.
"As I have said previously, I have chosen to make no comment until after the conclusion of the local elections. I believe that is the right, proper and honourable thing to have done by anyone seeking to lead Tameside Labour. Our party and the fortunes of our elected candidates must always come first, rather than personal ambition. I'm only sorry that Cllr Cooney failed so badly in this respect.
"Now that the local elections are concluded I feel able to make it very clear that I refuse to be bullied, harassed, or intimidated by anyone for any reason, despite the attempts made.
"Since I was elected as Leader, four and a half years ago, I have successfully led Tameside through numerous major, unprecedented challenges starting almost immediately with the collapse of Carillion and consequent impact of financial and economic impacts; ongoing austerity; increased demand for adult and children's services; and much, much more, as well as initiating an ambitious growth agenda. Then, for the past two years we have had to deal with the many impacts of the pandemic which, for much of that time, totally absorbed our time and energy in order to support the people of Tameside whatever their age or circumstance.
"I regret that this hostile challenge to my leadership has created a huge division within the Tameside Labour Group and whatever the outcome it will be necessary for this to be resolved.
"Following the local elections last week, the Labour Party remains the largest political group in Tameside with 48 councillors, maintaining control of the council. The primary focus of the ruling political group is to lead the council and make decisions which support residents and the economy and are in the best interests of the borough. Personal ambition should never detract from this principle.
"The challenges for Tameside in the future are considerable - what is important is stability so that confidence in the administration is maintained. That is my sole focus.
"The ultimate decision as to who will lead Tameside Labour and Tameside Council now rests with the 48 members of the Tameside Labour Group."
That decision will come at the local party's AGM on Sunday.
Read more from the Tameside Reporter
Click here for more of the latest news
Click here to read the latest edition of the paper online
Click here to find out where you can pick up a copy of the paper