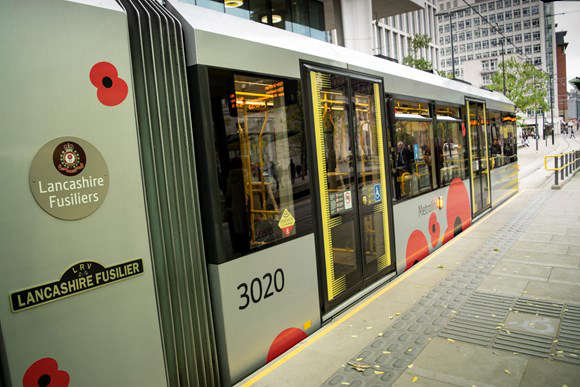 Those looking to travel on Remembrance Day and Remembrance Sunday are being asked to plan ahead.
The region will pause to remember those who have served and lost their lives in war and conflict on both Remembrance Day (11 November) and Remembrance Sunday (14 November).
To honour this, all Metrolink services and announcements will stop at 11am to allow passengers and drivers to observe the national two-minute silence.
Poppy wreaths will also be placed in both cabs of Metrolink tram 3020, which is named the Lancashire Fusilier tram after the historic regiment.
On Remembrance Sunday, some Metrolink and bus services will be diverted. Roads will be temporarily closed in Manchester from 7am to 1pm to accommodate the annual procession through the city centre.
The march will start from John Dalton Street at 10.25am, with civic dignities and faith leaders leading it from Peter Street before arriving at the Cenotaph in St Peter's Square for the remembrance service.
You can find out more on affected services and road closures here
Transport for Greater Manchester's Head of Metrolink, Danny Vaughan, said: "We want everyone travelling on the network on Remembrance Day to have the opportunity to pay their respects.
"We also want to make sure that people heading to the events taking place in Manchester on Remembrance Sunday get there on time, as we know how important these events are to people.
"So, if you are planning on catching a tram either to the event or just travelling around the local area, please allow extra time for your journey."
All current and former members of the Armed Forces who carry their MOD90 card, and cadets in uniform, will be able to travel to and from remembrance services for free on Metrolink.
First Manchester is also offering Armed Forces personnel, cadets and veterans free travel across its entire network – including the Vantage service on the guided busway from Leigh and Atherton to Manchester Royal Infirmary.
Northern is also offering complimentary travel on both days across the rail network for those wearing armed forces or cadet uniforms or carrying a military ID card.
A memorial service will be held at the Soldier's Gate at Manchester Victoria station from 10.55am on Remembrance Day.