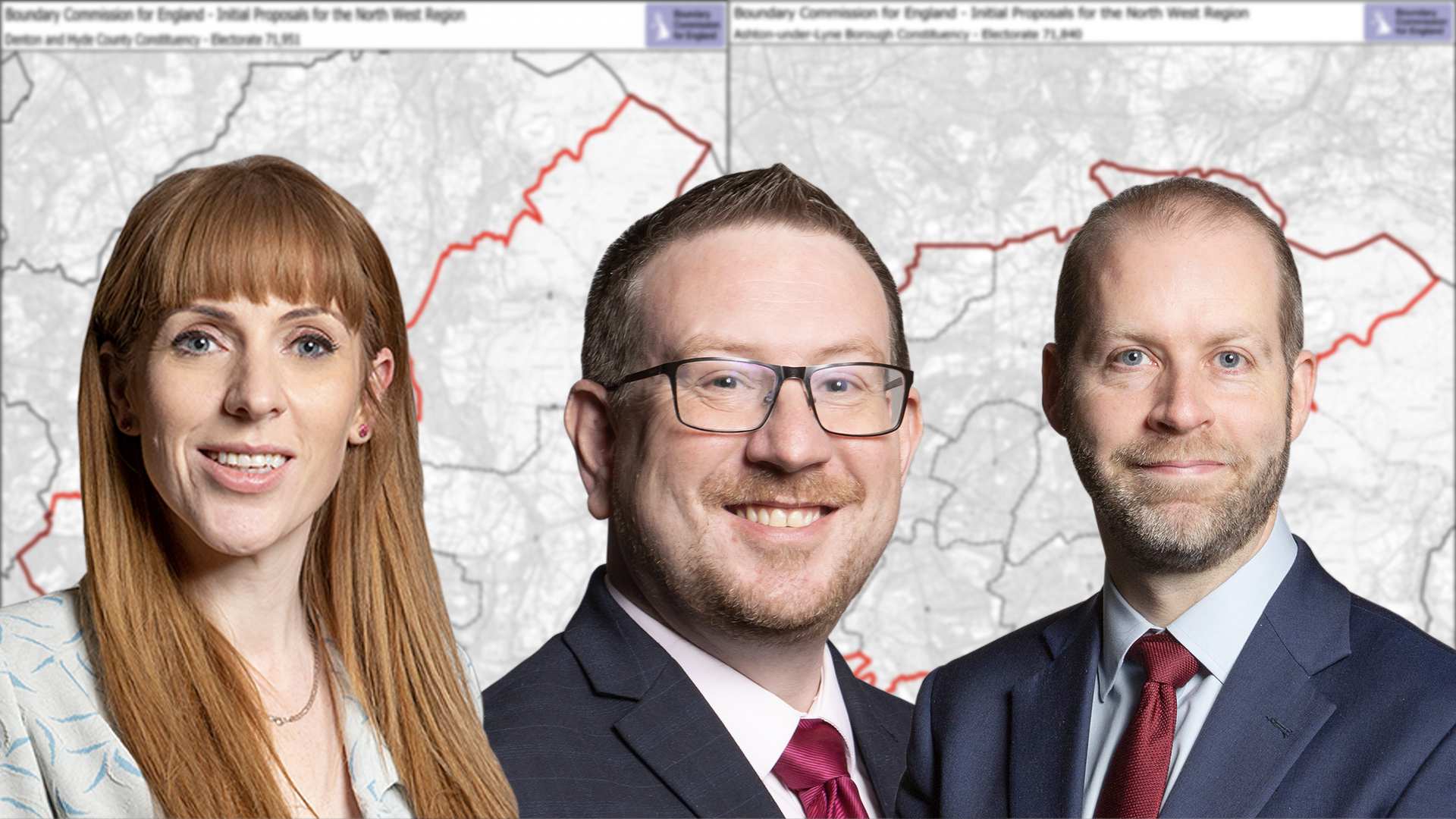 Tameside's parliamentary constituencies could look very different after the next general election under proposals by the boundary commission for England.
They're undertaking a review of the size and location of each parliamentary constituency ahead of the 2024 general election.
Under plans released today (Tuesday 8 June) Tameside would still have three constituencies, albeit in different locations.
The new 'Denton & Hyde' constituency would include all of Denton and Hyde, alongside Longdendale and southern parts of Stalybridge.
The 'Ashton-Under-Lyne' constituency, currently represented by Angela Rayner would lose Failsworth and Droylsden, whilst representing all of Ashton, Dukinfield, Dukinfield-Stalybridge, Mossley and the northern parts of Stalybridge.
East Manchester is where the greatest changes come with the creation of a new 'Failsworth & Droylsden' constituency. It would represent the areas of Audenshaw, Clayton, Openshaw, Droylsden, Failsworth, Gorton, Abbey Hey, and parts of Miles Platting and Newton Heath.
Now plans have been submitted, they are subject to an extensive public consultation, meaning that proposals could change again as objections are received. Final recommendations of the review should be published by 1 July 2023.
The review aims to redraw local boundaries so that each parliamentary seat represents roughly the same amount of people, whilst still adhering to established communities.
Denton MP Andrew Gwynne has reacted to the plans, saying that he will be sorry to lose parts of his constituency.
He said: "This is the beginning of the process, and the plans may change again following the consultation process. It's about evening up seats across the country so that every MP has a similar number of voters.
"The changes to Greater Manchester are quite dramatic because of the new rule stating the population differences can only vary by 5%. Labour had argued for 10% (which is used for council boundary reviews) to allow a better fit with local ties, but that argument was lost and the Commission must follow the rules set out in law.
"On the plus side, Greater Manchester will retain 27 Members of Parliament, and within that, Tameside retains 3 seats - just in a very different arrangement.
"Of course I will be sorry to lose parts of my constituency to other seats at the next election but I will continue to represent Audenshaw, Denton, Dukinfield and Reddish up until then, as best I can."
Ashton MP Angela Rayner has also responded to the Reporter's request, saying that the changes will see historic communities being broken up.
She said: "The review of parliamentary constituencies is a crucial democratic step to ensure constituencies are broadly the same size and the boundaries reflect the communities within them.
"However, the rigidity of the criteria for constituency size enforced by the Conservative Government will inevitably lead to historic community ties being broken to make the numbers add up. Locally we have seen this manifest itself in the splitting of towns like Stalybridge across two constituencies and the creation of a new 'Failsworth and Droylsden' seat that straddles three Council areas.
"Electoral equality is important, but a one size fits all approach to achieving it must not come at the expense of respecting historic township boundaries.
"We will engage fully and constructively with the consultation on the new boundary proposals"
Meanwhile current Stalybridge and Hyde MP Jonathan Reynolds said that he will focus on the job in hand until the changes are made.
He said: "The new proposals from the Boundary Commission do significantly change the Tameside constituencies. These reviews are unfortunately just a part of the parliamentary process and it is important for fairness that constituencies are broadly the same size.
"However, I don't like the way that the Government have set criteria so tightly that towns get broken up, as Stalybridge would be under this plan. Historic town identities are important. However, there is a long way to go and these plans often change between drafts.
"My focus will just be getting on with the job of representing Hyde, Stalybridge, Longdendale, Mossley and Dukinfield. I'm proud of the job I do representing all parts of the constituency and I think with everything that is going on right now that's what people want and expect."
All three of Tameside's MP's will continue to represent their current constituencies until the next general election, planned for Thursday 2 May 2024.
The consultation is open until Tuesday 2 August 2021 and you can have your say at bcereviews.org.uk.
Read more from the Tameside Reporter
Click here for more of the latest news
Click here to read the latest edition of the paper online
Click here to find out where you can pick up a copy of the paper