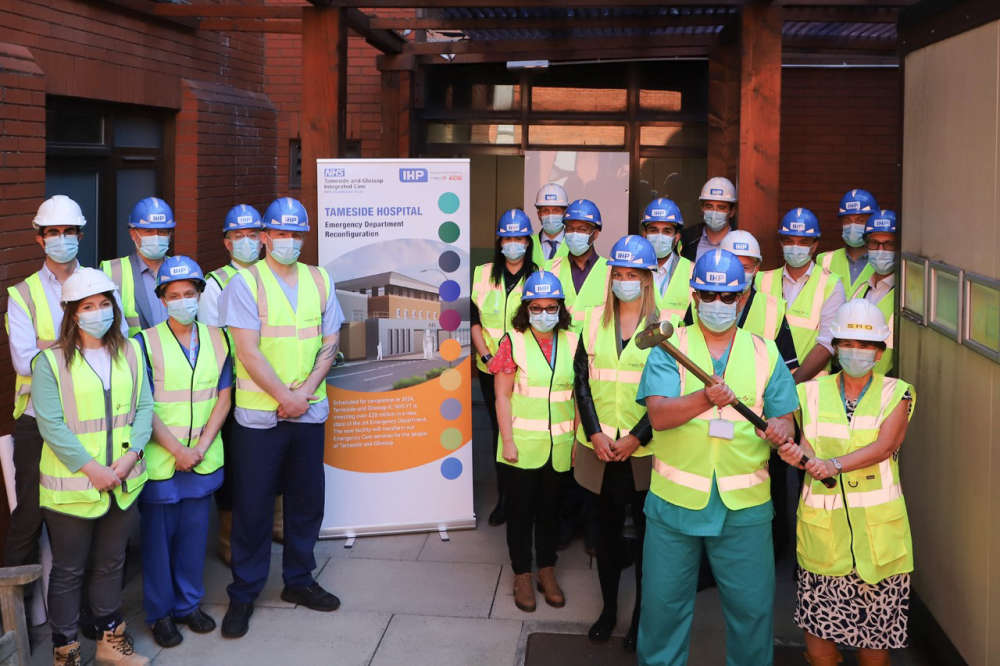 Breaking ground - marking the milestone at Tameside Hospital.
A new multimillion pound Emergency Department redevelopment project at Tameside General Hospital took a significant step forward with an official 'breaking ground' ceremony held outside the unit on Monday.
Delegates from the Trust including nurses, doctors and directors joined representatives from Integrated Health Projects (a joint venture between Vinci Construction and Sir Robert McAlpine) tasked with overseeing the project.
The latest milestone marks the beginning of the construction phase of the project after the successful recent completion of the enabling works.
Paul Featherstone, Director of Estates and Facilities said: "Having been involved in this project from the outset, it's fantastic to reach this milestone and begin the construction work of the new Emergency Department at the Trust.
"Whist we are still quite early in the redevelopment programme, the staff are already really excited about what this means for our urgent care provision at the Trust and it's beginning to become real for them."
Speaking about the benefits to the local community and staff at the Trust, Deputy Chief Executive, Trish Cavanagh added: "We are really excited about the progress we are making with our new Emergency Department. There are so many benefits it will bring to both patients and staff and we cannot wait to see the new facility begin to take shape.
"The new Emergency Department will be a unit the staff will be proud to work in and it will provide our patients with a state-of-the-art facility to receive care and treatment when required."
Speaking about the construction works about to commence Garry Bowker, North West Regional Director from Integrated Health Projects said: "Today's milestone is the culmination of a lot of hard work, collaborative design and meticulous planning to enable the construction stage of the new state of the art Emergency Department to commence on site.
"We are delighted to be delivering this much needed redevelopment project for the Trust and their staff which will enable them to provide the highest standards of care for patients despite the increasing demands on emergency and urgent care."