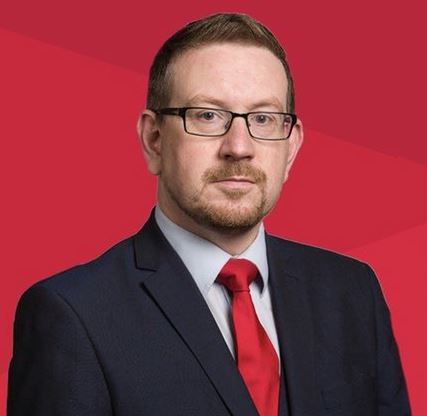 Denton MP Andrew Gwynne.
Denton MP Andrew Gwynne has branded the government's Integrated Rail Plan a 'total betrayal' for communities across the North of England.
The government has scrapped the Leeds leg of the HS2 high-speed rail line as part of a package that ministers promise will transform services.
The transport secretary told the House of Commons that the overhaul will bring faster journeys up to 10 years earlier than planned and showed the government was acting on its 'Levelling Up' agenda.
Grant Shapps, however, also faced accusations that he is watering down promises and a significant portion of the £96 billion pledged as new investment has already been announced - such as £360 million to improve ticketing.
HS2 was originally planned to connect London with Birmingham, Manchester and Leeds - but the HS2 route between the East Midlands and Leeds will now be scrapped.
But Labour MP Gwynne has described the announcements as "incredibly frustrating and profoundly disappointing".
He said: "Make no mistake, this watering down of the so-called 'Northern Powerhouse' Rail Line is a total betrayal to communities across the North of England. We were promised a completely new line. We were lied to. Simple as that.
"This Government was elected because it promised to 'level-up' the North. You can't move in Westminster without hearing the phrase being parroted by Government Ministers and spokespeople. Yet when it comes down to it, what do we get? Just more broken promises.
"The Government is simply opting for the cheaper option here and hoping that we don't notice that it bears no resemblance to the flashy pledges made by the PM in 2019 and earlier this year. Upgrading half of the line will not increase capacity and will not level-up the North. You can't revolutionise rail on the cheap.
"I pride myself on not being party-political about these things. If an idea is good, it's good no matter which side of the House proposes it. Northern communities, including Denton and Reddish, have been promised a transformational Rail plan in some form since 2014. We have been ignored and been left waiting for far too long.
Read more from the Tameside Reporter
Click here for more of the latest news
Click here to read the latest edition of the paper online
Click here to find out where you can pick up a copy of the paper