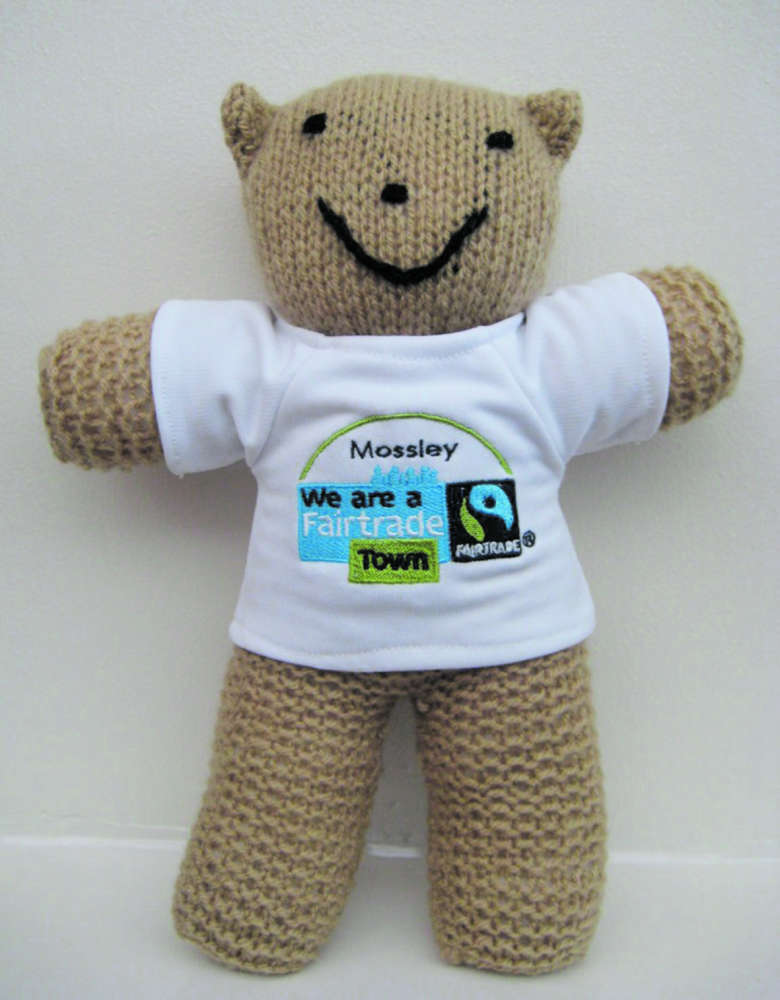 Mossley is celebrating 10 years as a Fairtrade town this year with an array of events throughout the area.
The celebrations start this week with events taking place during Fairtrade Fortnight.
The first one is the installation of Fairtrade flags outside Mossley Methodist Church, which have been made by local community art group ReCreate.
The flags were supposed to be erected on Monday, but due to high winds the installation was postponed to yesterday (Wednesday).
Each year, thousands of schools, organisations and communities nationwide play a key role in promoting Fairtrade Fortnight and raise awareness of the link between trade and poverty.
Janet Davies, on behalf of the Fairtrade Mossley Steering Group, said: "We invite you to join us as we stand up for the people who grow our food, mine our gold and produce the cotton in our clothes – people who are often exploited, underpaid and facing the greatest threat from the climate crisis.
"Smallholder farmers, who have contributed the least to climate change, manage over 80 per cent of the world's 500 million farms and rely on this land for their livelihoods.
"However, these farmers often lack access to the resources they need to adapt to a changing climate."
Mossley schools will be taking part in Fairtrade Fortnight with assemblies, learning, video blogs, competitions, baking, hot chocolate drinks and banana treats.
When someone chooses Fairtrade, farmers receive a fair price and also the Fairtrade Premium.
This is an additional sum of money which goes into a communal fund for workers and farmers to use – as they see fit – to improve their social, economic and environmental conditions.
Fairtrade is committed to fighting the climate crisis.
Fairtrade Standards also encourage producers to protect the environment by improving soil, planting trees, conserving water and avoiding pesticides.
Fairtrade also helps farmers to share best practice and gives guidance on the latest methods, such as intercropping and shade-grown coffee to adapt to changing climate conditions.
To help celebrate Fairtrade Fortnight 2022 Fair Ted's Community Big Brew will take place today (Thursday) at Mossley Methodist Church.
Everyone can pop in between 10am-12.30pm to find out more about Fairtrade and climate change, the future of our food and those who produce it.
Fair Ted and friends will also be at Mossley Co-op on Friday (tomorrow) and Wednesday, March 2 between 11am and 4pm both days, sharing news about farmers who produce our coffee, cocoa and bananas.
If you want to know more you can join the Fairtrade's Choose The World You Want free online festival - this highlights how the climate crisis is affecting the future of food and those who produce it.
You can visit https://www.fairtrade.org.uk/choose-the-world-you-want/ or contact Fairtrade Mossley via fairtrade.mossley@gmail.com or telephone Janet Davies on 01457 837485.
Read more from the Tameside Reporter
Click here for more of the latest news
Click here to read the latest edition of the paper online
Click here to find out where you can pick up a copy of the paper