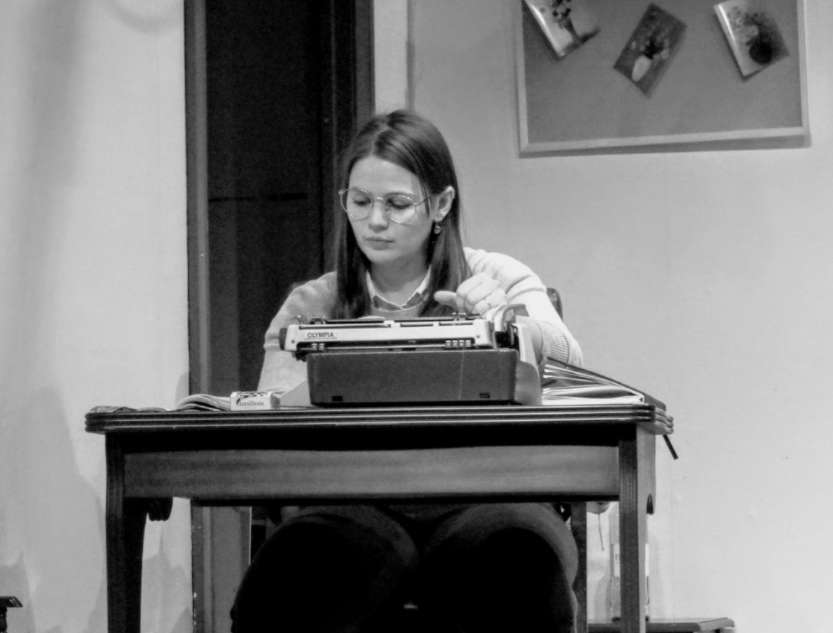 Image: Amy as Helene Hanff
Principal actress in Droylsden Little Theatre's latest production is going to step on stage just hours after returning from the European Space Agency.  
On December 5, Amy Evans travels to Germany for assessment as part of her application to be an astronaut.
She'll undergo a full day of testing the day after her arrival, including psychometric tests and practical exercises, before returning home in time for the play, 84 Charing Cross Road.
Amy applied to be an astronaut in the summer and out of 22,000 people has been selected for the next stage of testing.
She added: "I'd been looking into the programme for 4 years and as they only take applicants every 10 years, I knew now was my chance.
"When I got the date for my training in Germany, it was actually the same date as opening night at the theatre. I had to ring the play's director, Steve, and he was amazing because he actually moved opening night so I could still perform."
Long-standing member of Droylsden Little Theatre, Amy has been their membership secretary for 7 years. She's an avid actress though she only pursues dramatics as a 'hobby'.
In 84 Charing Cross Road, she'll be playing the leading lady, Helene Hanff. Helene is an academic writer in New York and the play details her correspondents and life.
Amy explained: "The play is really great, but also a challenge because there are lots of props. I've spent 2 years training for this part because I was cast before lockdown.
"Droylsden Little Theatre and acting really gave me the confidence to apply for the astronaut training. The nicest thing about getting invited to Germany is also how supportive and excited other people are!"
Steve added: "Everyone at Droylsden Little Theatre is just so immensely proud of Amy and we really wish her all of the very best."
In her day job, Amy lectures at Salford University on Environmental Management & Conservation.
If she passes the next stage of the astronaut selection process, she'll move on to more testing. There are six stages she needs to pass in order to be chosen as one of the European Space Agency's astronauts.
Get your tickets here.
Read more from the Tameside Reporter
Click here for more of the latest news
Click here to read the latest edition of the paper online
Click here to find out where you can pick up a copy of the paper