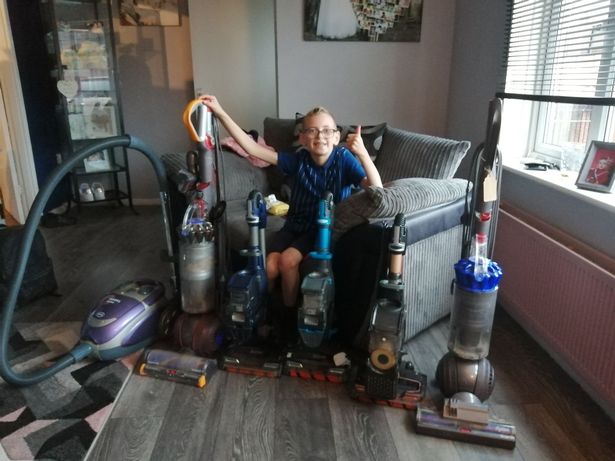 Most eight-year-old children are busy making a mess but one youngster from Hyde has a rather unusual hobby of cleaning up instead.   
Ollie Grundy (pictured), from Newton, has become a local celebrity and made national headlines for his obsession with hoovers.
He has ambitions to become the next James Dyson and already has entrepreneurial instincts.
Ollie recently set up his own vacuum repair business, which he currently runs from home, and already has lots of customers!
Speaking to Tameside Radio's Andrew Richardson, he explained more about his peculiar fascination with all things vacuum cleaners, how it developed at such a young age and the widespread support he's received.
"I was about one or two years old when I began this interest," Ollie said. "I sometimes pushed the vacuum cleaner around to help me walk.
"I just love how the motors work and the suction of it. I like how the filters help it get more suction in it.
"I've had lots of encouragement from friends and family and people I don't know. I've had quite a lot of people – probably more than 200 – on places like my mum's Facebook account.
"When I got my shark, I took a picture of it and sent it to my aunty and grandma. I then took a video and they said they loved it. My grandma said she wants one now but she's got a Dyson.
"When I got the shark from the lady, it was still in its box but it was wrapped up like a gift for me. When I unwrapped the present, it was a big box. I thought she bought a shark and just put her old hoover in a box or something, but it was my own shark."
His proud mum Emma says she has always known that Ollie will go on to become an engineer.
"We're very, very proud. He's been like this since one or two years old – for as long as I can remember.
"I've always known that Ollie would grow up to be some kind of engineer and this was going to turn into something more than just a hobby."
Ollie is now offering a cleaning service at a very reasonable price – but that's not all that he's doing, or wants to do!
"He's been doing repairs, he can change belts on hoovers, any blockages, cleaning filters out," Emma said.
"Now he's wanting to take motors apart but, with it being the electrical side, I don't want him blowing himself up or hurting himself!
"So, hopefully when he gets a workshop, he can start doing better repairs which are more safer."
Ollie, who even watches videos about hoovers on YouTube, has already set his sights on creating a hoover of his own.
"I've already got a name for my vacuum that I'm going to invent and it's name is Alexus," he said.
"James [Dyson] is one of my heroes because I like how he invented the swivel steering with the big ball at the bottom. I also want the Dyson DC40 because I like how the swivel works and I really want the yellow colour. It will be on my Christmas list!"
So, what do Ollie's friends and teachers think of his hobby and his new-found fame?
"They think that I'm really amazing," he said. "They want to help me clean and fix the hoovers to get me more money to buy what I want with everything. I also brought a newspaper called the Mirror in with me in it and showed the whole entire class and we read it."
They are fast running out of space at home as vacuums are taking over, and calls have gone out for a shed that Ollie can work in.
"We're running out of space now," mum Emma said. "It's just difficult with him working on the floor in the middle of the kitchen or working in the back garden. Now it's getting cold, it would be great to get maybe a donation from someone for a little shed or even a little workshop would be great."
If you can help Ollie, Emma explains how you can get in touch with her.
"I'm guessing by now that on the Hyde Past & Present Facebook group everyone knows who I am, so if you can find me on there or on Facebook, you can just inbox me or add me as a friend. Ollie also has his own work t-shirt which I've put on there and it also has my phone number on the back, so they're the best two ways to contact."
Ollie's dad Stuart is trying to construct a shed but is running out of wood, so they are also appealing to anyone who has any spare wood they can give.
"Yes, that would be great! As I say, we're just running out of space and time with the weather turning bad. His dad has decided to try and make something himself. We've had a couple of donations already with bits of wood but anyone else out there with maybe a spare shed or bits of wood hanging around, we would be grateful – thank you."