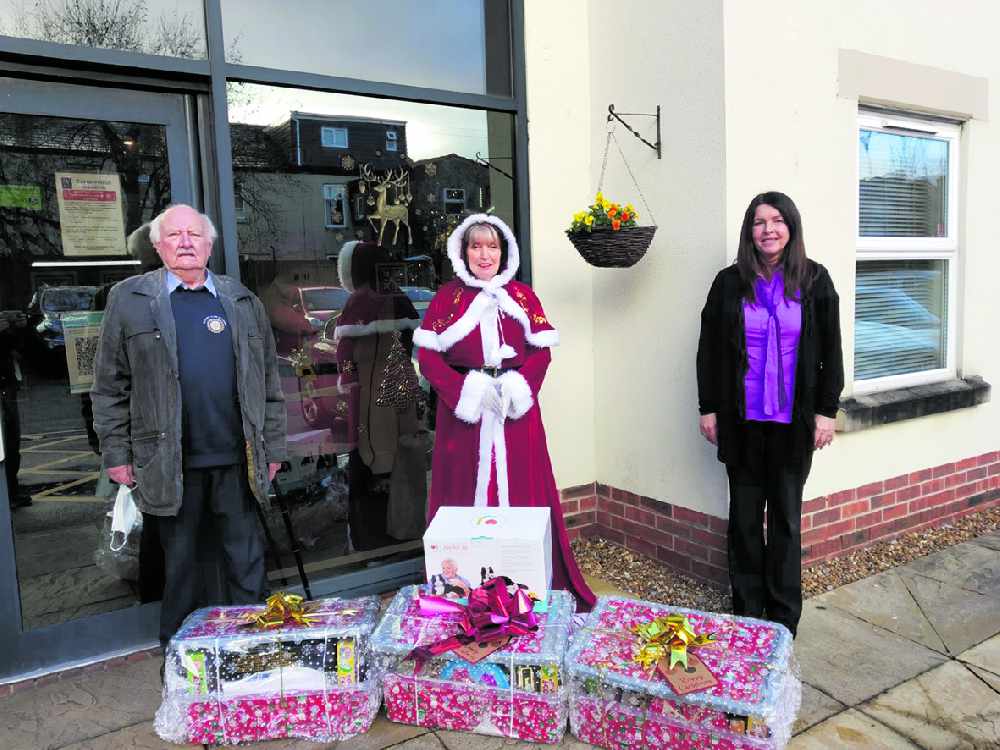 Hyde Rotary have been busy supporting many good causes this Christmas. 
When a local nursing home put out a plea on Facebook for help, the club was quick to step forward.
Hatton Grange in Hyde asked the local community to donate seasonal goodies in the run-up to Christmas that would help keep their 70 residents entertained over the festive period.
Hyde Rotarian Lynn Bird created six sensational seasonal hampers that contained confectionery, games and a variety of treats that promise to keep the residents busy over the Christmas period.
In order to add comfort to the residents suffering with dementia a life- like robotic cat was also presented.
Speaking after the presentation, President Barry Carey said: "It's been a difficult year for everybody and we hope that our small contribution will give the residents of Hatton Grange a great deal of pleasure over the Christmas break."
Separately Hyde Rotary also teamed up with national children's charity Kids Out to provide Christmas presents to survivors of domestic violence.
Children who are living in refuges across the local area will now receive a box of brand new toys and games to enjoy over the festive period.
Christmas is always tough for families in refuge, with this year set to be harder than usual due to the pandemic.
Most children arrive at refuge with only the clothes on their back, restricted to a single room with their mother and siblings.
Mothers struggle to provide basic essentials, let alone toys for their children at Christmas.
Speaking on behalf of the Hyde Rotary District Project, co-ordinator Lynn Bird said: "This is part of a Rotary International nationwide campaign to provide a Rotary Christmas Toy Box to 'Every Refuge, Every Child'.
"Thanks to local fundraising efforts, Hyde Rotary will be funding boxes of brand new toys to help support children's mental health and make the world a little kinder."
Each box will contain over £80 worth of gender/age-appropriate toys, with the boxes being packed by Kids Out and distributed straight to refuges for mothers to give to their children in time for Christmas.
Sandra Doherty, head of children's services at Kids Out, added: "The children we support often have very few possessions of their own and these toys will provide comfort, happiness, and Christmas joy in difficult times."
For more information about the appeal visit www.kidsout.org.uk.
Main image:
CHRISTMAS DELIVERY: From left, Hyde Rotary President Barry Carey and Rotarian Lynn Bird deliver the hampers to Hatton Grange manageress Angela Brown.