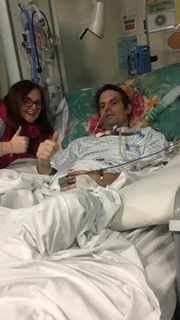 A Tameside chef who spent weeks in hospital after catching flu hopes his story will motivate people to protect themselves against the virus this winter by getting vaccinated.
Extreme reactions to flu are rare but to help others understand how bad the virus can be, John Smith, 40, has spoken about his ordeal and the impact it had on both himself and his partner, Jenny Rothwell, who is a nurse at Tameside Hospital.
John said: "When I was a kid my step-mum always use to say: 'You've just got a cold not flu, if you get flu you'll know about it' - I understand what she meant now."
Flu can have serious consequences and the risks are particularly high for older people, young children, pregnant women and those with long term conditions - like asthma or diabetes.
However, the virus has the potential to make anyone very unwell. John is fit and healthy, yet still suffered a debilitating case of flu that saw him hospitalised and placed into a medically induced coma to aid his recovery.
John first became ill at his restaurant while at work last year, he said: "I was working Christmas Day and felt completely fine, but at about 5 o'clock – just after we got the last meals out – I suddenly didn't feel great.
"Within 10 minutes I couldn't carry on. I went upstairs and found I couldn't move. Jenny had to talk me into going home, I just wanted to stay where I was.
"At first, I thought it was a bad cold - I'd never had flu before. I took Lemsip but I kept getting worse not better. After a few days, I was still ill. I kept asking myself: 'Why isn't this clearing up?'"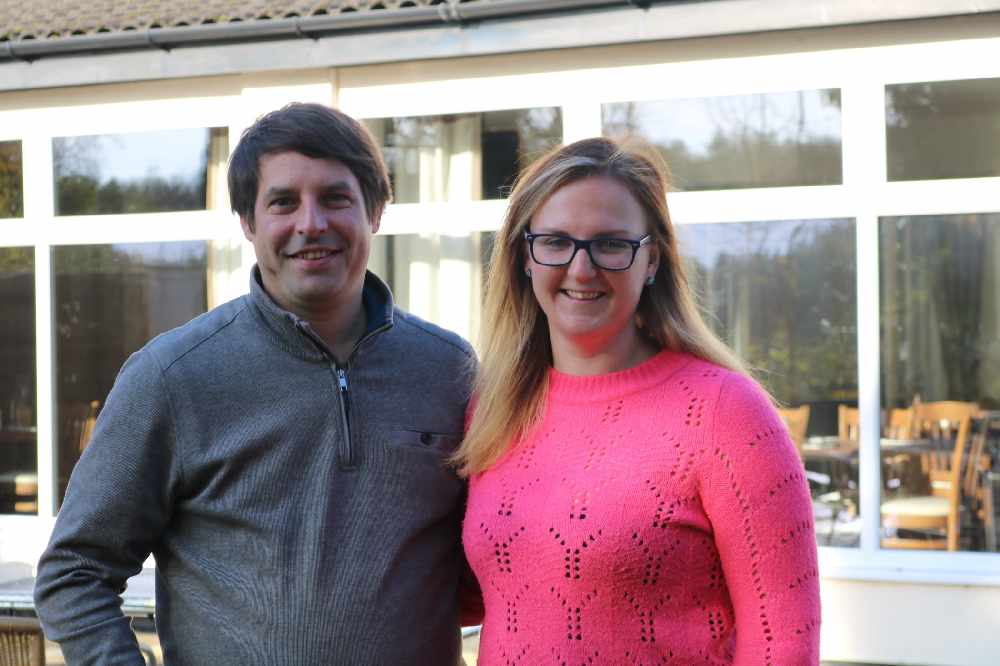 Five days later and John still felt seriously unwell, he had not left the house since Christmas Day.
John said: "On New Year's Eve, Jenny found me downstairs at six in the morning, wrapped in a duvet and acting strangely, deliriously talking about how 'she always burnt the toast'. I said I was getting better but it was obvious I wasn't. I can't remember a lot of it, but Jenny knew it was time to go to hospital."
After arriving at Oldham A&E it was found that John's oxygen levels were dangerously low. Jenny said: "I knew it was serious, John was agreeing to everything – which isn't him."
John's condition continued to deteriorate to a stage where he had to be put into a medically induced coma for three weeks to allow his body to rest and fight the virus.
John said: "In the end I had nearly 10 weeks off work. I came out of hospital at the start of February but still couldn't even walk up the stairs. Jenny had to look after me which was really hard on her.
"I never thought this would happen to me. I was fit, imagine if you're not. In a way I'm quite lucky, I was healthy, but this could happen to an older person or a child."
John's story has been a wake-up a call to his friends and family, as he explained: "Not only am I getting the flu vaccination this year but after what happened so are all my family. My experience really opened their eyes to how serious flu can be.
"It's easy to put off getting the vaccine, thinking you don't have the time – but don't. I'd ask everyone who can to make sure they get vaccinated this winter."
Book a free flu jab if you're a carer, over the age of 65, pregnant, have a long-term health condition like asthma or diabetes, or have a body mass index (BMI) of more than 40.
Toddlers aged 2 or 3 can get a free nasal flu vaccination at their GP surgery. Children (from reception up to year five) can get a nasal vaccination at school, with the consent of a parent.
Find out more at https://www.nhs.uk/conditions/vaccinations/flu-influenza-vaccine/.