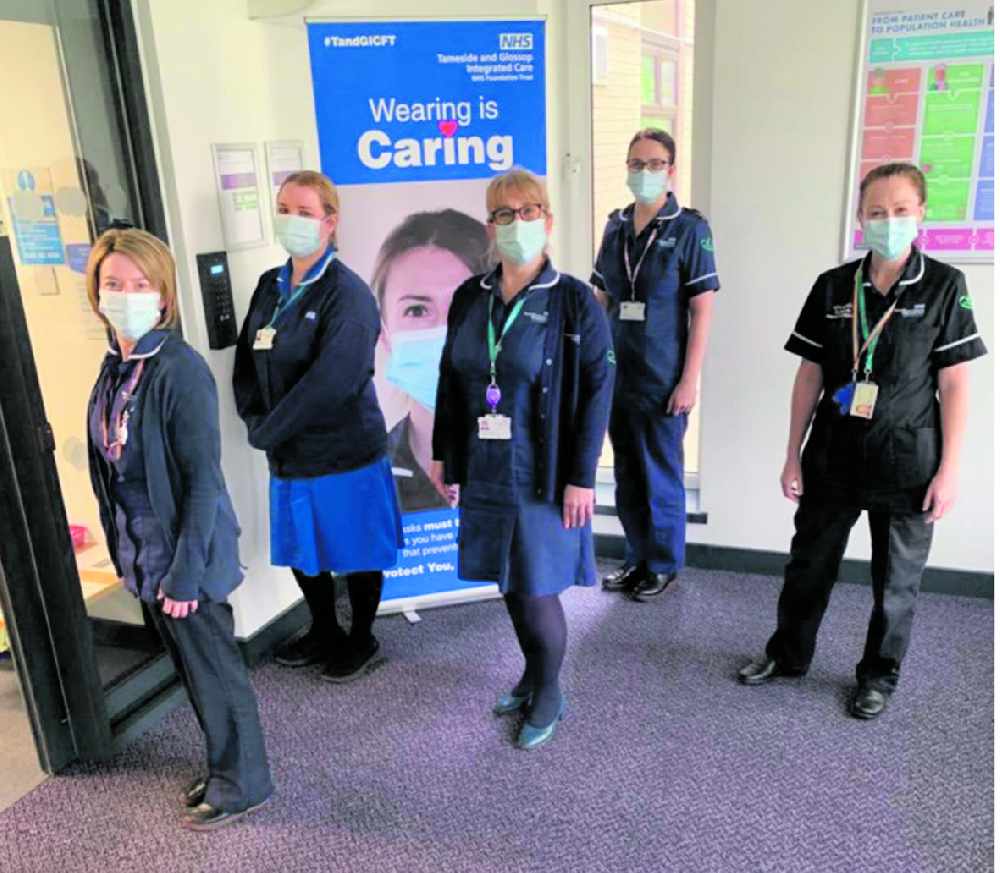 HOME IS WHERE THE HEART IS: The Tameside Hospital team is enabling heart failure patients to recover at home rather than having to spend weeks in hospital.
A pilot scheme has been launched in Tameside and Glossop to enable patients who have been in hospital with heart failure to recover at home. 
Generally a patient admitted to hospital with heart failure can expect to be in hospital for many weeks.
This is partly down to the daily intravenous drugs patients require to help them recover.
Now in Tameside and Glossop a multi-disciplinary team has been established to look at patients that have been admitted with heart failure and identify those that can be cared for at home.
Kellie Huyton, Senior IV Therapy Nurse, said: "We first launched our IV service in 2015, which has given us the infrastructure required to deliver this service.
"In addition to that, over the past year we have been able to bring together all of the different specialities to be able to deliver this service.
"We know that the patient being at home, in many ways, is the best place for them, from getting better sleep to an increased appetite, these factors all contribute to better outcomes for patients.
"On top of that they are getting their daily care which previously would have been delivered on a hospital ward."
Dr Puri, a Consultant Cardiologist at Tameside and Glossop IC NHS FT, said: "Looking at the whole person and not just the reason they are in hospital is fundamental and that's what an integrated care organisation should do.
"With that in mind, we know that patients respond and recover better in a familiar and comfortable environment, like being at home.
"Bringing our clinical expertise together with the well-being aspect of a patient being at home is a win-win situation.
"Nobody wants to be in hospital any longer than they need to be and this pilot has allowed us to significantly reduce the time patients with heart failure need to be hospitalised - it's a really great achievement and great outcome for the patient.
"Heart failure can affect anybody," Kellie said.
"The heart is essentially a pump that pumps blood around the body.
"If the heart is damaged by infection or by smoking, excessive drinking, obesity or by conditions such as COPD, it can lead to heart failure, where the heart isn't working as effectively as it should.
"Heart failure leads to a build-up of fluid in the body which can cause the patient serious problems. The intravenous therapy we provide removes a lot of this fluid.
"This, as well as other aspects of patient care, is what we can now deliver at home."
She added: "The recovery time for patients can be quite long and that means that they are in hospital for many weeks.
"Delivering this care in a different way not only has great benefits to the patient but also to the NHS, as it means that the bed that would have been occupied by a patient recovering from heart failure can be used elsewhere."
The pilot service at the Trust recently celebrated discharging their first patient who benefited from the pilot pathway.
The patient was visited on a daily basis at home by the team to provide intravenous therapy – the care was so effective that she is now able to receive the medication orally, which means the apparatus used to deliver intravenous therapy to the patient can be removed and the team is confident she no longer requires daily visits to continue her recovery.