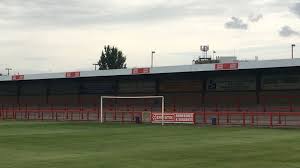 The Bloods crashed out of the FA Cup at the Preliminary Round stage for the second year running on a hot afternoon in West Yorkshire.
A scrambled goal four minutes from time from Joe Kenny at the far post saw Liversedge claim a place in the first qualifying round following a disappointing performance from Dave Pace's team.
The Bloods had chances to control the game, Aaron Burns unmarked heading wide from a Rigby free kick after just five minutes while Domaine Rouse created room on the edge of the area forcing a good save from Josh Hill in the Liversedge goal
Danny Wilkins forced a point blank save from Hill shortly afterwards after a precision cross from Clooney.
Liversedge also created chances, Zalo heading over from close range while Hamilton caused problems down the Bloods right side.
Minutes into the second half Droylsden had a great chance to take the lead, Rigby's corner finding Rouse at the back post who saw his effort hit the crossbar.
As the second half continued, the home side looked the more likely to score, Chris Thompson making a good save low to his left from Sinclair before Liversedge with the tie heading to a replay, netting with four minutes to go.
Article by: Droylsden FC