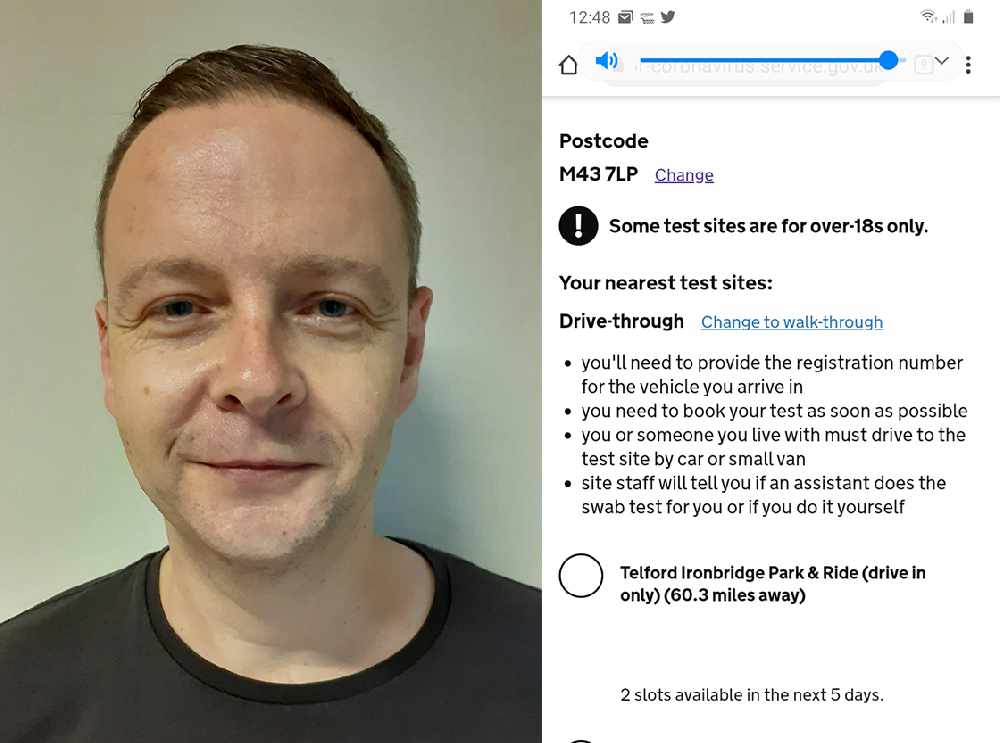 A key worker from Droylsden was left bewildered after trying to book a coronavirus test, only to be offered one sixty miles away.
Paul Caleb, from Littlemoss in Droylsden, works as a care worker for people with learning disabilities in Stockport and needed to book a test ahead of his return to work.
After logging onto the government's testing website, he entered his details and the closest drive through test offered was in Telford, over sixty miles away. The next closest alternative was the Lee Valley Athletics Park, a four-hour drive away in London.
He also tried to book a home test, struggling for hours between being told there were none available and the website crashing. The care worker eventually managed to secure a home test, but not before it was picked up by his local MP, Angela Rayner. Speaking to the Tameside Reporter, she said: "The testing system is on the brink of collapse and the failure of this government to deliver on their promise of a 'world beating' system is putting lives in danger given that cases are rising at a rapid rate.
"Greater Manchester is currently subject to additional restrictions so it's vital that we have a test and trace system that actually works if we're going to get the virus under control.
"One family in my constituency were given the option of a test in Aberdeen, that's a 700 mile round trip. It's absolutely ridiculous but the Tories always try to pass the buck for their incompetence.
"They failed to plan for the extra demand in testing but – as usual - it's always someone else's fault. They need to get a grip and fix the testing shambles fast."
Paul explained: "I'm a care worker, I work in stockport at a day centre for adults with learning disabilities. I have to be tested before I go back and have regular tests.
"They called me yesterday to book an essential worker test just so they know I can go back. I went on to book just before lunch and there weren't any walk through appointments available. At the time there weren't any home tests available either.
"Sometimes it crashed and sometimes it said they weren't available.
"The three times I selected drive through it offered me Telford or Lee Valley in London.
"I eventually after around 6 hours of trying managed to get a home test."
With Tameside, and much of Greater Manchester, heading to the top of table for infections nationally, Paul was concerned that there weren't tests available in the area. He said: "We're in the red zone at the minute, we're meant to be the priority. If we're the priority god help the rest of the country.
"It's disappointing and given that things are spiralling out of control here, it's a bit worrying."
Paul also worries that it could delay others returning to work, with those that need a clear diagnosis unable to obtain one.
"My concern is it's going to delay people getting back to work" he said.
"Given what I do, we need to be tested to make sure we're safe for our clients. It makes me feel the workplace isn't going to be as safe as it could be for users and staff.
"If you have to drive hours to get a test just to work people won't do it.
"No one is going to do that, it's hard enough taking time off for carers as it is. We're on minimum wage. No test, no work."