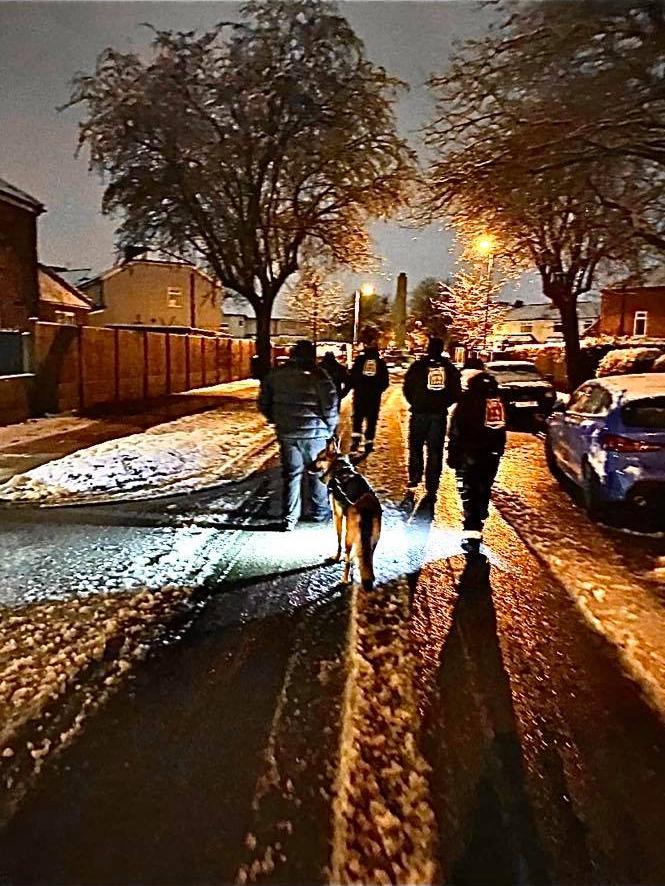 An independent Droylsden crimewatch team claim they have a great relationship with police on the streets, after concerns were raised by GMP.
An online difference of opinion has since erupted between some of the Droylsden community and Greater Manchester Police following an email about the Droylsden Crimewatchers Group.
The email, which was shared online in Facebook groups and school newsletters, says that Greater Manchester Police had become concerned about a 'very small group' that have 'decided to walk the streets with a dog, under the banner of Droylsden Crimewatch Group.'
It goes on to state that the group is approaching youths on the street, asking for details and 'possibly' conducting illegal stop and searches, whilst claiming to have the support of GMP.
But the message attracted a backlash on social media, with hundreds of people posting their support for the group, who they say have made the area safer.
Many posted to say they were going to email the police with support for the Droylsden Crimewatcher Group, such is the strength of feeling for them.
Days later, a post appeared on Greater Manchester Police's Tameside South and West Facebook page from Neighbourhood Inspector Stuart Smith.
In it, he said he 'understands the sentiments of the Droylsden patrollers' but says that the group was going further than just reporting suspicious activity, although this is something that the group denies.
He also went on to state that the group had declined to contact the police in October 2020, again something that the group denies.
In response, and posting on their Facebook page, Crimewatchers say they have tried to contact Insp Stuart Smith, but had not yet received a reply themselves.
They wrote: "I tried to get in touch with Stuart Smith but he was unavailable and the officer I spoke to had no idea about the email.
"I had no contact from them in October, therefore we are not sure why this statement has been made. Again, we are very disappointed that they can not speak to us first.
"This does not relay the relationship we have with the police on the streets!
"We have had nothing but positive feedback from every officer we have spoken to so far, and we have nothing but good things to say about the manner in which they treated us and the respect they have shown us"
GMP's post also attracted many comments online, with people saying that they understand that the police have had their budgets cut so can't be everywhere, so the community feel much safer with the Crimewatchers patrolling.
After the original email was posted, a GoFundMe page was set up to raise money for the group. In just over a week, more than £3,500 was raised with the money going towards body cameras for the members, training and insurance.
Main image:
SNOW PATROL: The Droylsden group take to the streets.
Read more from the Tameside Reporter
Click here for more of the latest news
Click here to read the latest edition of the paper online
Click here to find out where you can pick up a copy of the paper