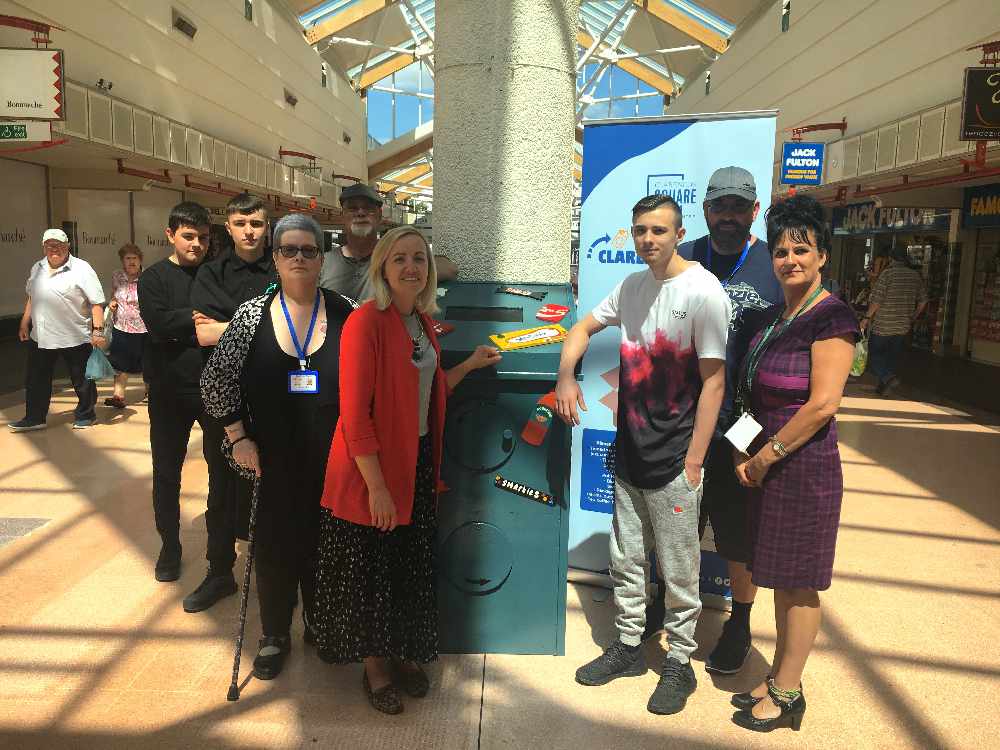 A local college has joined forces with Clarendon Shopping Centre in Hyde to create a food donation box to help feed the homeless.
Whitebridge College in Dukinfield were commissioned by Clarendon Square to create a bin for the mall where food items could be dropped off. It's for local community group sandwich angels, who do fantastic work throughout the borough feeding vulnerable people.
12 students, split into two groups and led by the college's woodwork tutor Howard Cook, constructed the box complete with an eye catching design. It took the students over 100 man hours in total to build the container between their regular, scheduled lessons.
Sophie Stephenson, centre manager at Clarendon Square, expressed her gratitude to the pupils and staff for taking on the additional project despite an already busy curriculum. "We are all so proud of what these brilliant students have achieved," she said. "This is a wonderful contribution for Tameside's community that will provide further resources from which Sandwich Angels can offer care packages to people experiencing difficult circumstances.
"The students' enthusiasm and dedication in helping a great cause and passion for woodwork craft has made this collaboration a real joy to be part of. We cannot say 'thank you' enough to them, as well as the college tutors for being so supportive."
Surrya Glover, careers and work-related learning coordinator, at White Bridge College, added: "This has been a fantastic project to get involved with. The young people worked extremely hard, with the planning and building of the food box; they engaged very well and were excited to be able to personally deliver the food box to Clarendon Square. I am very proud of our students, with what they have accomplished, and we wish the project well."
The box is now on site at the mall at Clarendon Square where all shoppers are invited to deposit items including pot noodles, ham and meat slices, tinned sandwich fillings such as corned beef and tuna, instant soup, snack bars, tea, coffee and hot chocolate.
The shopping centre kindly asks that fresh fruit, veg and meat, dairy products, homemade food, milk and bread are not put in. Clarendon Square is now one of four drop-off points in the area, which also includes Hyde Morrisons, Paper Tulips and the coffee shop, Ariana's.
Christina Howard, founder of Sandwich Angels and the team of volunteers are from all backgrounds, cultures and ages and are united in feeding the hungry. Working seven days a week, the community group helps to support homelessness provision, A Bed Every Night (ABEN), soup kitchens, outreach teams and shelters.
She said: "We make over 3,250 packed lunches a week and we constantly run out of fillings and we encourage people to please help donate, as each item is precious."
For further information about Sandwich Angels, please visit www.sandwichangels.co.uk. To become a volunteer, or if any businesses would like to contribute food items, please text 07713 973640.