Around 25 people are currently blocking trucks outside a slaughterhouse in Ashton, temporarily shutting down the facility.
'Smash Speciesism' have chained themselves to gates and are blocking the entrance of the Tulip Slaughterhouse on Bow Street.
Police are also in attendance and there is disruption to traffic in the area.
Five people have so far been arrested in connection with the protest
Smash Speciesism spokesperson Adam Ball said that the protestors have been there since around 3:30am this morning and plan on being there as long as possible.
Protest

WATCH: 'Smash Speciesism' have chained themselves to the gates and are blocking the entrance of Tulip Slaughterhouse in Ashton. Simon West, an animal rights activist, told us the reasons behind the protest.

Posted by Tameside Reporter on Thursday, February 20, 2020
"Half of those people are locked on" he said. "Chained inside concrete blocks and there'll be there until specialist police cut them out.
"We're trying to block entrance and exit from the slaughterhouse for as long as possible. 8 - 10 hours, possibly longer."
The group want to put an end to 'speciesism', which they say is similar to racism. Adam said: "The overall goal is to end speciesism. It is akin to racism and other ism's like that.
"Humans discriminate against all animal because they see themselves as superior. We want to get rid of that completely. We don't want humans to be killing animals anymore.
"We don't want them raised by the million ,killed by the million in factory farms and slaughter houses so the aim is to completely end animal exploitation."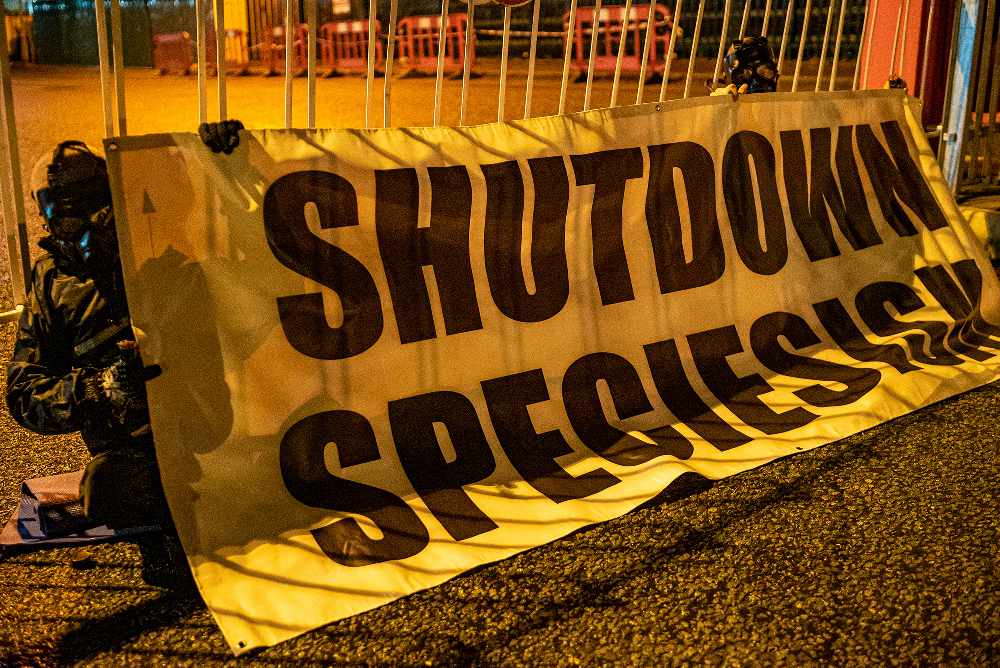 Despite the disruption caused, the group say that this is something that needs to be done.
"This is necessary" said Adam. "In the past there have been vigils and peaceful protests at this slaughterhouse. Ours is peaceful too, this is a non-violent group, but we're stepping it up a bit to say you cant stand by and allow this to continue."
In a statement, Greater Manchester Police said: "Police are aware of a small demonstration taking place on Bow Street in Dukinfield this morning (Thursday 20 February 2020) and officers are in attendance. At present there is limited disruption to traffic and commuters in the area.
"Police are responding to the incident and are in the process of engaging with representatives of a food manufacturing factory, at this location, as well as with protestors, to pursue a resolution.
"We appreciate the public's patience whilst we work on this incident."
Tulip say that they have always worked with the protestors and their legal right to protest, but that today's tactics are considerably more disruptive. In a statement they said: "The Tulip site in Ashton has worked closely with local police and activists affiliated with The Save Movement for a number of years to accommodate their lawful right to protest peacefully. Today's activity appears to be co-ordinated by a different group who have adopted tactics which they seem to consider to be more disruptive. While these activities are an inconvenience to operations, our main concern is ensuring the welfare of the animals in our care and the safety of our people, which this activity has directly put at significant risk."
Smash Speciesism released the following video