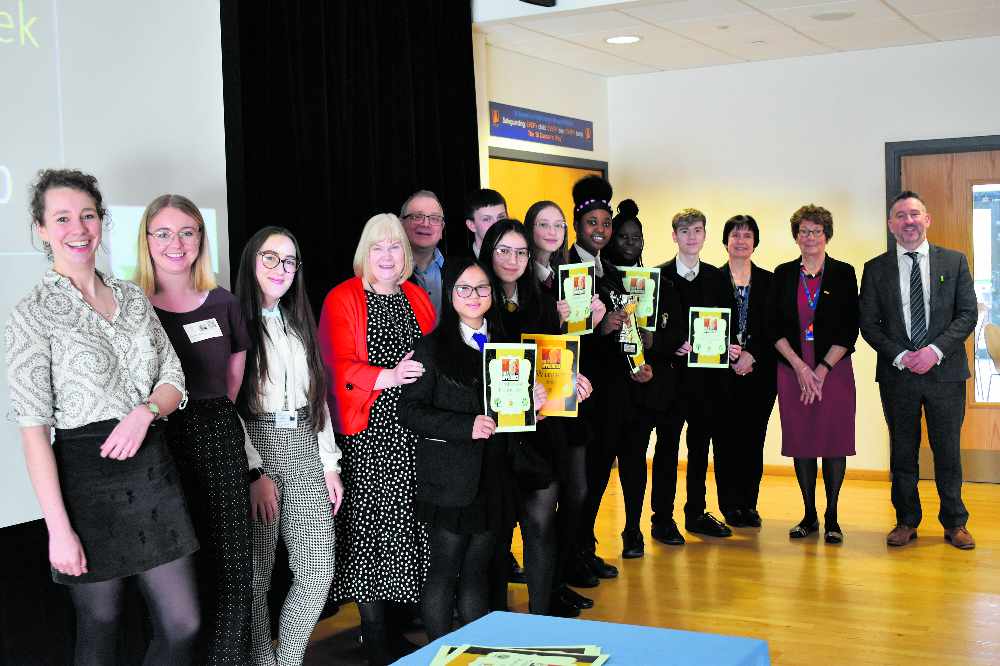 Lord Sugar would have approved as St Damian's students were put through their paces in an Apprentice-style competition to design new business plans for the future.
Teams from Years Nine and Ten came up with some ingenious ideas, many based around environmental themes.
The students had to create a business model and plan, then pitch their proposals to a judging panel just like the Apprentice, in an effort to win the competition.
Judges included local business guru Val Dickinson, Tameside Reporter editor Nigel Skinner, St Damian's RC Science College headteacher Sheldon Logue, Enterprise Coordinator for Rochdale & Tameside Bronwyn Raper, Chair of Governors for St Damian's Elizabeth Jones, and Willow Wood Events & Community Fundraiser Laura Marinelli.
They had the almost impossible task of choosing the winners as six teams pitched business proposals ranging from inventions to help students pass their exams to a reprinting machine.
Each pitch had to include the creation of a TV advertisement campaign – just as in the real programme.
Following an introduction by each team, the judges and classmates watched the videos before the teams were grilled by the judging panel.
Judges marked the teams on a set criteria of entrepreneur experience, innovation, enterprise skills, teamwork, USPs, financial awareness and evaluative skills.
The results were incredibly close with Team 3 (10SSN) just edging victory with their wonderful bamboo toothbrush creation – the Bambiobrush – an ethical replacement for the plastic toothbrush.
Second was Team 6 (10AHH) with their 'Sockgen' machine, miraculously recycling waste plastic into pairs of new socks.
Third was Team 4 (10AMH) who also utilised the idea of using waste plastic – this time to create 'Octopots' – holders for everyday items.
Among the runners up were Team 5 (10SHN) the Vegtubiles team who encouraged everyone to try out veganism for just one week.
The judges praised the efforts of the students, saying all had demonstrated great business skills and inventions.
Val Dickinson, school careers enterprise adviser, who presented the prizes at the end of the event said: "All of the pitches were fantastic, there are some very talented entrepreneurs at St Damian's and all of the students can be very proud of their pitches. They were all winners."
Tameside Reporter editor Nigel Skinner added: "The students demonstrated brilliant creativity and their videos were all highly entertaining and enjoyable to watch and just ingenious."
The Apprentice exercise tied in with last week's Careers Week and following the judging, the team from Quest Media Network Ltd – namely the Tameside Reporter and Tameside Radio – plus Bird PR provided an hour-long presentation to more than 170 Year Eight students about working in the media.
First Place Team 3 - Bambiobrush
Second Place Team Team 6 - Sockgen
Third Place Team 4 - Octopots
Runner Up Team 5 - Vegtubiles