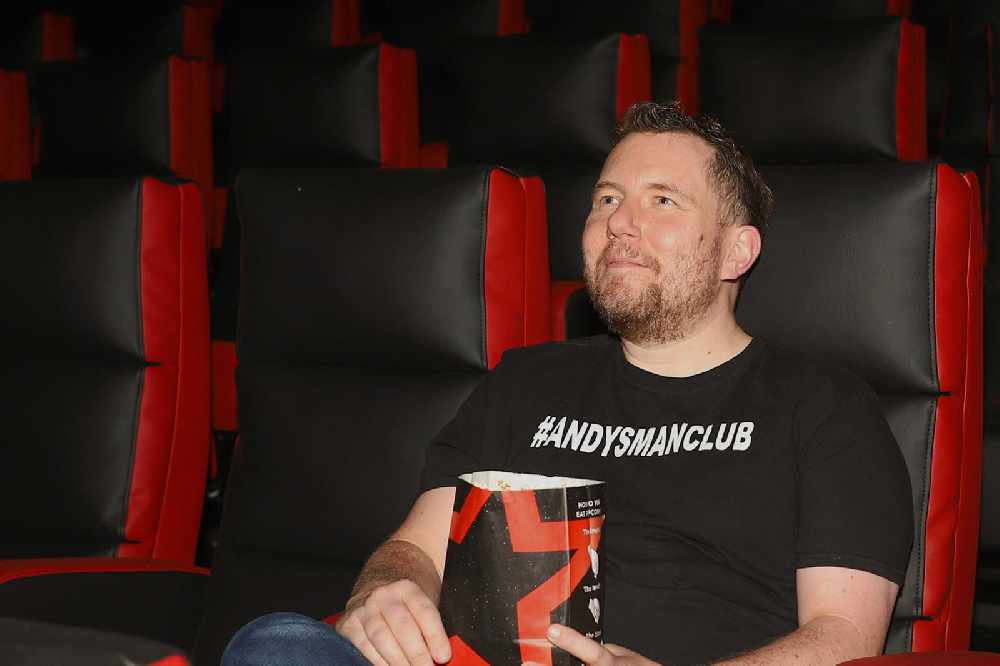 Tameside Radio's Breakfast presenter Alex B Cann taking in a movie at Cineworld in Ashton recently.
As regular listeners will know, Tameside Radio's Breakfast presenter is an avid cinemagoer so his latest column is all about his recent movie experiences. A certain James Bond film may get a mention but we promise there are no spoilers!
Whether it's your cup of tea or not, you can't have escaped the huge amount of hype surrounding the new James Bond movie, which finally hit Cineworld Ashton a week ago.
It's more than just a film. It's an event which has been referred to by many commentators as 'saving cinema'. It's a brand. It's a phenomenon which dates back to the year the Beatles released their first single in 1962.
I still remember being at the cinema on the last day of screenings before its 32 week closure (not that I counted them!), and the Bond trailer elicited some boos from the audience at one of the films I watched, as it was being postponed again.
I think it's regained credit in the bank with movie fans now, as the temptation to send it straight to streaming must have been there whilst the shutters were down. I'm so pleased Barbara Broccoli and Michael G Wilson held their nerve.
Before you read any further, I promise this article contains no spoilers about the new film. It's no secret that it has a lengthy running time of two hours and 43 minutes, although I have to say I've endured 90 minute movies which felt far longer. Britney Spears' Crossroads was one culprit. I think rush hour on the M60 anti-clockwise is more enjoyable.
Whilst the likes of Free Guy and Black Widow have done pretty good numbers this year, there has been a dearth of eye-catching titles since the return of cinema in May. I've done my bit, racking up almost 40 films on the big screen, but lots are asking if No Time To Die's huge numbers are a blip, or a sign of things to come.
Peter Rabbit 2 was this year's biggest success until 007's return, which is a pretty sad state of affairs if you ask me. I know it's not aimed at me, but I found it even more irritating than the first one.
Anyway, back to Bond. It's definitely worth catching on the IMAX screen if you can, as some scenes were filmed on IMAX cameras and it looks absolutely spectacular as a result.
There are some lovely subtle nods to the past, which I don't think is giving anything away. It felt with Daniel Craig's first film that there was a huge handbrake turn away from the Pierce Brosnan Austin Powers-esque saucy one liners, which had become a bit old hat in an era when the Bourne franchise was taking off.
Bond bleeds these days. He is more vulnerable. He's multi-layered. He is less of a womaniser, but still a ladies' man in a 2021 way. In short, the spirit of Fleming's character has been retained, but respectfully updated.
It will be really interesting to see what happens next. There was a six year gap between Licence To Kill and GoldenEye, but I can't imagine them wanting to leave it that long again.
I can't now imagine anyone else but Daniel Craig stepping into the spy's shoes, male or female. He has been exceptional.
All eyes turn next to Venom: Let There Be Carnage, as the Tom Hardy Marvel sequel arrives in the UK on October 15. It's done big numbers in America, taking about $90m (£66.3m) on its opening weekend. If you've not seen the first, it's great fun.
There are so many ways to watch a movie nowadays.
I still rent DVDs by post from the last service of its kind, Cinema Paradiso, and get roundly mocked for doing so. But I maintain it's lovely getting films in the post, rather than just a glut of pizza menus addressed to 'pizza lover' and yet more utility bills. In a concession to 2021, I do have Amazon Prime Video and Netflix, but often find myself spending more time scrolling through ancient films I've seen than actually finding something I want to watch.
The shared experience of the cinema is something to cherish. I'm so pleased James Bond seems to be doing his job keeping the lights on, as well as saving the world. There were high hopes for Christopher Nolan's Tenet after the first lockdown, but I found that a confusing mess. It flopped quite badly, as lots of people were still wary about venturing out at that point, whereas confidence does seem to have returned now. I hope we continue to value theatre, cinema and the arts in all its forms.
We'd miss them if they were gone.
You can listen to Alex every weekday from 7am to 11am and on the 'Super Scoreboard' show on Saturdays from 3pm to 7pm, on Tameside Radio 103.6FM.
Read more from the Tameside Reporter
Click here for more of the latest news
Click here to read the latest edition of the paper online
Click here to find out where you can pick up a copy of the paper