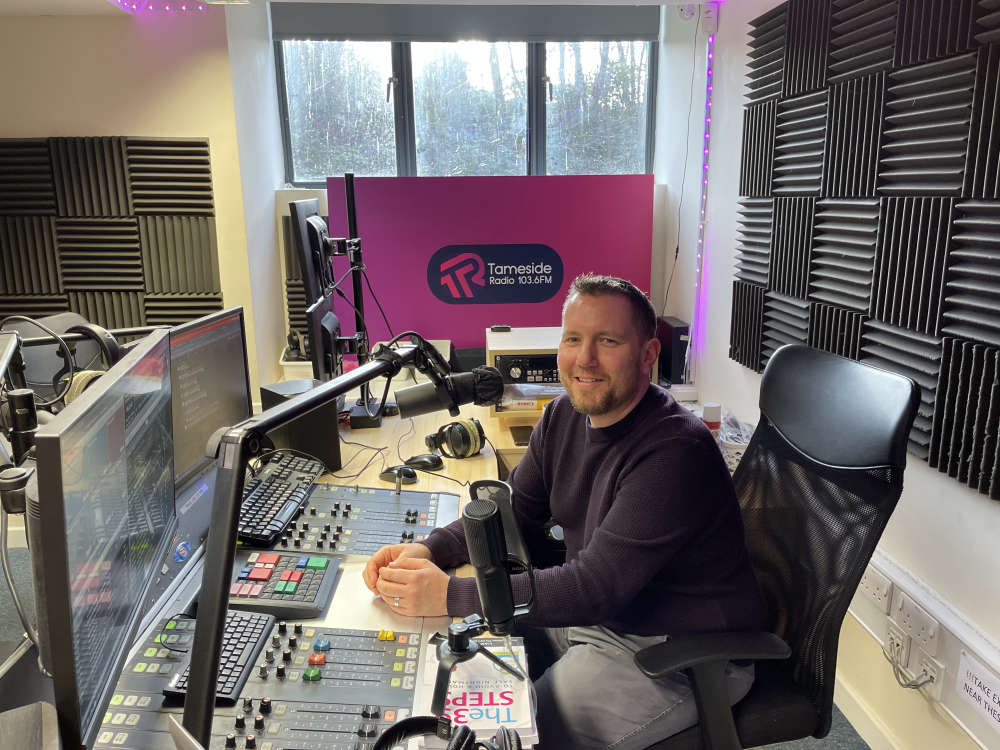 Tameside Radio's Breakfast presenter Alex B Cann.
The Tameside Radio presenter talks about the cost of living crisis and tackling obesity in his latest column.
With pretty much everything getting more expensive, it's a worrying time for many families.
I do wonder if some Government ministers would benefit from doing a little research before appearing on national television and telling folk who are struggling with the cost of the weekly shop that perhaps they might wish to consider switching to value brands to save a few quid.
Or advising those who are having to visit food banks that if only they learned how to cook from scratch, they probably wouldn't need to be there at all. Or (and this is my favourite of the current crop) tipping the wink to those who are struggling to keep on top of rocketing utility bills that perhaps they ought to get a better paid job or work more hours to solve their budgetary imbalance issues.
I'm aware that the national media can sometimes grab a quote out of context and whip up some easy headlines, but these are all actual things that have been said in the last week or so, and it blows my mind.
Elsewhere in the news this week, measures planned to tackle the nation's bulging waistline have been kicked into the long grass once again. Former Conservative leader William Hague, not a regular critic of the Government, wrote a rather scathing article in the Times denouncing the delay on banning 'Buy One Get One Free' deals, as well as imposing a ban on junk food adverts before the 9pm watershed.
Hague chided Boris Johnson for exacerbating health inequalities, and I agree with him. Admittedly, one or two measures are still going ahead, such as new rules on the positioning of unhealthy food by the tills to discourage those impulse buys of massive bags of Revels.
Admittedly, the notion of a watershed on television for junk food ads feels like something from another era, as most kids now watch YouTube and TikTok rather than live television these days. How would you extend a ban to these platforms?
I'm all in favour of cutting down on the piles of junk food which is usually on multi-buy 'end of aisle' deals though. It's rare you see a so-called 'BOGOF' on fruit and vegetables. It's much more likely to be on tubes of Pringles or tins of biscuits than on grapes and asparagus.
I'm not going to turn puritanical now I've managed to shed almost two and a half stone on my Slimming World plan. We all deserve a treat every now and then. But we do have the worst obesity problem in Europe in this country, and the Government themselves said a few years ago that multi-buy deals were actually engineered by the supermarkets to encourage us to spend more (one survey found on average it's 20 per cent more, in fact). That's why the excuse of delaying these measures to help households cope with the cost of living crisis doesn't really ring true with me.
It feels feeble, and Jamie Oliver is another vocal critic of the measures being put on ice. I did read somewhere that some kids have been ordering takeaways to their school playgrounds for lunch. It's one step away from shouty parents passing turkey twizzlers through the railings.
Jamie is threatening to stand outside Downing Street with bowls of Eton Mess if the government doesn't do a U-turn. Surely Boris Johnson will just think it's an early cake for his next birthday, or claim he's been ambushed by an Eton Mess? Oliver wrote on Instagram that 'this child health strategy is not a luxury, it's necessity.' I agree entirely. Action on sugar has stated the delay 'completely contradicts the government's levelling up ambitions.'
According to a Cambridge University study, there have been 14 strategies and 689 different policies over the past 30 years on tackling obesity, all of which have failed. Poor diet leads to many premature deaths every year, and it's estimated that by the middle of the 2030s, the NHS will spend more treating Type 2 diabetes than any form of cancer.
I firmly believe no-one actively chooses to be overweight. Henry Dimbleby spearheaded a national food strategy last year, and said many are trapped in a 'junk food cycle.' I was in exactly that position until the start of this year. It's still a battle of willpower when I go into any supermarket and all the items on multi-buy offers are the things that should be occasional treats, rather than shopping staples. Some will say this is 'Nanny State' territory, but surely we all want to live longer and be healthier? Without big changes, our average BMI is only going to keep going up, along with the price of everything.
You can listen to Alex every weekday from 7am to 11am and on the 'Super Scoreboard' show on Saturdays from 3pm to 7pm, on Tameside Radio 103.6FM.
Read more from the Tameside Reporter
Click here for more of the latest news
Click here to read the latest edition of the paper online
Click here to find out where you can pick up a copy of the paper