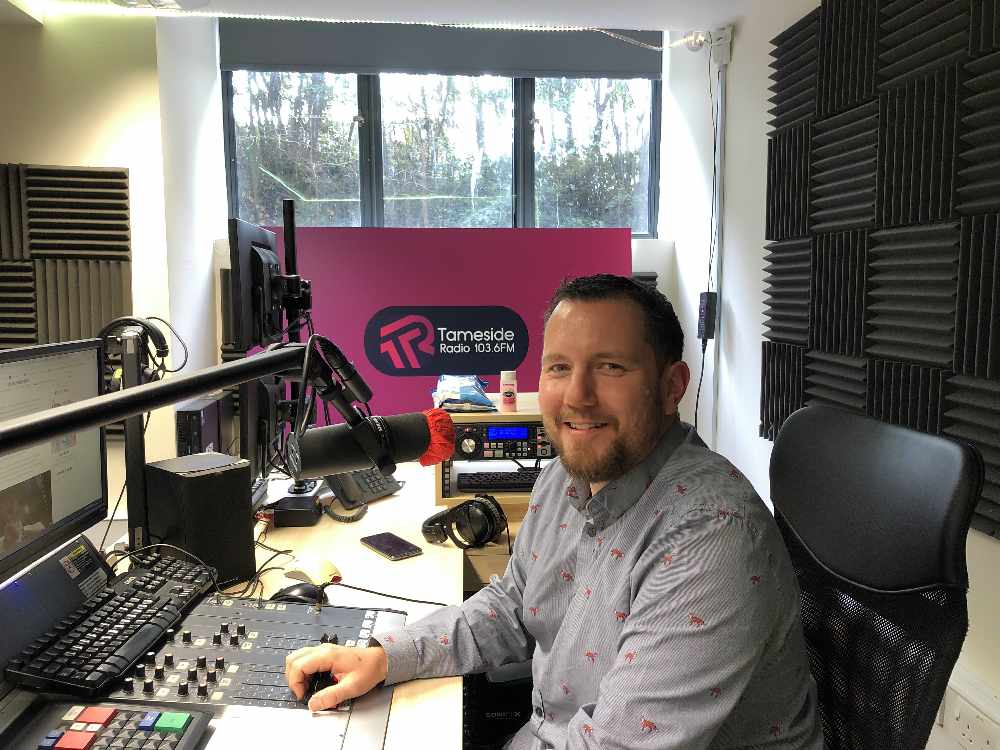 Tameside Radio presenter Alex B Cann in the studio.
Have you made any New Year's resolutions? Tameside Radio presenter Alex B Cann has and he explains his pledges in his first column of 2022...
Whether it's losing some Christmas weight, paying off a credit card, applying for a new job or something smaller like going for a walk every day, many of us make New Year's resolutions during the first week of the year.
Sadly, although well intentioned, a lot of our lofty ambitions end up falling by the wayside long before Burns Night on 25 January (named after Scottish poet Robert Burns, not our resident cake connoisseur Lisa Burns).
I'm only making three pledges for this year. In fact, I'll go as far as making them commitments. I'd love to hear if you're joining me and saying 'this year, I will'...
1) This year, I will read at least a dozen books. I have SO many uncracked spines on my groaning bookshelves, and I really need to tackle the long backlog before buying any more.
I'll start with my signed copy of Bananarama's Really Saying Something, followed by an autographed hardback Dan Brown book, which my friend Andrew bought me before I hosted its UK launch event a few years ago in Harrogate.
I'm sorry I won't be able to help book shops out in 2022, but I really don't need to buy any more until I've made some space.
Some might scoff at my unambitious target but I've read so few books in the last year, I wanted to make it a realistic amount. Any more more than one a month is a bonus, frankly.
There are so many distractions and other calls on our time, but losing yourself in a good book is hugely underrated. It has big benefits for our mental health and wellbeing, and it's great to jump into a world free of Covid for a while!
2) This year, I will lose at least a stone in weight.
Much like my bookshelves, some of my clothes are under pressure at the moment. I have always adored eating, and that won't change.
Aside from marmite, there is literally nothing I don't enjoy scoffing. On that basis, I'm hoping that following a healthier diet will be a breeze, and I'm enlisting the expert help of the Slimming World ladies on my Morning Show on Tameside Radio.
You'll be able to hear top tips each week as we track my progress through the year. Once I've lost the first stone, I'll think about setting a new target but one hurdle at a time.
It's certainly a lot easier to pile on weight when you are north of 40, but with the right mindset and support, I feel confident I can get back on track and lose the lockdown lard.
3) This year, I will spend less time on social media. I honestly think doom scrolling is detrimental to all our mental health, and I have already uninstalled the Facebook app from my phone.
I can't quite bring myself to lose Twitter yet, but for all the time I spend getting cross reading anti-vaxx nonsense, I could be reading a few pages from a book, which in turn would help me tick off my first pledge.
I find the most minor thing can quickly snowball into a spat on the 'socials' and it's a rowdy bar I plan on checking into less frequently during 2022.
I hope this year brings you some joy, whether it's big or small. If you're looking for inspiration for your pledge, the Top 10 resolutions according to a Go Compare survey are:
1) Lose weight
2) Eat healthier or change diet
3) Get fitter and take more exercise
4) Spend more time with family and friends
5) Be more aware and take care of mental health
6) Sort out finances and cut back spending
7) Travel more
8) Take up a new hobby, sport or interest
9) Be more environmentally friendly
10) Look for a new job
Whichever you plump for, I wish you the best of luck.
You can listen to Alex every weekday from 7am to 11am and on the 'Super Scoreboard' show on Saturdays from 3pm to 7pm, on Tameside Radio 103.6FM.
Read more from the Tameside Reporter
Click here for more of the latest news
Click here to read the latest edition of the paper online
Click here to find out where you can pick up a copy of the paper