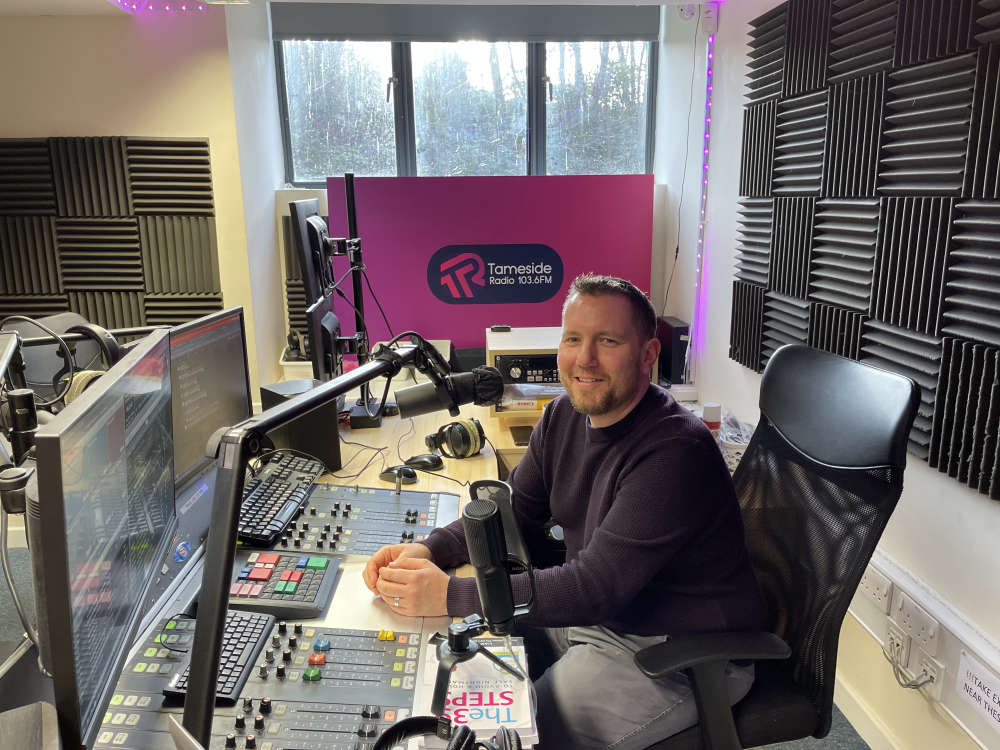 Tameside Radio's Breakfast presenter Alex B Cann.
The Tameside Radio presenter tells us how he spent his birthday this week and poses the question: when did loyalty stop being rewarded?
I'm another year older then, and celebrated on Tuesday with a trip to see Minions : The RIse Of Gru for a second time at the cinema, followed by a delicious meal at Wagamama. I always fill in feedback surveys when they are emailed to me afterwards, rating everything from the decor to the staff smiles (both got five stars, since you asked). Age is a privilege, and it was lovely to have a meal out last weekend with my parents and wife too. I still don't take these things for granted after the dreaded trio of lockdowns, tier systems, and all the social isolation that ensued.
Speaking of complacency, when did loyalty stop being rewarded? An insurance auto renewal quote plopped through the letterbox earlier this week, along with a couple of birthday cards, and I opened it expecting to perhaps see a slight drop in the amount charged. After all, we've not made any claims, we've been customers with the company in question on both our vehicles for some time, and nothing has changed in terms of our circumstances since the last quote. How wrong I was!
The quote was eyebrow-raising enough to inspire me to summon those meerkats and do a ten minute price comparison search. Sure enough, I managed to get the annual amount down by an impressive £230. Here's the fun bit - the quote I plumped for is from OUR insurance company! I thought a call to them would probably result in customer services checking over my DIY quote and, as long as all the details tallied up, them agreeing to match it. Again, I was way off the mark with that assumption.
In short, I've had to cancel the existing policy and take out a new one, with more benefits, for £230 a year less, from the same company. How does that make any sense? I guess as we all have busy lives, the insurance giants are relying on our laziness. I can't see how they could dress this discrepancy up as anything other than a right royal rip off.
I've discussed this situation with a few friends, who have experienced similar things with car insurance, breakdown cover and their Sky TV contract. In fact, that's my next phone call, as our telly package is set to rocket in September by about 25 per cent. Salaries are certainly not going up by a quarter, so I can't see how this level of increase can be justified.
My parents' broadband speed was on a par with the University of Liverpool's computers in 1995 when I stayed with them last year (I hope they don't mind me writing this bit, but it's true...it was like Windows '95 dial up!). It took several lengthy and mindnumbingly dull calls to their provider to discover they'd been out of contract since 2004, and paying well over the odds for a service that could only be deemed acceptable if compared to the pace of my old Fiat Panda on the M60. They were even paying extra for daytime landline calls on top of the already inflated monthly cost! Again, this seems to me like a penalty for loyalty.
I know companies are ultimately looking to make a profit for their shareholders, and that's how capitalism works. It's just so tiring having to haggle, compare and shop around all the time to ensure you're not being treated like a fool for assuming loyalty pays.
In July 2020, Ofcom issued guidance stating that broadband customers could save over £270 million collectively a year, as big companies had apparently committed to protect 'vulnerable customers' from price hikes when they were out of contract. At the time, Ofcom's consumer group director Lindsey Fussell said: "Millions of people are out of contract right now and paying more than they need to. You don't need to wait to hear from your provider. Just a few minutes of your time could save you hundreds of pounds today".
Two years on, that is certainly true, in my experience. £230 is not too shabby a saving for something that took at most a quarter of an hour of my life. But I still feel brassed off that it has to involve my insurance company being outquoted by itself, and unable to match its own price.
That sounds to me about as logical as Boris Johnson's sequence of explanations for breaking his own lockdown rules. Thankfully, he'll be gone in a month's time, once the gold wallpaper has been steamed off. Here's hoping his successor clamps down on this stuff, but I suspect he or she will have a rather bulging inbox as it is. Have a good week.
You can listen to Alex every weekday from 7am to 11am and on the 'Super Scoreboard' show on Saturdays from 3pm to 7pm, on Tameside Radio 103.6FM.
Read more from the Tameside Reporter
Click here for more of the latest news
Click here to read the latest edition of the paper online
Click here to find out where you can pick up a copy of the paper