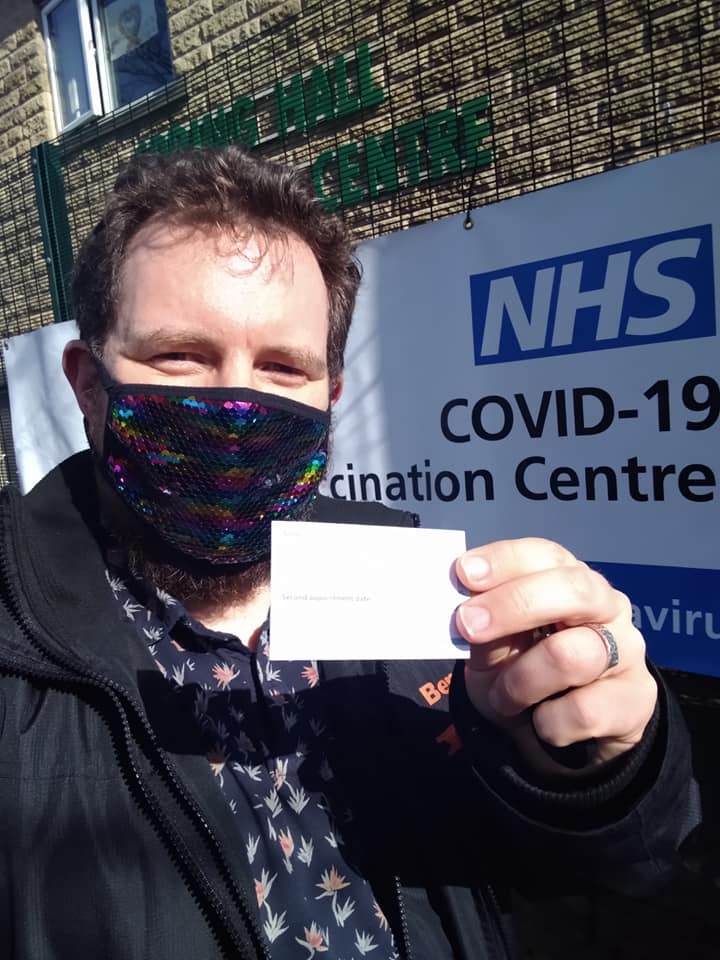 Tameside Radio's Breakfast presenter Alex B Cann tells us about his experience of getting the Covid vaccine and the importance of local media in his latest thought-provoking column.
I'll start this week's column by acknowledging that I know I've been luckier than most over the last year.
Aside from one week at the start of September after I'd been made redundant from my last job, I have been working right through the 'pandemic year'.
Although technology is a wonderful thing, nothing quite beats being live on air, and I'm pleased to say Tameside Radio has continued with live shows over the last 12 months. It also means my wife Sofia gets to work from home, without me under her feet until the middle of the afternoon.
In an extremely noisy world of smartphone notifications and social media, I passionately believe that local radio has never been more important.
It's so heart-warming to celebrate the community spirit reported in this newspaper on air, and amidst the bleak headlines about the rising Covid death toll, these stories of personal achievements and fundraising have been vital in raising morale.
Plus of course music is balm for the soul, and we aim to play a huge mix on Tameside Radio. You're likely to hear everything from Supertramp to Jessie Ware, and from Beatles to Amy Winehouse.
The vaccine roll-out has been nothing short of incredible, and I got my first jab on Monday. I'm not great with needles at the best of times, but have to extend a heartfelt thank you to the volunteers who put me at my ease in the socially distanced queue. I'm also pleased to report good old small talk about the weather is alive and well, along with the British sense of humour! My sparkly face covering also drew a few looks. Hard to work out if they were approving or not, to be honest.
Nurse Janet told me the centre I visited were administering 700 jabs on Monday, and another 700 on Tuesday. I think that's a staggering statistic, and it was all run with super efficiency. I have been longer queuing in Asda for my lunch. It was so painless, I didn't even realise the needle had gone in!
In spite of a few warnings about possible side effects, I'm pleased to report I was just a little sleepy on Tuesday night, but that could well be the early alarms taking their toll, rather than anything to do with my vaccine!
My mother-in-law and parents have also received their first jab, and hopefully my wife Sofia won't be far behind.
I'd urge you to take up your offer of a vaccination when it arrives. It's our route back to normality.
Popping into a cafe on a whim to meet a friend and enjoying a spot of people watching. A night at the theatre, followed by drinks in the bar. A cinema trip to see James Bond's latest adventure (filmed well before all of this hit the world!). So many of the things we took for granted before the pandemic hit are looking possible again, if we just hold our nerve and stick to the rules.
By the time you read this, I'll be just over a fortnight away from getting my hair cut. I'm also hoping to get my bicycle back on the road in April, and lose a little lockdown flab which spending excessive amounts of time on my ample derrière has led to. I've even ordered myself some Teapigs hot cross bun tea, in lieu of a chocolate egg this year!
My parents will be visiting our back garden next week, and my dad gets to swing his golf club for the first time in ages the day before. I tried golf once but it wasn't for me. I'll stick to the crazy golf on the seafront in Filey.
He's also unexpectedly become a bookworm during lockdown, which I totally did not see coming! I'm looking forward to sending him the new MJ Arlidge and Stuart Macbride books as soon as I've found time to read them.
It's been a strange, surreal year. On Tuesday night, we paused to remember those we have lost, after a lunchtime national silence organised by Marie Curie. I lit a candle for my friend Julie, who I miss very much.
As for the rest of 2021, we look forward to the next 12 months. Through our newspapers and radio station, we're with you every step of the way. I might even get to write something in my snazzy 2021 paper diary soon!
You can listen to Alex every weekday from 7am to 11am and on the 'Super Scoreboard' show on Saturdays from 3pm to 7pm, on Tameside Radio 103.6FM.
Read more from the Tameside Reporter
Click here for more of the latest news
Click here to read the latest edition of the paper online
Click here to find out where you can pick up a copy of the paper