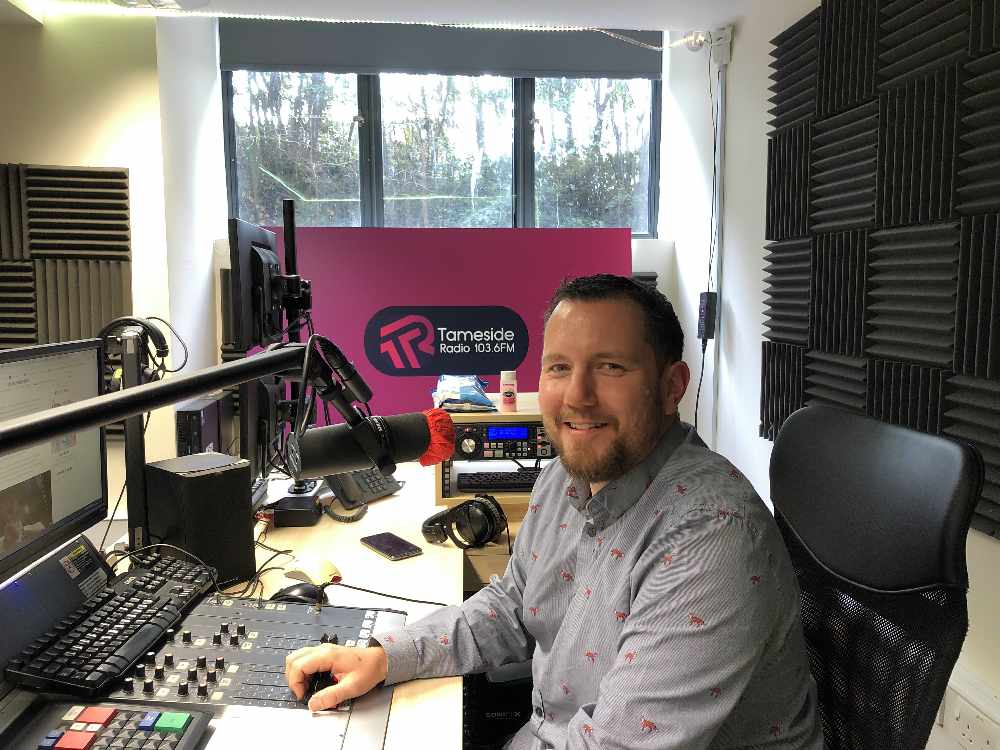 Tameside Radio presenter Alex B Cann.
Thoughts on former Health Secretary Matt Hancock's rule breach, some more film recommendations and chatting to one of his favourite authors all feature in the Tameside Radio presenter's latest piece...
Hands, face, space. We all know those words very well, as we've navigated through the choppy waters of this pandemic. We've watched endless Government briefings reminding us of the rules, and there was effectively an intimacy ban for those who lived on their own, unless they had formed a support bubble.
Having studied politics at university in the 90s, I'm well used to scandals, and usually just shrug my shoulders cynically when they break in the press.
However, the former Health Secretary's breaking of social distancing rules (to put it euphemistically in a family newspaper!) really got my goat. His private life is nothing to do with me or anyone, but when he's chiding others for not sticking to the rules which he is in charge of, it quickly became clear his position was untenable.
There are obvious questions to ask about how the CCTV cameras ended up in his office, and ethical problems around the paparazzi pursing his estranged wife (she is not the story here...leave her alone).
However, it's really shattered my trust in elected representatives to find that the Secretary of State in charge of the Covid rules was merrily cavorting at the same time as telling me I couldn't have a coffee with my parents.
It leaves a really nasty taste, and I'm afraid I don't consider the matter closed, as the Prime Minister stated last Friday. I've really tried to stick to all the rules, and will continue to do so, but you have to lead by example.
Elsewhere this week, I watched Supernova at Cineworld Ashton, which was a wonderful and bittersweet story about young onset dementia. The rolling Lake District hills provide the perfect backdrop to this thoughtful, understated road movie, and the two lead actors Colin Firth and Stanley Tucci have warm chemistry, along with subtle flashes of humour.
Another plus point about the film was its 90 minute duration. It might sound daft, but a film really has to justify being longer than two hours long in my mind. Fast and Furious 9 is a recent example. Whilst I enjoyed the ridiculous plot, particularly the trip to space to smash into a satellite and save the world, there was no need at all for it to be almost two and a half hours. I'm also a little unsure where else they can take the lumbering franchise now, with a tenth movie apparently in the works.
Other examples of overly lengthy films include Gone with the Wind (almost four hours!), Batman versus Superman (almost three hours, and filled with subplots that go nowhere), Pirates Of The Caribbean: At World's End (I'd have walked the plank long before the end credits, had I known how dull it was) and Bad Boys II (half an hour longer than the original movie, and at least twice as boring).
I'm fine with a longer duration if it's justified to give a story time to be told. Sometimes, it just feels like you could easily edit out large chunks and the film would be none the worse off for it.
One more observation about cinema - I'm reaching saturation point with sequels. I've found something that sounds original for this weekend. 'Another Round' is a Danish movie about a group of teachers having something of a mid-life crisis. They decide to live in a permanent state of tipsiness. I love a subtitled movie, and best of all, its duration is under the two hour mark! I'll drink to that.
Finally, a word about something I've got on my show today (Friday). I was delighted to secure a chat with one of my favourite authors, MJ Arlidge.
He's published ten crime fiction books based around the busy life of DI Helen Grace, who is constantly chasing the bad guys in Southampton. If you love gritty, twisty, page turning novels, his books are most definitely for you.
I got into them back in 2014, thanks to the Richard and Judy Book Club of all things, which recommended his first one Eeny Meeny. Matt has also written for television, including the brilliant Innocent that is still available on the ITV hub. He started off writing storylines for Wellard the dog in Eastenders, and hasn't looked back! You can hear our chat on Tameside Radio on Friday morning after 9am.
You can listen to Alex every weekday from 7am to 11am and on the 'Super Scoreboard' show on Saturdays from 3pm to 7pm, on Tameside Radio 103.6FM.
Read more from the Tameside Reporter
Click here for more of the latest news
Click here to read the latest edition of the paper online
Click here to find out where you can pick up a copy of the paper