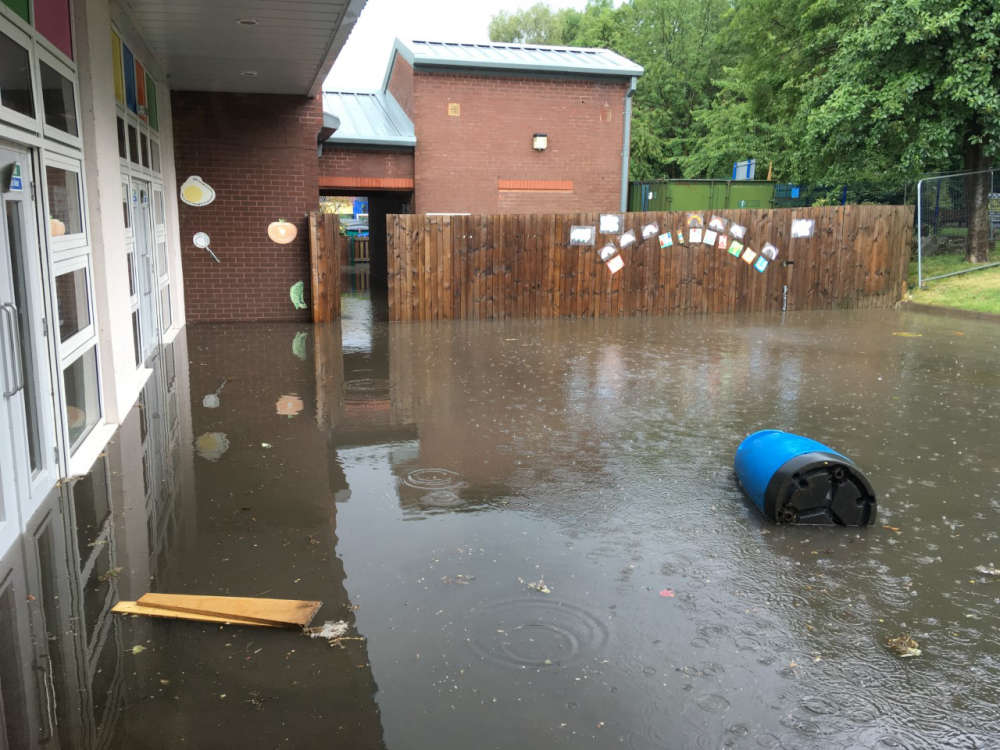 Widespread flooding at the school back in 2016.
Even £5 million might not be enough to fix problems at a Tameside primary school besieged with problems following a multi-million pound refurbishment.
That is the claim made by Denton MP Andrew Gwynne in the House of Commons this week as he took the matter to the very top.
The MP demanded an urgent meeting with the Secretary of State for Education Gavin Williamson in an effort to resolve the ongoing problems at Denton's Russell Scott Primary School.
Raising the issue in Parliamentary Educational Questions on Monday, he stated: "The school had a £2.7m extensive refurbishment a few years back. Unfortunately the work was done by Carillion just before they went bump and £670,000 has since been spent patching up the structural problems caused by their works.
"But it needs another £5m and even then Tameside Council isn't convinced that the building will be fixed. It's serious.
"So can I ask the Secretary of State for an urgent meeting so we can look at how we can help Russell Scott and give the children there the very best education in the very best buildings?"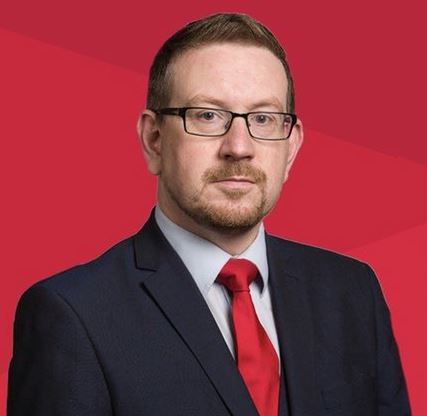 Denton MP Andrew Gwynne
The Secretary of State said representatives would be happy to meet.
The sorry saga has been rumbling on for years since the refurbishment of the Clare Street school in 2015.
Back in May 2016, headteacher Steve Marsland and school governors even took the extraordinary decision to close the school amid 'serious safety concerns' in the building.
Widely reported problems have included sewage back flow and a once serviceable playing field which was deemed unfit for purpose, 'filled with rubble and merely topped with turf, rain resulting in widespread flooding with the playing area likened to 'The Somme'.
Construction company Carillion went bust in January 2018.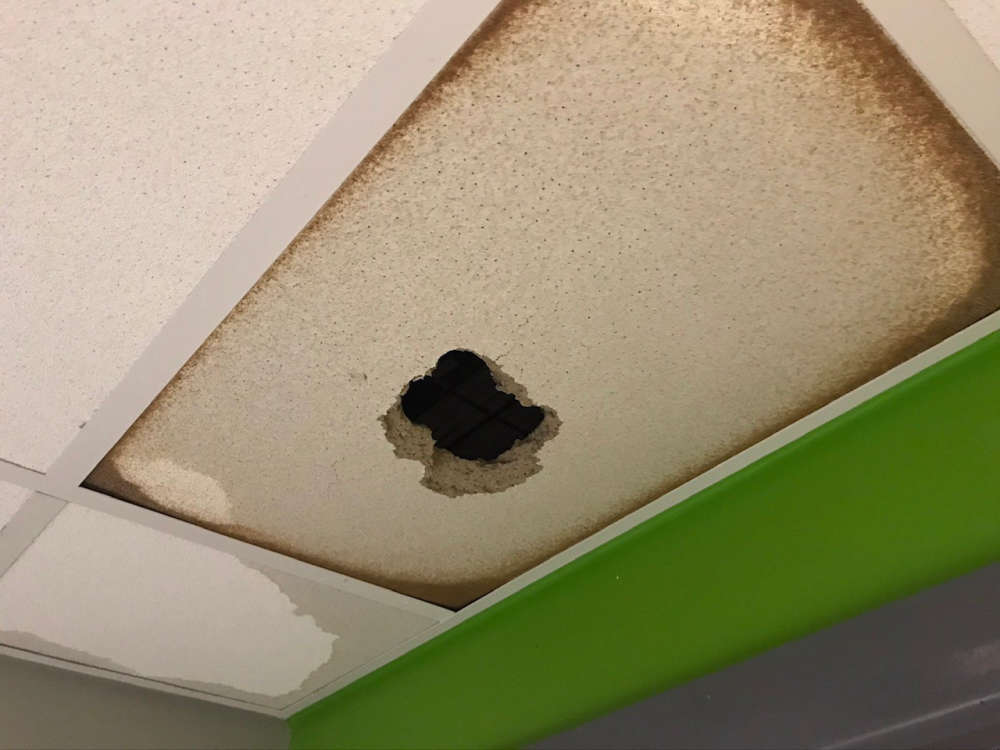 A hole in the ceiling where water was seeping through
Hopeful
This week school headteacher Steve Marsland said he was hopeful a meeting with the education committee would find an answer to the problems.
He said the school even has sandbags at the ready for expected heavy downfalls and possible flooding over these next few days, with a Yellow Weather Warning issued by the Met Office for thunderstorms.
Stating that the school and the children had suffered enough over the years, he said: "We were school of the year not that long ago in terms of Greater Manchester sports, so imagine what we'd have done with a proper playing field.
"It's not fair, our children are walking everyday past what looks like The Somme in winter, full of great big holes.
"The council have had to pay £200,000 to remove what was contaminated waste from other building sites that Carillion were developing across the borough.
"They were dumping that waste material on our pitch, covering it with topsoil and saying that was that. Next thing you know, they're gone."
Local headteacher wants 'urgent action' over school building issues

Russell Scott Primary School in Denton could potentially be demolished and rebuilt due to ongoing structural problems. The school was rebuilt by Carillion in 2015 but has since encountered numerous problems, with roofs collapsing, sewage arising from the floor, and floods occurring six times. Denton MP Andrew Gwynne has raised the issue of a matter of concern in the House of Commons this week. Headteacher Steve Marsland has been left frustrated by the ongoing issues and has questioned the lack of accountability from those in charge. He wants changes to be made 'rapidly and urgently'. We spoke to him earlier today.

Posted by Tameside Reporter on Wednesday, September 8, 2021
He went on: "Children here have been disrupted enough. We had to ship 500 children up to the old secondary school whilst they did our school and that was a massive disruption.
"We're in the sixth year now of the building in this state so it's got to be done, rapidly and urgently.
"Our parents are very supportive, and the children are getting a great education, but it's still not fair that they should have facilities like this.
"Unfortunately, we are in the midst of a pandemic and the government are failing to reimburse the council so projects like ours slip into the background.
"Now, we're hoping to meet with the education committee and come up with a viable solution."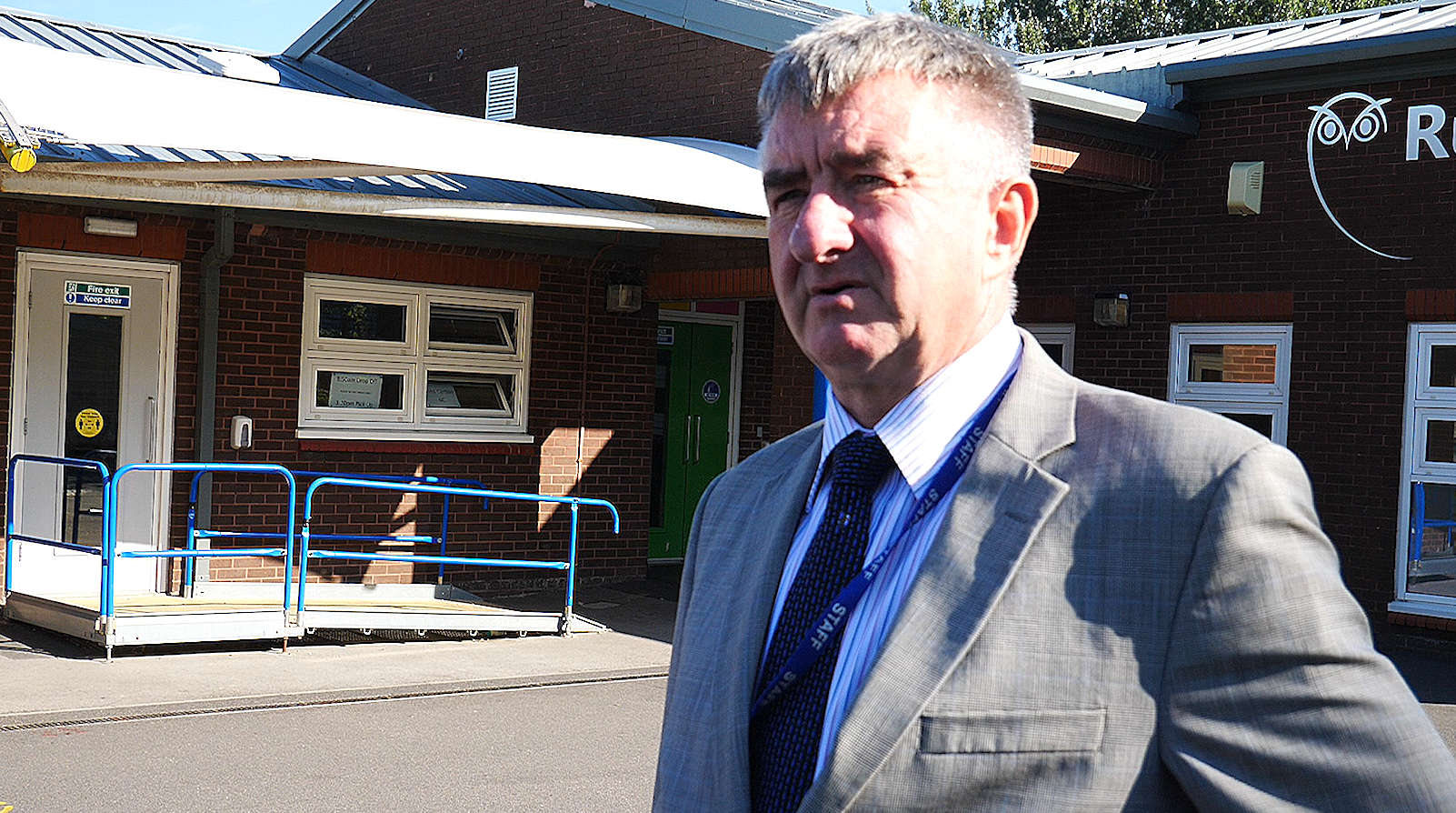 Russell Scott Primary School head teacher Steve Marsland
'Unfortunately there are no immediate funding solutions'
In response, Tameside Council says it is continuing to work closely with the school and has sought advice from the government on 'potential solutions'.
A council spokesperson told the Reporter: "Following completion of a £2.7m refurbishment of Russell Scott Primary School in 2015, the school, the community and the Council have been left disappointed after the works carried out by Carillion were found to be of poor quality.
"The Council have worked and continue to work closely with Russell Scott Primary School to ensure any immediate and remedial works were carried out so that there is no risk to pupils and staff.
"The Council have sought advice from the Department for Education on potential solutions given that school condition allocations are unlikely to meet the cost of resolving the issues. Unfortunately, there are no immediate funding solutions but officers will continue to work with the Complex Projects Team at the DfE to address the obvious funding gap."
Read more from the Tameside Reporter
Click here for more of the latest news
Click here to read the latest edition of the paper online
Click here to find out where you can pick up a copy of the paper