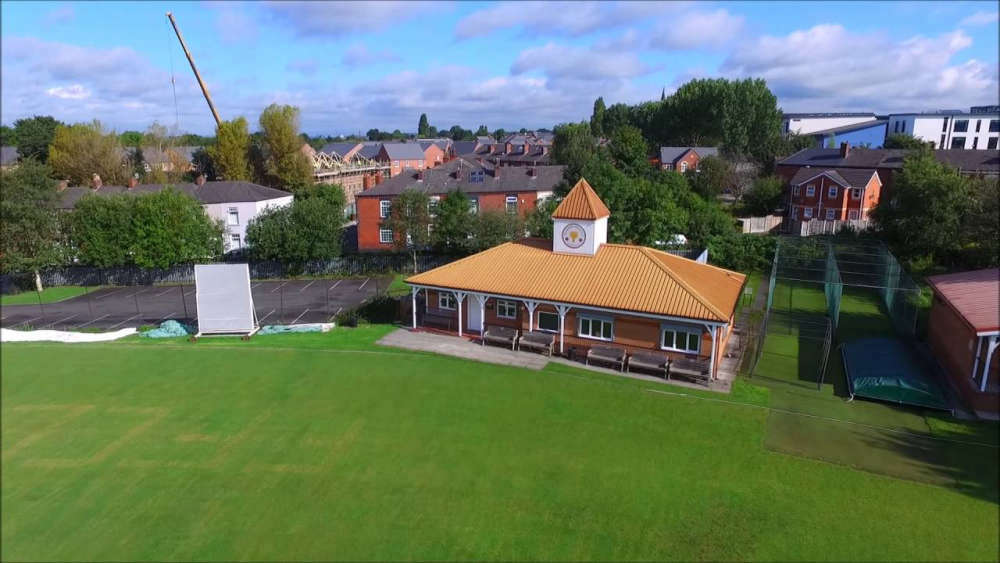 On a damp and gloomy afternoon it took the mysteries of the Duckworth Lewis calculations to ensure results in several games. 
With seven weekends left there is still much to play for locally with Flowery Field; Droylsden and Ashton eyeing silverware.
Premier
After two wins in the last fortnight Denton West travelled to leaders Prestwich. Batting first West managed a below par 137ao. The Prestwich target was reduced to 130 after a rain interruption and this proved no problem as they won by seven wickets and in doing so increased their lead over Woodbank, (who fell to defeat at Edgworth), to 10 points.
It has been a disappointing campaign for Denton SL and they fell to a third defeat in a row as they hosted third place Roe Green. DSL batted first and had little answer to the Roe Green attack. Only one batsman reached double figures, and 'extra's' ended up as top score as DSL folded for 72. Roe Green set off at a pace, no doubt with an eye on the weather, and raced home in 10 overs for a six-wicket win.
Down at the bottom Moorside, Walshaw and Astley are seeing the gap to safety widening and unless there is startling turn around will be looking at Premier 2 cricket in 2023.
Prestwich 130-3 beat Denton West 137ao (DLS); Walshaw 141-8 Moorside 127ao; Edgworth 127-2 Woodbank 119-7; Astley & Tyldesley 170ao Heyside 180-2; Denton SL 72ao Roe Green 74-4; Clifton 78ao Egerton 145-7
Premier 2
After defeat last week Flowery Field would have been looking to bounce back and close the gap on leaders Heaton, and the opportunity was there with the Bolton side going down at Shaw. Glossop were the visitors, themselves needing a win to avoid being dragged into a relegation battle. Flowery got off to a good start, (all the top five contributing well), but the dismissal of pro Shreevats Goswami at 131-3 was the start of a collapse as they added only another 57. Will Hargreaves was in top form for Glossop, taking 6-54. Two early wickets in the reply put Glossop on the back foot, but with Chris Gill, (52) and Lee Dale, (46*), taking charge, assisted by a profligate Flowery attack which conceded 35 extras and effectively giving Glossop another five overs the visitors got home by four wickets with only an over to spare.
Glodwick 159ao Stand 178ao; Flowery Field 188ao Glossop 189-6; Bradshaw 167-3 Greenfield 164ao; Shaw 235-7 Heaton 202-8; Brooksbottom160-3 Heywood 153-7; Flixton 154ao Bury 159-8
Championship
Mottram picked up a win over Woodhouses which has given them a little breathing space at the wrong end of the table. Woodhouses were dismissed for 120 as Oliver Andrew, (4-40), and Michael Scott, (4-23), shone with the ball for Mottram. Rain interruptions reduced the Mottram target to a DLS calculated 104. They fell to 61-6 before steadying matters and eventually passed the winning post by two wickets and will now look to build on this as they face struggling Whalley Range this weekend.
Dukinfield, with five wins in a row, had high hopes of pushing further up the table when 3rd place Royton were the visitors. The Paddock side reached 204-4 as rain restricted the innings to 44 overs, and the home side's target was recalculated as 218. Dukinfield got off to a shocking start, losing two wickets in the first three balls of the innings. They recovered to 80-3 with 20 overs left and the game was in the balance, but were unable to build on this and eventually fell for 131ao
Stretford 161ao Monton 200ao; Dukinfield 131ao Royton 204-4; Mottram 104-8 beat Woodhouses 120ao (DLS); Westleigh 174-5 Swinton Moorside 155ao; Friarmere 76ao lost to Elton 67-1 (DLS); Winton 170-8 Whalley Range 173-5
Division 1
The accolade for local performance of the day goes to Stayley who won at leaders Saddleworth. It was hugely against the odds after falling to 43-7 inside the first 13 overs. At that point Hussain Zeehan joined Nick Woodhead and they added 87 for the eighth wicket before Zeehan fell for 49 and was followed next ball by the ninth wicket. What followed was staggering. Veteran Ben Johnson joined Woodhead and the 10th wicket pair added 124 in 14 overs. Woodhead finally went for 90 and Johnson was left unbeaten on 54. A shell-shocked Saddleworth, (chasing a DLS target of 242), then fell to 43-4 as Amir Shahzad, (who finished with 5-95), took early wickets. Useful contributions from the Saddleworth mid order got them back in the game but it was Johnson, getting the vital wicket of pro Nauman Akram which eventually led to a 15-run win.
Droylsden took advantage of the Saddleworth slip up and narrowed the gap at the top after dismissing Roe Green for 96 as the home side had no answer to Lewis Jarvis, (6-30). A reduced DLS target of 81 for Droylsden was no problem as they cruised home by eight wickets, (Matt Halliday 46).
Hadfield find themselves in seventh place after going down to Golborne. They totalled 176-8 in an innings restricted to 47 overs with Rick Tranter, (87), providing the only innings of substance. The target was reduced to 168, and with Golborne at 22-4 Hadfield must have been hopeful. A recovery left the visitors with 10 to get and four wickets left. Hadfield took three of these but were unable to prise the last man out as Golborne got home by a single wicket.
Saddleworth 226ao Stayley 254ao; Hadfield 176-8 lost to Golborne 168-9 (DLS); Roe Green 2nd XI 96ao lost to Droylsden 81-2 (DLS); Edenfield 154-6 Austerlands 108ao; Oldham 93ao SW Manchester 83-9; Thornham 126-1 beat Uppermill 142-9 (DLS)
Division 2B
Micklehurst made the short trip to Greenfield and saw the hosts total 158ao as Rizwan Hussain took 6-36. Jonny Forrester was the only Micklehurst batsman to really get going, and his departure at 84-5 was the start of the end as they fell 26 short. The Richmond Hill team now know their opponents in the John Barrow Trophy Final after Milnrow won their semi-final. The teams will meet at Stretford on August 21.
Things are looking gloomy for Denton who went down for the 12th time, and they are bottom of the table, but a decent run over the last seven games could see them avoiding the drop. At home to Glodwick they posted a decent 209ao with eight players reaching double figures. However, this proved no problem for the visitors who raced home by six wickets in 31 overs.
Denton West are still in the hunt for a promotion spot after a comprehensive win over Littleborough Lakeside, (Luke Melling 109; Matt Burton 54), and Denton SL tied with Wythenshawe in a low scoring affair, (Jody Clough 5-33)
Wythenshawe 114ao tied with Denton SL 2nd XI 117ao (DLS); Milnrow 92-4 Oldham 2nd XI 90-9; Denton West 2nd XI 266ao Littleborough Lakeside 170ao; Denton 209ao Glodwick 2nd XI 210-4; Werneth 70-3 beat Friarmere 2nd XI 75ao (DLS); Greenfield 2nd XI 158ao Micklehurst 132ao
Division 3E
Ashton recovered from 69-5 to total 164ao in the top of the table clash at Heyside, but on the small ground, and a high scoring Heyside team, the game was in the balance at the half-way mark. Heyside made a quick start in reply and at 70-3 looked favourites. The introduction of spinner Josh Gee turned the game on its head. Gee, who has come through the Ashton junior section and still features in the U18 team, took 4-1 as the last seven wickets fell for 25. Ashton now have a 16-point lead over Heyside with seven games left and barring a total collapse look set to take the title.
Glossop effectively fell out of the title race as Ashton Ladysmith visited North Road and went home with the points. Glossop finished on 130 and but for Steven Wood, (95), it would have been far less as Saeed Nazeer took 6-33. Ladysmith struggled to 98-8 in reply chasing a DLS target of 127, but late resistance saw them get the win and they now stand 5th.
Heyside 2nd XI 95ao Ashton 164ao; Royton 2nd XI 215ao Dukinfield 2nd XI 120ao; Springhead 130-4 beat Mottram 2nd XI 148ao (DLS); Glossop 2nd XI 130ao lost to Ashton Ladysmith 127-8 (DLS); Heywood 2nd XI 79ao Werneth 2nd XI 175-4; Woodhouses 2nd XI 124ao Flowery Field 2nd XI 106ao