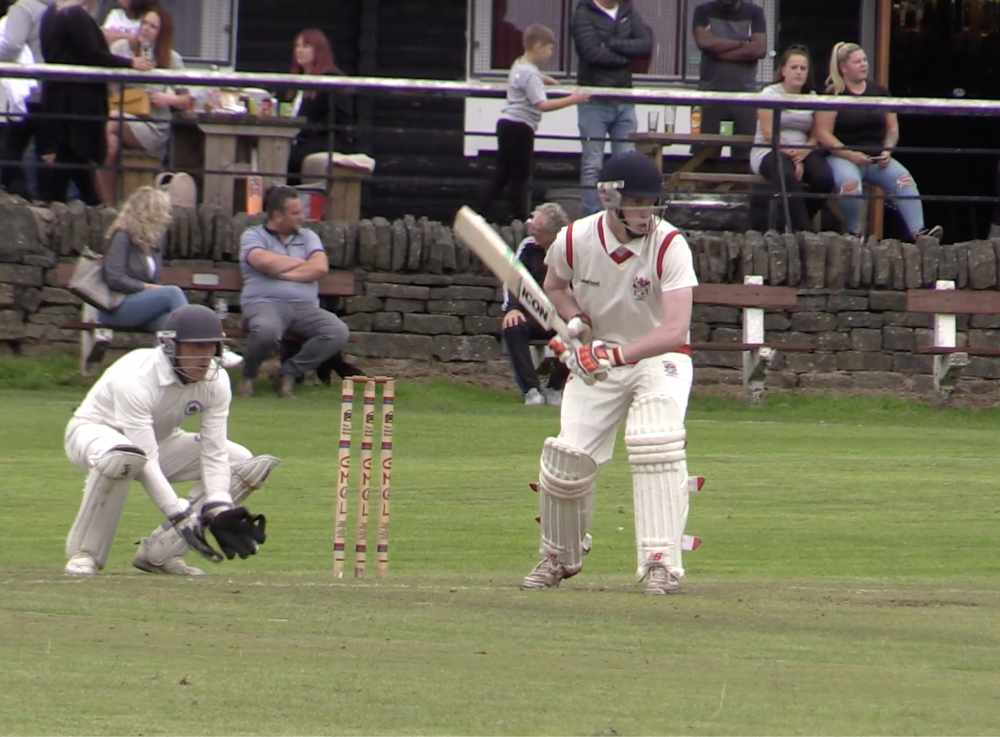 A pleasant Saturday afternoon saw a full programme, and with a third of the campaign now completed the league tables are beginning to take shape.
Locally Denton St Lawrence are well in contention in the Premier Division; Denton West head Premier 2; Mottram lead Division 1 and Ashton Ladysmith lie in 2nd place in Divison 4 East.
Premier 1:
Denton SL made it four wins for the season, and after Roe Green's surprise defeat at the hands of Egerton are 3 points adrift from the leaders. They did however, make hard work of the win. Having dismissed struggling Glodwick for 72, (Scott Kirwin 4-26), they tumbled to 15-5 in reply with the mainstays all dismissed. It was left to Ben Tighe to take control, and his unbeaten 49, (occupying 79 balls), took them to the win. DSL will be looking to build on this next Saturday when they visit struggling Greenfield.
Astley & Tyldesley 150ao Moorside; Clifton 203-9 Heyside 160ao; Roe Green 169-9 Egerton 184ao; Flixton 202ao Greenfield 41ao; Denton SL 75-6 Glodwick 72-9; Woodbank 233-9 Prestwich 311-6
Premier 2: 160ao
With Bradshaw losing to Walshaw, Denton West still stand at the top of the table despite going down for the first time this season as they visited Bury. Andy O'Brien, (69), held the innings together as West batted first and made slow progress to 83-4 off 36 overs. Some late aggression saw a further 77 added in 14 overs. Bury made a brisk start in reply and advanced to 83-2 in 20 overs. Despite 3 wickets from Callum Flynn thee hosts won by 4 wickets with 7 overs to spare.
There was a thriller at the Paddock, Royton. Glossop batted first and Harry Dearden showed his pedigree – his 108 was his first century for the North Road club. Decent middle order contributions from Joe Moss and Alex Coates left Glossop finishing on 241-7 – a real challenge for a Royton team which has been short of runs. The early departure of former Lancashire man, Paul Horton would have left Glossop hopeful of victory, but they were undone by a sensational innings from Ameya Bhaave, who took Royton to a 2-wicket victory, finishing unbeaten on 146. Oliver Kenyon and Coates picked up 3 wickets each for Glossop.
After bowling Stand out for 102, (with 3 wicket hauls for Mike Finan and Keegan Taylor), visiting Flowery Field would have been looking at a comfortable win. But it was a close-run thing. When Flowery fell to 65-6 in reply the game was in the balance, but they inched over the line, winning by 2 wickets, and while standing in mid-table are only 9 points adrift of the leaders.
Bury 161-6 Denton West 160ao; Royton 242-8 Glossop 241-7; Walshaw 154-7 Bradshaw 153-9; Woodhouses 178ao Monton 107ao; Edgworth 96-6 Heywood 92ao; Stand 102ao Flowery Field 106-8
Championship:
Stayley picked up a comfortable win in a local derby with Uppermill at Oxford Street. Batting first the visitors had no answer to Chris Ware. His 7-24 reduced Uppermill to a paltry 57ao. Despite three early wickets for David Roberts Stayley cantered to a 7 wicket win inside 14 overs.
Friarmere 191ao Edenfield 107ao; Swinton Moorside 161-3 Elton 160-9; Stayley 57-3 Uppermill 56ao; Brooksbottom 34-1 Winton 33ao; Westleigh 106ao Heaton 199-7; Whalley Range 80ao Shaw 199-9
Division 1:
Mottram remain top of the division, with a 100% record from completed games after a comfortable win when they visited Dukinfield. It was slow progress when Dukinfield batted first as they crawled to 120-9 off 50 overs. This was a slight recovery from 77-8, as Ryan Fitton and Jordan Swann both had three wicket hauls. Mottram lost three early wickets in reply but Steffan Fielding and Oliver Andrew steadied the ship, leaving Mottram winners by 6 wickets.
Having won at Milnrow on the opening day Hadfield failed to repeat it in the return game. The visitors ran up 172ao with Liam Doyle picking up another 5 wicket hauls, (finishing with 5-41). Hadfield's reply stumbled from the start, and with Cameron Ball being the only batsman to reach 20, they fell away for 106, and a 66-run defeat.
After an impressive win over Denton a fortnight ago, Droylsden have now lost two on the bounce. Visiting Austerlands a total of 108ao was unlikely to overly trouble the hosts. Droylsden reached 83-2 after 15 overs but fell away dramatically after that, the remaining 8 wickets falling for only 25. Austerlands lost 4 wickets but got the win with plenty of time to spare.
Prestwich 2nd XI 113ao SW Manchester 171-9; Dukinfield 120-9 Mottram 121-4; Oldham 75ao Stretford 76-6; Hadfield SA 106ao Milnrow 172ao; Adlington 104ao Golborne 120ao; Austerlands 113-4 Droylsden 108ao; Thornham 170-7 Denton 91ao
Division 2A:
Tottington SJ 96ao Daisy Hill 81ao; Irlam 124ao Deane & Derby 46ao; Worsley 120-3 Stand 2nd XI 118ao; Elton 2nd XI 41ao Roe Green 2nd XI 182ao; Radcliffe 68-2 Hindley SP 67ao
Division 2B:
Micklehurst posted 165 as they visited Glossop 2nd XI. After losing 2 early wickets a strong middle order performance, led by Tim Wood, (48), set Glossop a decent target to chase. Amir Shahzad, (who finished with a fine 7-48), made some early inroads and Glossop fell to 50-5, and Micklehurst were well in the game. Runs continued to come, but with wickets falling, Glossop still needed 16 with eight wickets down. There were no further alarms as the visitors went down to their 3rd loss of the campaign, leaving them in mid-table.
Ashton's season of woe continues as they lost for the 5th time, and still await their first win. Batting first against visiting Springhead only Brad Phillips, (52), made much of an impression as they reached a below par 139ao. The Springhead reply was patient, as they took 35 overs to reach the 100 mark. Despite a couple of late wickets, they accelerated to a 5 wicket win with 10 overs to spare.
Wythenshawe 105ao Denton SL 2nd XI 147ao; Glodwick 2nd XI 120ao Saddleworth 178ao; Werneth 130-2 Whalley Range 2nd XI 128ao; Glossop 2nd XI 166-8 Micklehurst 165ao; Denton West 2nd XI 136ao Littleborough Lakeside 137-3; Ashton 139ao Springhead 144-5
Division 3 East:
Flowery Field 2nd XI 255-6 Newton Heath 68ao; Heywood 2nd XI 54-3 Hadfield SA 2nd XI 51ao; Greenfield 2nd XI 151ao Oldham 2nd XI 170ao; Mottram 2nd XI 186-8 Werneth 2nd XI 183-9; Moorside 2nd XI 254-6 Dukinfield 2nd XI 160ao; Friends United v Friarmere 2nd XI 235-8
Division 4 East:
Ashton Ladysmith made short work of the game by trouncing Blackley by 10 wickets. Three wickets each for Paul Reynolds and Khaliq Rehman redecued Blackley to 22-6 and there was no coming back as they folded for 72. It was no problem for Ladysmith as they raced home inside 10 overs, Richard Taylor leading the way with an unbeaten 49.
Denton 2nd XI 107ao Woodhouses 2nd XI 134-9; Droylsden 2nd XI 196-7 Ashton 2nd XI 138-9; Saddleworth 2nd XI 147ao Stayley 2nd XI 179-9; Blackley 72ao Ashton Ladysmith 75-0; Failsworth Macedonia 179ao Austerlands 2nd XI 149ao
Friday 28th May – T20 LOCAL GAMES
Premier: Denton West 128-8 Denton SL 137-6; Glossop 124-9 Flowery Field 128-5
Championship: Ashton 101-8 Dukinfield 103-4
***
THIS WEEKS FIXTURES
FRIDAY T20 (Local Games)
Dukinfield v Denton; Hadfield SA v Ashton; Micklehurst v Stayley
SATURDAY
Premier: Greenfield v Denton SL; Egerton v Flixton; Heyside v Roe Green; Moorside v Clifton; Astley & Tyldesley v Woodbank; Glodwick v Prestwich
Premier 2: Monton v Edgworth; Bradshaw v Woodhouses; Glossop v Walshaw; Denton West v Royton; Bury v Stand; Heywood v Flowery Field
Championship: Winton v Westleigh; Uppermill v Brooksbottom; Elton v Stayley; Edenfield v Swinton Moorside; Friarmere v Whalley Range; Heaton v Shaw
Division 1: Droylsden v Dukinfield; Austerlands v Hadfield SA; Mottram v Oldham; SW Manchester v Adlington; Prestwich 2nd XI v Thornham; Stretford v Milnrow; Denton v Golborne
Division 2A: Roe Green 2nd XI v Radcliffe; Stand 2nd XI v Elton 2nd XI; Deane & Derby v Worsley; Daisy Hill v Irlam; Tottington SJ v East Lancs PM
Division 2B: Micklehurst v Denton West 2nd XI; Whalley Range 2nd XI v Glossop 2nd XI; Saddleworth v Werneth; Denton SL 2nd XI v Glodwick 2nd XI; Wythenshawe v Ashton; Littleborough Lakeside v Springhead
Division 3 East: Werneth 2nd XI v Moorside 2nd XI; Oldham 2nd XI v Mottram 2nd XI; Hadfield SA 2nd XI v Greenfield 2nd XI; Newton Heath v Heywood 2nd XI; Flowery Field 2nd XI v Friarmere 2nd XI
Division 4 East: Stayley 2nd XI v Blackley; Ashton 2nd XI v Saddleworth 2nd XI; Woodhouses 2nd XI v Droylsden 2nd XI; Springhead 2nd XI v Austerlands 2nd XI; Ashton Ladysmith v Failsworth Macedonia
SUNDAY (Local Games)
Derek Kay Cup: Brooksbottom v Denton West; Monton v Denton SL; Glossop V Heywood.
1st XI Championship Cup: Hadfield SA v Shaw; Edenfield v Micklehurst; Dukinfield v Winton or Stayley; Ashton v Thornham.