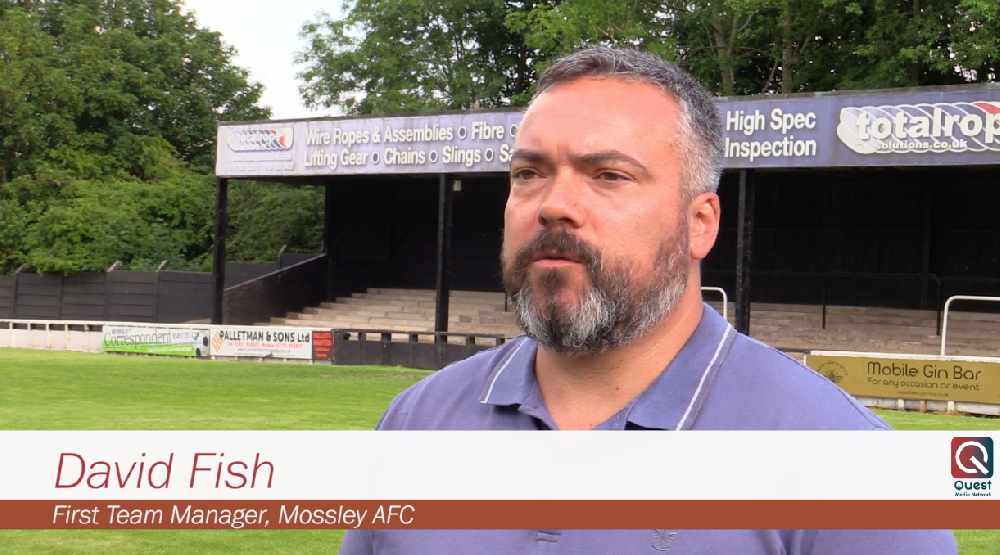 Mossley have appointed David Fish as the club's first team manager ahead of the 2020/21 season.
Fish, who enjoyed a playing career as a goalkeeper with Stalybridge Celtic and Curzon Ashton, joins from near neighbours Chadderton, who compete in the North West Counties First Division North.
Fish started his career with Manchester United and also had spells with Stockport County, Hyde United and Witton Albion.
He will be joined in the dugout by long-term assistant Lee Ashworth. The pair initially joined up while managing Rochdale St Clements, before joining Chadderton in October 2017.
The duo guided Chadderton to the Manchester Premier Cup semi-final in 2019, losing out 8-0 to eventual winners Curzon Ashton.
WATCH: We've been to Seel Park this evening, home of Mossley AFC, to speak to new Lilywhites' manager David Fish. The former Chadderton boss, who played as goalkeeper for Curzon Ashton Football Club and Stalybridge Celtic amongst others, is relishing the chance to make his mark in step eight. We spoke to David about his aims and objectives, how damaging it would be for non-league clubs to miss out on the FA Cup next season, the importance of making the club the community focus, and much more.

Posted by Tameside Reporter on Monday, June 15, 2020
Upon being appointed, Fish spoke to Reporter Sport and said he can't wait to put his plans in place - particularly regarding the community side of things. "A club like this should be the heart of the community; it's not just about people coming in to support the club, but it's about us supporting the local community. Lee and I have been talking about how we can get involved with some of the local schools, going in and putting some sessions on and also getting some of the players to support that.
"The youngsters in Mossley know who the club are, so when they come on a Saturday they can say 'He was in my school this week teaching me how to play football'. I think that link is critical, and if we want to grow as a
club we need to get that stuff right, not just from a financial growth perspective, but because its the right thing to do, and it's the right way for a club like this to operate.
"They (the board) were very much looking for someone to run the whole club; this isn't just about running a football team, but also having an impact in the community. I real value that side of things, and I was able to do that at Chadderton."
On the pitch, Fish has made no secret of his desire to get the Lilywhites promoted. However, he emphasises the importance of achieving that sustainably while retaining the core principles of the club. "Any manager who stands here and says they don't want to win every game of football and get promoted would be lying" said Fish.
"However, we need to do it the right way and with the core values of the club and the club's whole strategy at the centre of everything we're doing.
"It's around being sustainable, working with the community, drawing people in, and also giving back to the community. It's also about building a squad who buy into those values as well. It's probably a different strategy to one we've seen previously at the club, but one we think will be successful."
Fish and Ashworth guided Chadderton to 12th place last season before the campaign was cancelled due to the ongoing pandemic.
The duo were heavily involved in the youth set-up at the Ark Fleetech Stadium and were advocates of giving youngsters a chance to prove their worth in the first team.
Fish is hoping to replicate that model at Seel Park, although he admits it will take time to make it a reality and will instead, for the time being, focus on retaining current players from last season and searching for unearthed gems from the lower divisions. "It's been important to start making progress and start pulling a squad together" said Fish.
"There are players who were here last season who I think will be instrumental in what we're trying to build, and there are players that I know elsewhere who I want to speak to. I spent a lot fo the weekend speaking to those players and starting to build a squad that will hopefully come together, whenever the season starts.
"One of the things I've talked to the board about and will be key to how I operate is having a clear pipeline of progression, all the way through from the junior sides to the first team. It will take a lot of time to do that, but in the meantime I'll be looking at local teams and the North West Counties League, hoping to find unearthed gems, lads aged between 180-22 who we think have the potential to move up and make the grade at Norther Premier League level."
Concerning news emerged last week about the prospect of non-league sides potentially being excluded from the FA Cup next season if their league campaigns don't start on time.
If that does materialise, the financial implications for clubs across the country could be severe - particularly in the aftermath of a lockdown when revenue streams have come to a halt.
And although the financial repercussions are obvious, Fish believes exclusion from the world's oldest competition would have a bigger impact on the way it's viewed in the future. He said: "I think there are two factors to that; one is financial and the other is the impact it has on players and fans. Everybody looks forward to the FA Cup and it's great to play in. I think back to my playing days, and you don't remember the 0-0 draws in the league against Workington, so I think losing the prestige and the day to look forward to would be more damaging, so I hope they (the FA) can structure things in a way that allows a good chunk of non-league to take part."
As we went to print, the Northern Premier League had yet to make an announcement regarding the start of next season.