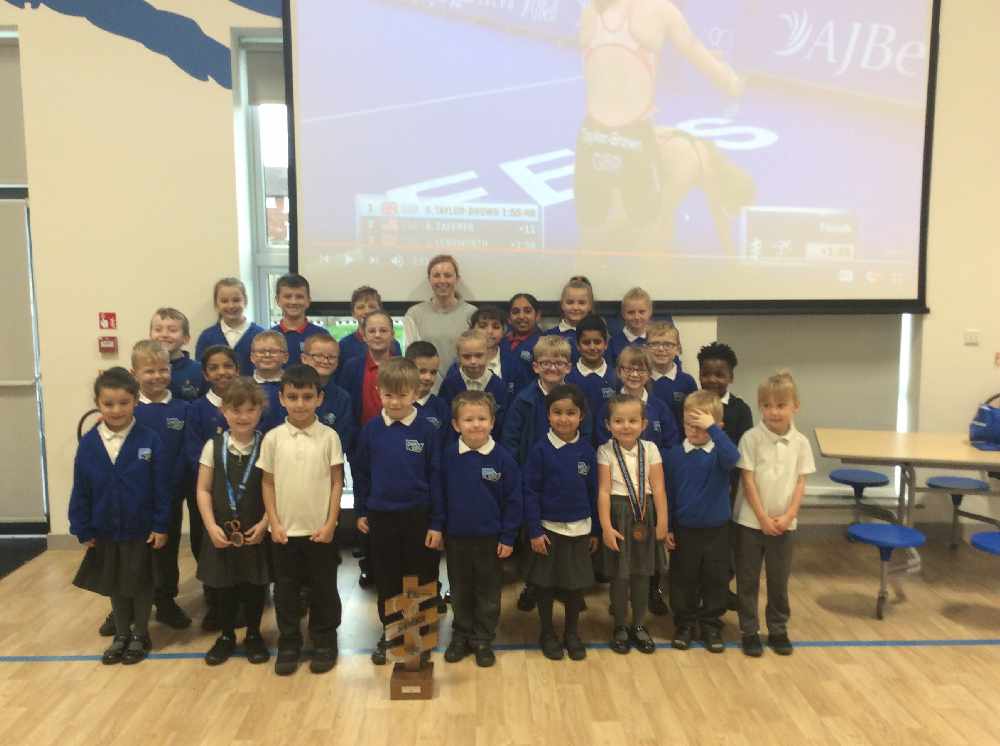 Star athlete Georgia Taylor-Brown swapped the endurance races for the classroom and helped inspire the next generation of medal winners.
The 25-year-old world triathlete visited Oasis Academy Broadoak, a primary school in Ashton, to talk to pupils and staff about her life as an athlete and inspire youngsters into the world of sport.
The Manchester-born triathlete spoke to all pupils about her career so far and focused on how pupils could achieve the personal best.
Georgia delivered a whole school assembly and shared information about her amazing travels around the world including trips to Dubai and Canada, her dad was a runner and she started getting into sport around the age of five when she learnt to swim.
She led a question and answer session which included questions form pupils and staff.
Questions ranged from who her inspiration was whilst growing up, what is the hardest thing you've had to give up, to diet and sleep routine.
Fiona Lomas, Principal of Oasis Academy Broadoak, commented: "It is great to have Georgia speak to pupils and she absolutely reiterates our values including that of ambition.
"Having Georgia share some of her already extensive achievements in her field of sport, ensured that all of the pupils went home with some extra inspiration and motivation to do the best that they can, whatever they choose to do in the future."
Georgia is a two-time ETU European Junior Champion and took gold at AJ Bell World Triathlon Leeds 2019.
She was brought up by an athletic family. Her dad, Darryl Taylor, represented England for 800m on the track with a best time of 1min 48secs, while her mum swam at national level and ran for Sale Harriers.
She has been swimming since she was five and started running when she was 12 and was selected to run for her school. Not wanting to choose between the sports, Georgia focused on triathlon and had a successful trial with the British Triathlon Olympic Development Squad.
The world triathlete said: "I visited Oasis Academy Broadoak to inspire the children to dream big! I am a local girl who once had a dream of becoming a triathlete and going to the Olympics!"
"I always knew I wanted to be an athlete when I grew up so my aim for going into the primary schools is the share that dream I had when I was a kid and to hopefully encourage the children to dream big and never give up on your dream. It's now 15 years on and I've accomplished the first part of the dream, but I still dream of becoming an Olympian and I keep pushing myself every day to achieve that dream!"
"It was amazing to see the kids' faces light up when they found out I was in the exact same position as them when I was their age and how you really can achieve anything if you put the effort in and stay focused! There were so many smart questions asked and the children put a huge smile on my face!"