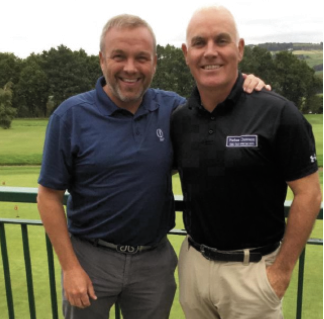 Steve Pullen is a member of a top golfing family at Saddleworth Golf Club who plays off one handicap.
He added more family history at their beloved club with a fantastic ace achieved during a Sunday Stableford.
Steve said: "I was playing the par four 290-yard fourth hole using my driver slightly into the wind off the right and was delighted when it went into the hole for an eagle hole-in-one.
"Hole-in-ones in singles competitions are sponsored by Hugo Boss so I have a commemorative watch which is a very special award.
"My only previous hole-in-one was on a par three on the 17th at Meltham Golf Club in 2008 and now my aim is a hat-trick of aces!"
l An Open Wednesday Stableford at Stamford was won by Ian Grimsditch with 40 points from Peter Grogan 38.
A Stableford for Stamford ladies was won by Judith Whitehead with 30 points from Marjorie Harrop 26 and Frances Quinn 19.
l Saddleworth ladies showed their Strictly skills in a Reverse Waltz led in by the team of Maxine Parfitt, Pam Taylor and Eileen Waddington with 67 points from Janice Nicholson, Jean Barnes and Cheryl Eastwood 61.
A Ryder Cup Stableford for Saddleworth's men had Nick Edwards and Dave George out on their own with 57 points from Tom Williams and James Owen who won a cpo on 51 from Peter Barnes and Lee Melia.
A Pro's Stableford at Saddleworth had their stars on top of the leaderboard led by Ben Pullen with 41 points from Alan Squires 40, Nick Marner and Lee Melia, both 38.
l Wednesday Stableford action at Denton had Terry Pottage leading in with 38 points from L Pickford 37 and D Sibanda 36.
The Saturday Denton medal had the divisions topped by Graham Pollit 69 and A Rimmer 63.
Next day Graham led in the Sunday Stableford with 42 points from S Gregory 38 and S Daniels 37.
Denton ladies played a singles Stableford won by Trish Ferguson with 30 points, one more than Laraine Gordon.
l A Tuesday Stableford at Ashton had David Lewis top of division one after a cpo on 39 points with Nigel Kay and Jonny Lewis topped division two with 35 points, two more than Bob Monte and Graham Hughes.
Ashton's juniors played a singles Stableford and Lewis Byers led in with 43 points, from Nick Gaunt 42.
Stableford action for Ashton ladies had Justine Hadfield on top with 37 points from Sarah Pownell 35 and Barbara Hopkinson 32.
l It was close at Brookdale in the 'major' medal for the Wainwright Cup with David Callaghan a proud winner with his 65 taking him clear of Mike Gray and Leslie Corner, both 66.
l A singles Stableford at Fairfield had division one topped by Matthew Ross after a cpo on 39 with Robert Pownell, one more than Paul Wilks.
In division two, Mike Hayes was out on his own with 40 points, four more than Phil Wilcoxon and Gary Davies.
A singles Stableford for Fairfield ladies was won by Jacqui Dawber with 36 points, four more than Sarah Pownell.
l New Mills men were in medal action and in division one Aidey Smith was first past the post with 67, two better than John Coleman.
It needed a cpo on 66 to see Anthony Sieben into top spot ahead of Richard Lockley.
A medal for New Mills ladies was won by Margaret Palmer with 72 from Jackie Piper and Jane Howard, both 75.
In the subsidiary Stableford H Hodkinson led in with 12 points from Marion Harrison 11.
l A perfect day for golf at a superbly presented and scenic Disley Golf Club was enjoyed by all players in a tight competition.
Alliance Order of Merit champion Phil Archer (Poulton Park) showed the skills that saw him enjoy plenty of years on the European Tour as he topped the individual pro section with a six-under-par 42 points ahead of Ian Ridgeway (Disley) 40 and Grant Hamerton (Pike Fold) 39.
Phil then found a partner in Anton Johnson (Warrington), and they took top spot with 46 points in the pro am section.
But it was a close contest as they won on a cpo from Stamford's duo of Mark Smith and Steve Moores and two points back were Craig Daggitt and Ken Thomson (Bramall Park) and Ian Ridgeway and Steve Blades (Disley).
It was also tight in the am am section with the top spot going to Ellesmere's Dave Smith and Danny Beeley with a fine haul of 45 points taking them clear of Chris Lee and Tony Woodford (Mellor and Townscliffe) 44 and Mike Fenton and Andy Hall (Chorlton) 43.
By Geoff Garnett
Picture: Winning duo - Phil Archer and Anton Johnson.